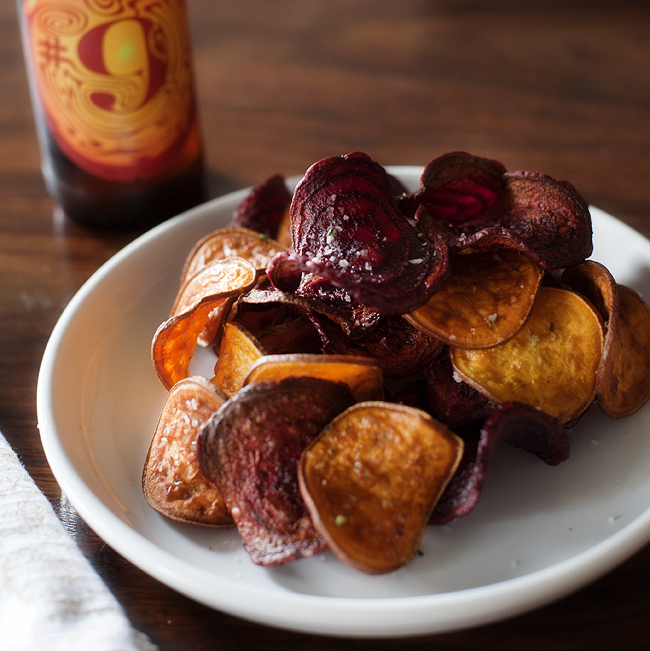 Last Christmas I received something that has been on my list for 3 years – a mandoline.  I had no particular plans for it which is probably why it has taken me almost 5 months to take it out of the box.  To be honest I have been a little intimidated, the people on tv make you feel like you'll slice your arm off if you're not careful.  After seeing this recipe for veggie chips I knew it was time to put my big girl pants on and take the mandoline for a spin.  The review: I. Love. It.  As well as these chips (added bonus – all my appendages are still intact).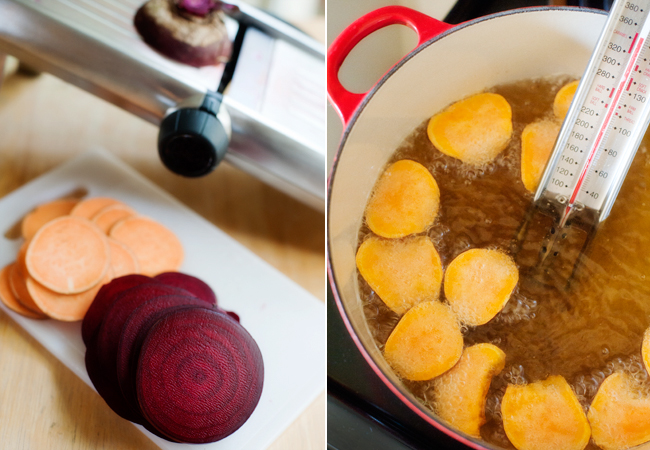 Sweet Potato and Beet Chips with Garlic Rosemary Salt (recipe from Giada De Laurentis)
Ingredients
2 sweet potatoes
2 beets
1 garlic clove, minced
1 teaspoon very finely minced fresh rosemary leaves
2 tablespoons salt
10 cups vegetable oil
Directions
Special Equipment: V-slicer or mandoline, deep-fry thermometer
Wash the vegetables and dry very well. Set aside.
In a small bowl combine the garlic, rosemary and salt. Set aside.
Warm the oil in a large pot over high heat to 350 degrees F.
Meanwhile, trim 1-inch off the end of each sweet potato. Using the V-slicer or mandoline, slice the sweet potatoes into very thin slices, about 1/8-inch thick.
When the oil is hot add about a quarter of the sweet potato slices. Let fry until golden and the bubbling has almost completely subsided, about 2 to 3 minutes. Using a mesh sieve or slotted spoon remove the chips to a paper-towel-lined baking sheet. Sprinkle with some of the garlic, rosemary, and salt mixture. Continue with the remaining sweet potatoes.
Transfer to a serving plate.
Next, fry 1/4 of the beets. Let fry until curled at the edges and most of the bubbling has subsided, about 3 to 4 minutes. Transfer the beets to another paper-towel-lined baking sheet and sprinkle with salt mixture. Continue with the remaining beets. Let cool and transfer to a serving plate.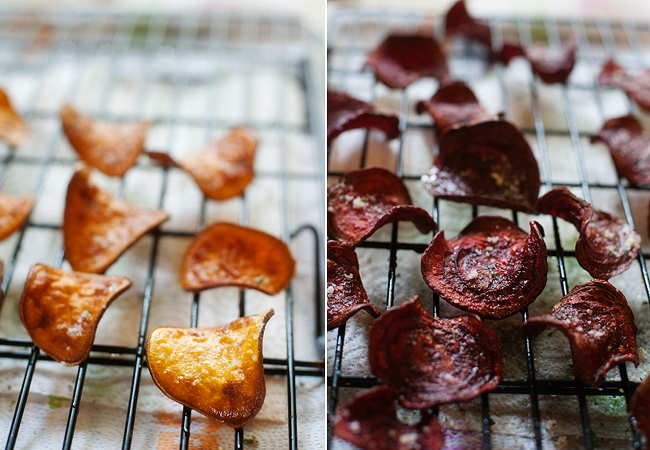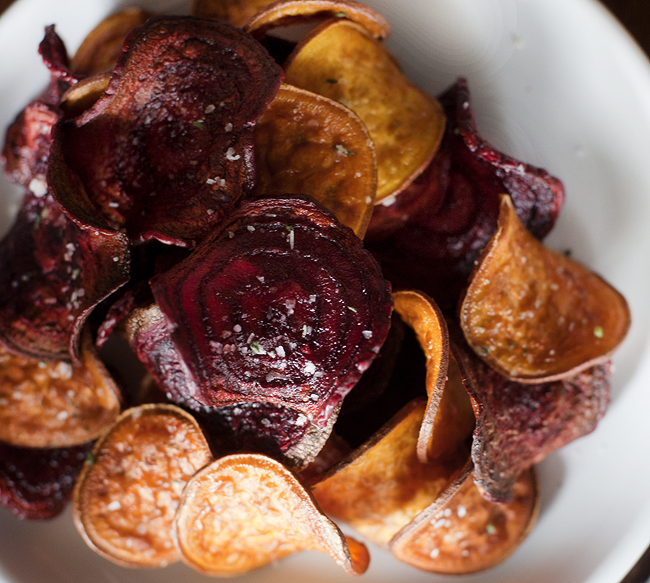 These are about 100 million times better than any bagged veggie chip I have ever tried.  Downside is my house now smells like a bar and grill (as did my return to H&M later that day).  They were worth it though.  Enjoy.