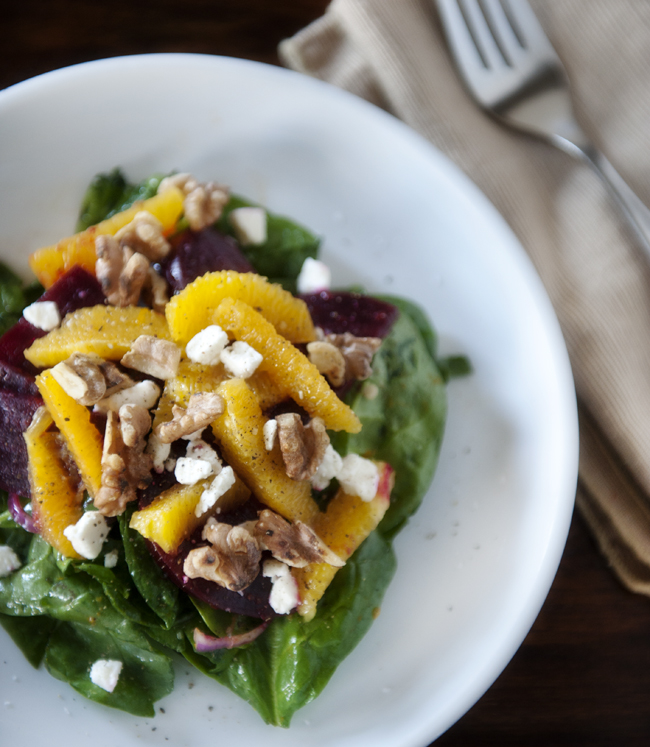 There were two things I couldn't wait to make at my granny's house when I was a little girl.  The first being no bake cookies.  They were always perfect, no one's come close to my granny's (believe me, I have tried many others to compare).  The second was salad.  Yes, salad.  I can still hear the sound that green lettuce holder made when opened.  Granny would let me dig through all her possible salad ingredients, making a huge mess in the process, and then smiled as I poured the grand finale of poppy seed dressing over my creation.  It was fresh, crunchy and satisfying – something every 7 year old would dive right into (ok, I was a little odd).
While my choice of dressing and ingredients have evolved my love for salad has not lessened.  Cold or warm, lettuce or herbs – it really doesn't matter for me as long as there is exciting flavor and an interesting combination of textures.  Sticky has been on a beet kick lately and I have to admit it is a pretty spectacular vegetable.  The color alone screams "I am good for you, eat me now!".  And then paired with it's soul mate, the orange, well, let's just say it's what basil is to tomatoes (awesome).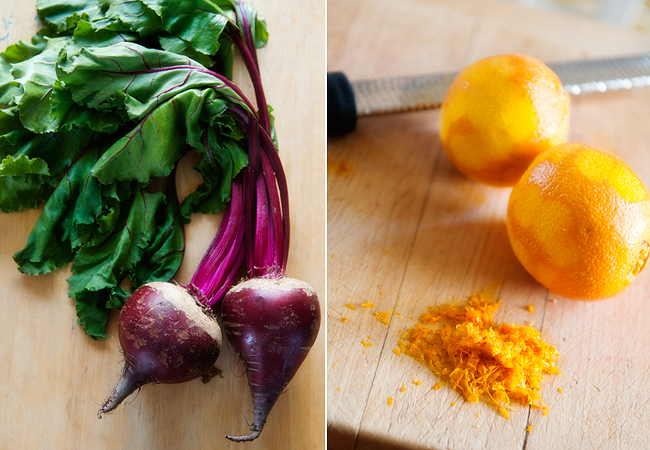 Roasted Beet Orange and Feta Salad with Walnuts (serves 4 as a side, 2 main course – inspired by bon appètit)
Ingredients:
Dressing
3 tablespoons balsamic vinegar
2 teaspoons Dijon mustard
2 teaspoons grated orange zest
1 teaspoon honey
1/3 cup olive oil
salt and pepper
Salad
4 medium unpeeled beets, tops trimmed
1 tablespoon olive oil
6 ounce bag of spinach
1/4 medium run onion finely sliced
2 medium oranges, peeled with segments removed from between membranes
1/2 crumbled feta cheese
1/4 toasted walnuts
salt & pepper
vinaigrette
Whisk vinegar, mustard, orange zest, and honey in small bowl. Gradually whisk in oil. Season vinaigrette with salt and freshly ground black pepper.
salad
Preheat oven to 400°F. Toss beets and oil in large bowl; sprinkle with salt and pepper. Place beets in a row on a sheet of foil, wrap and secure tightly. Place directly on oven rack; roast until tender, 60 to 70 minutes. Open foil; cool 30 minutes. Rub skins off beets (to remove the glorious color from your hands simple wash with mild soap and coarse salt); cut each in half then in 1/4″ slices. Sprinkle with salt and pepper.
Place spinach and onion in large bowl; toss with 2 tablespoons vinaigrette. Divide among plates (or arrange on large platter). Add beets segments to same bowl. Add 2 tablespoons vinaigrette; toss to coat. Arrange beets atop spinach; top with orange segments and sprinkle with cheese and walnuts. Serve, passing any remaining vinaigrette.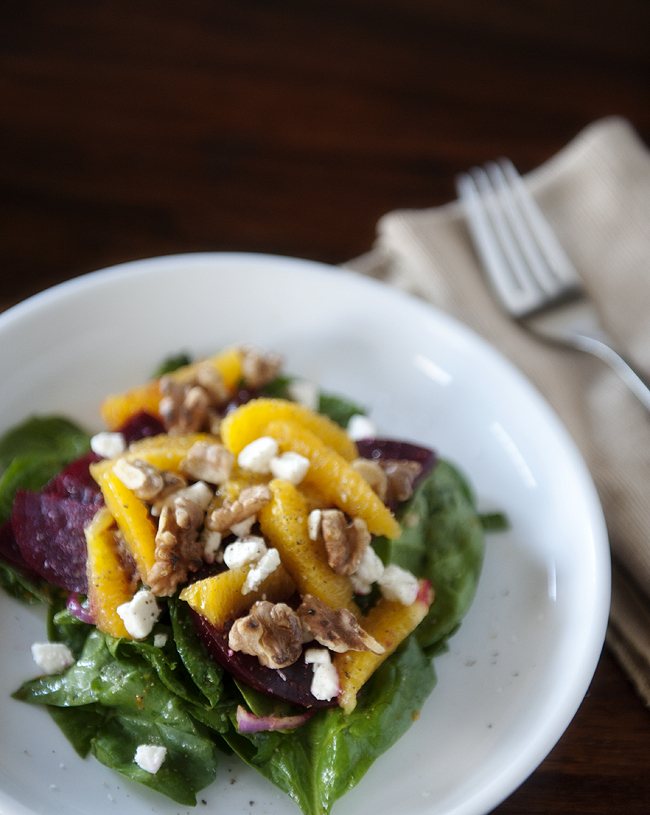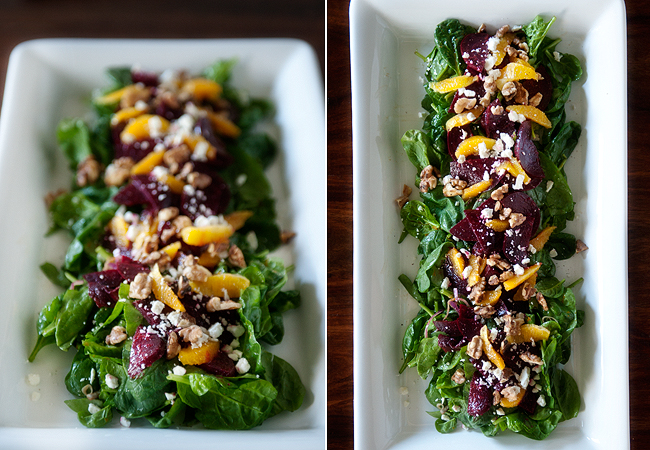 This is slightly more refined than my iceberg lettuce, peas and poppy seed dressing days (is it just me or does that sound really good right now).  As far as that no bake cookie recipe is concerned I am going to keep that between Granny and I – for now at least.