Valentine's day is literally a blink away and I feel we all deserve a little something decadent. And cute. And damn delicious.
Say hello to dark chocolate shortbread cookies stuffed with raspberry buttercream. (Made with fresh raspberries no less.)  Shaped like hearts …. because everyone knows a treat shaped like a heart tastes better than a treat not shaped like one.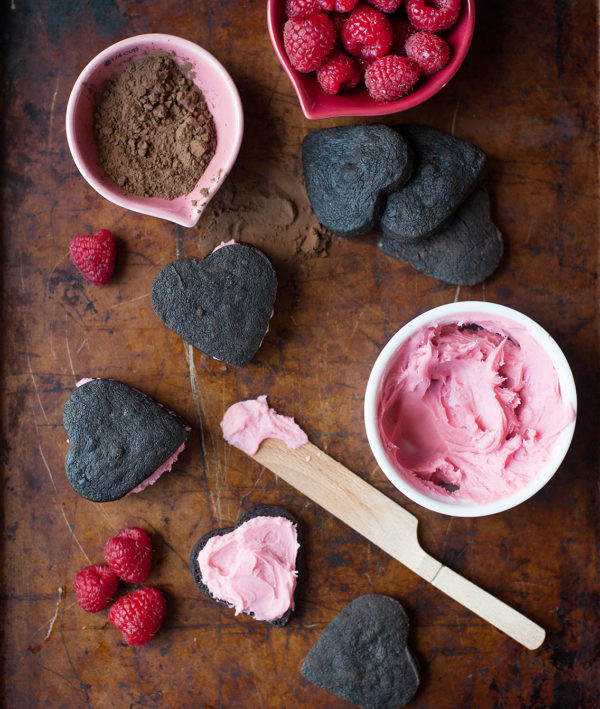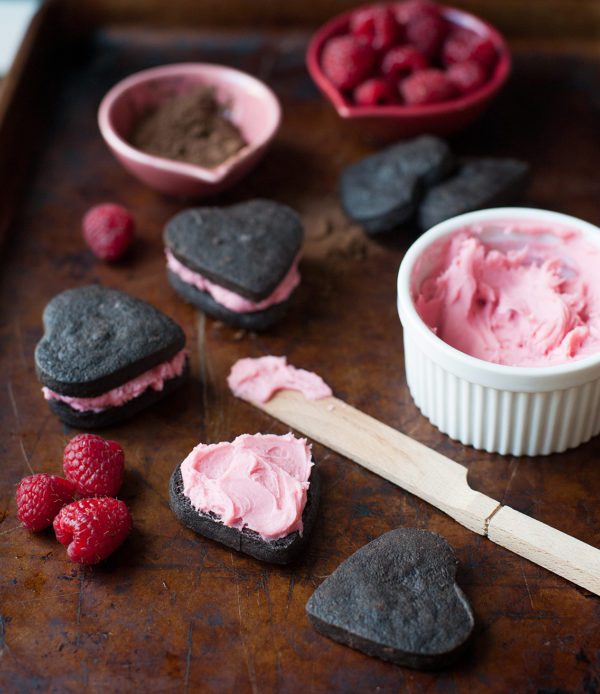 I do not post cookies often because honestly, I really don't like making them. But I do LOOOVE a good shortbread cookie so there are exceptions, especially when they are as special as these little gems.
There is some fussiness to this between making sure the dough is chilled enough, to whipping up the frosting and then assembling it all. That said, these are worth every second of the effort and then some. Plus it Valentine's Day – its worth the extra lovin'…am I right??!!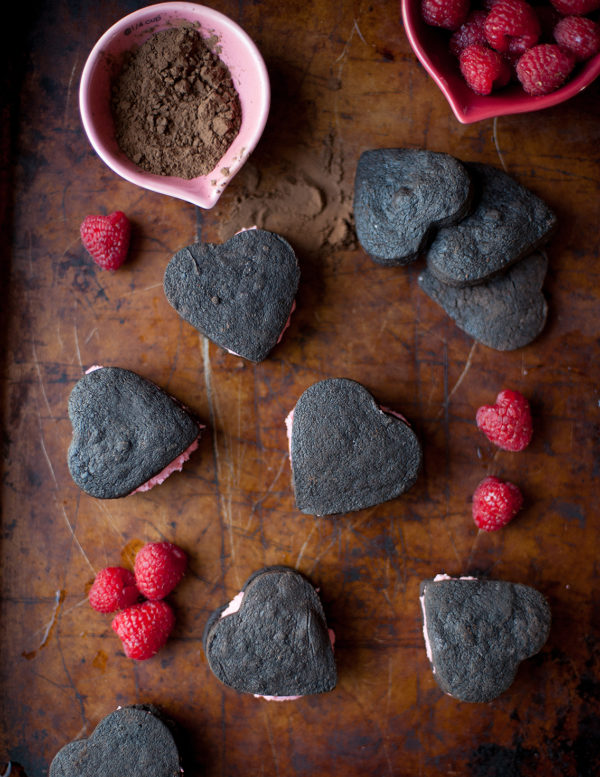 You could of course forgo the filling. The chocolate shortbread happens to pair AMAZINGLY well with coffee. If you have raspberries on hand though make the filling. You will not regret it!
Enjoy!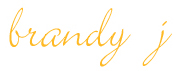 chocolate raspberry sandwich cookies
chocolate raspberry sandwich cookies Prep time: 30 mins Cook time: 12 mins Total time: 42 mins Serves: 18 sandwiches
Ingredients
cookies:
1cup unsalted butter, softened
½cup powdered sugar
1 egg yolk, room temperature
½tsp vanilla extract
1½cups flour
½cup dark cocoa powder
½tsp kosher salt
filling:
1pint fresh or frozen raspberries
½cup butter, room temperature
2cups confectioners sugar (more or less depending on how thick you would like it)
1 to 2tbsp milk
Instructions
Cookies: In a stand mixer, cream the butter and sugar together on low-medium speed until combined. Beat in egg yolk and vanilla on low until just combined.
On low speed, beat in flour, cocoa powder and salt until the dough starts to come together. Stop mixing at this point, over mixing will cause cookie to be tough.
Divide dough in half and form each into a disk. (You can use a little flour if its too sticky.) Place one disk in between two pieces of plastic wrap and roll out to ¼" thickness. Do the same with the other disk. Place both in the refrigerator for at least 3 hours.
After dough is chilled, preheat oven to 350ºF. Line a baking sheet with parchment paper. Cut the dough out into desired shapes using a cookie cutter (I used a 2" heart to make 18 sandwiches). Place cutouts on the prepared baking sheet. Bake 10-13 minutes. Allow the cookies to set on the baking sheet for 10 minutes before placing on wire rack.
Spread raspberry filling on the completely cooled cookies to create sandwiches. Keep in an airtight container for up to 7 days.
For the Raspberry Filling: Place raspberries and 2tbsp water in a small saucepan and bring to a boil. Lower to a simmer. Allow to simmer until raspberries completely break down. Pour raspberries into a fine sieve to remove seeds. Pour back into the pan and simmer until reduced to ¼ cup. Allow to cool completely.
In a stand mixer, whip the butter until light and fluffy. Add the cooled raspberries reduction and sugar and beat until completely incorporated and fluffy. Add more sugar if it's too wet, a little milk if too dense. Keep in refrigerator until ready to assemble cookies.