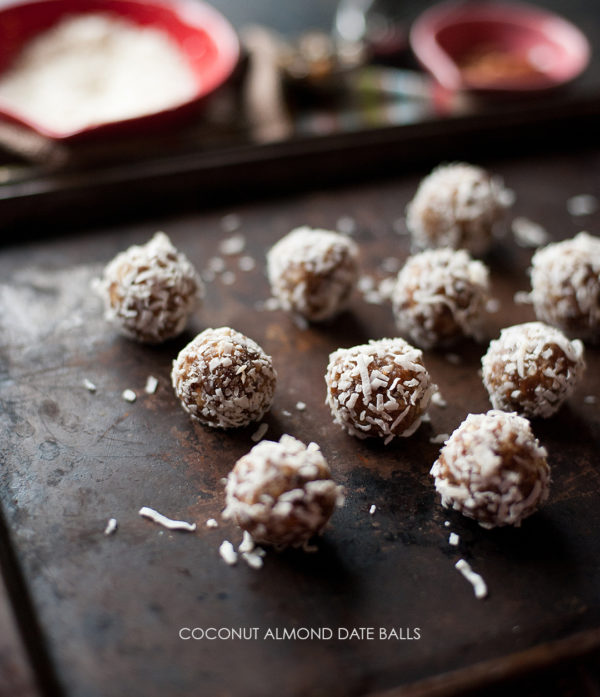 I had granola on the mind bad…with every intention of whipping up a batch this morning and dazzling the internet with my homemade granola skills. Oven was preheated, baking sheet was lined with parchment and the bowl was ready for ingredients. Too bad I had no oatmeal on hand. Well, that's a lie. I had about 1/4 cup…I know small batch recipes are all the rage, but that's a bit of a stretch.
So onto date balls I went. Happy accident as these little boogers are yum!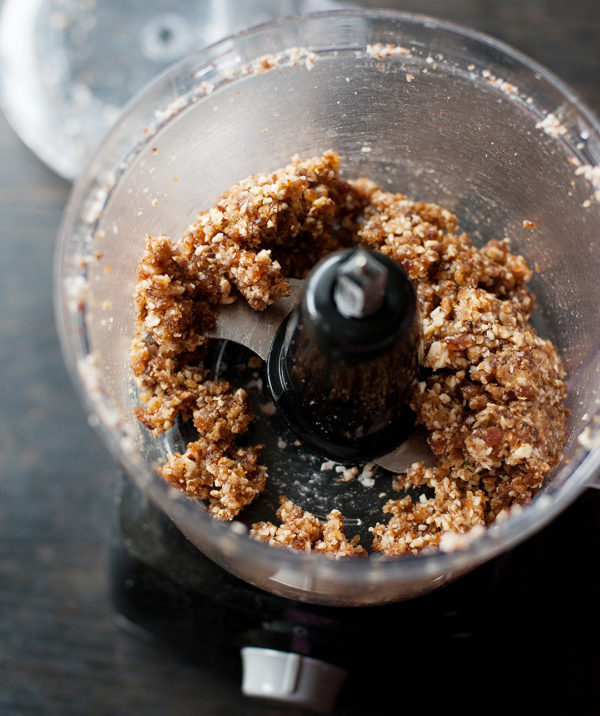 If you are a LÄRABAR eater – that would be us – date balls should be a very familiar taste for you. I believe the first ingredient in most Laras is dates, which is the main ingredient here as well. Of course dates are loaded with natural sugars, which is a bad thing depending on who you talk to…and since we are on this topic, honestly I am so confused at this point as to what is good and what is bad, so I'm just gonna throw up a white flag here and say "at least it's not refined sugar". I mean that's the absolute worst right? (If you are eating a donut right now please ignore me to the fullest.)
[I used deglet noor dates in case you were curious. And no, I haven't a clue how to say "deglet noor" or what the difference is between it and all the other dates that I cannot pronounce are. My extensive research into them only involves the fact that I think they are delightfully tasty.]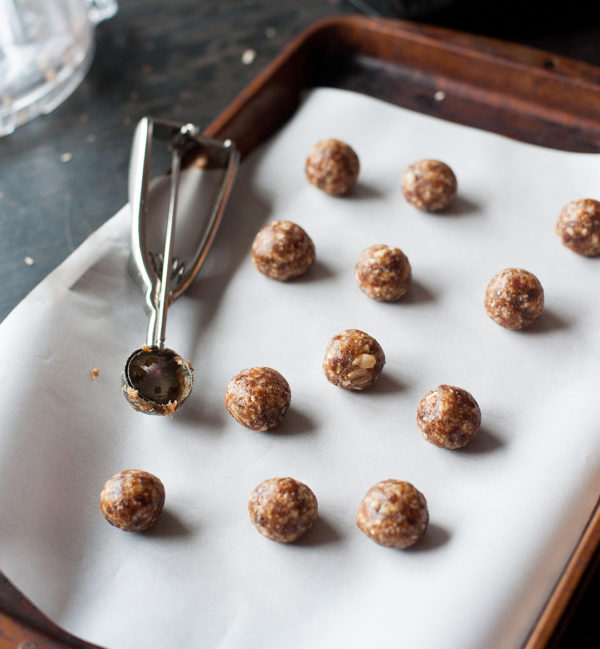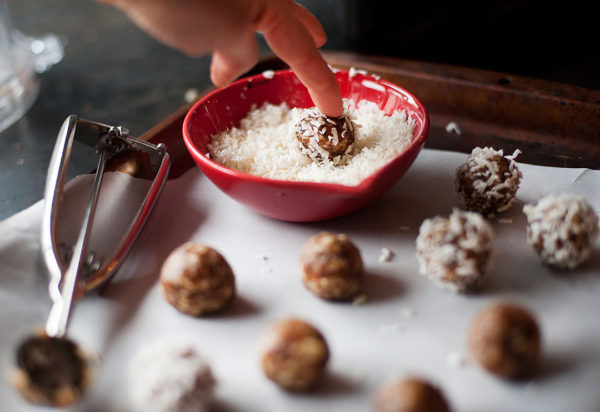 Much like the trusty ol' bars, the thing I love about these balls is the fullness you feel. It's sweet but it doesn't leave you with a sugar hangover and best of all it gives you just the right boost for those moments when you absolutely need it. Plus my kids love these things and you absolutely can't beat that.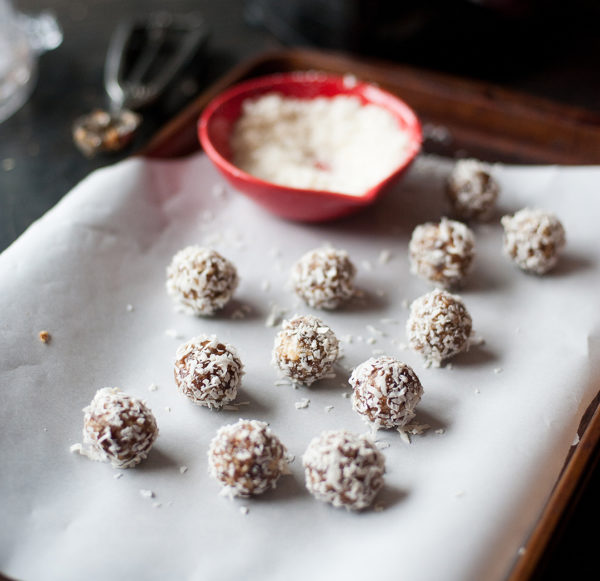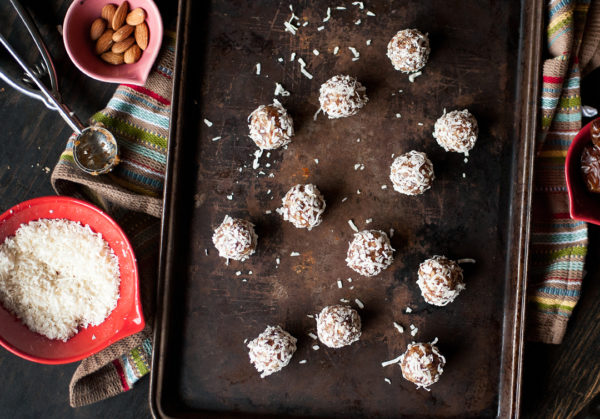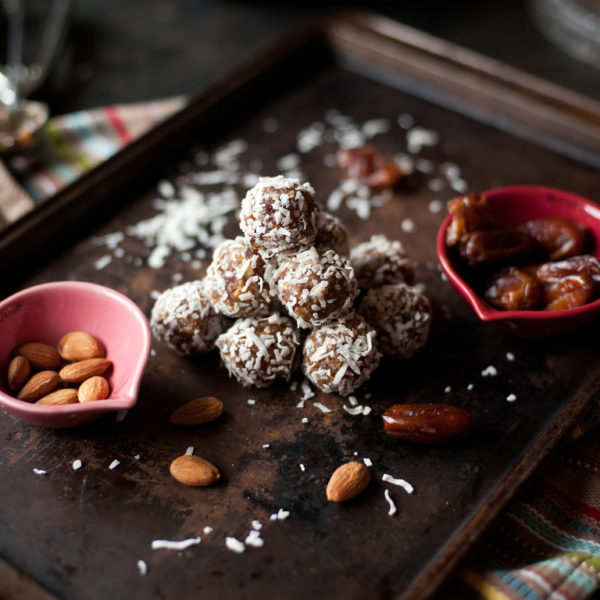 There are about 1 zillion plus 23 energy ball recipes on the internet. If you roll your eyes at mine I absolutely will not blame you. But, if by chance, you have never made these healthy treats please give at least one recipe a try. Doesn't matter which one…unless it's gross. In that case just find another recipe until you hit jackpot. (Like this one…DING! DING! DING! DING! DING!)
Enjoy!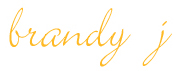 coconut almond date balls
Author:
recipe by brandy j of prettyplainjanes.com
Ingredients
⅓cup whole raw almonds
20 pitted dates (I used Deglet Noor dates)
½cup unsweetened coconut flakes (divided)
1tbsp coconut oil
1tbsp water
dash of kosher salt
Instructions
Place the almonds in a food processor and pulse about 10 times until all the large pieces are broken up.
Add the dates, ¼cup coconut, coconut oil, water and salt and process until no large pieces of date are left and a ball forms when you roll it in your hands.
Divide the mixture with a small ice cream scoop or a teaspoon - forming each one into a ball with your hands. Next, roll each ball in the remaining ¼ coconut flakes. (I had to press my balls into the flakes a bit to get them to stick.) Refrigerate for at least one hour for the flavors to meld. Store in an airtight container for up to a week. (I like to keep mine in fridge.)