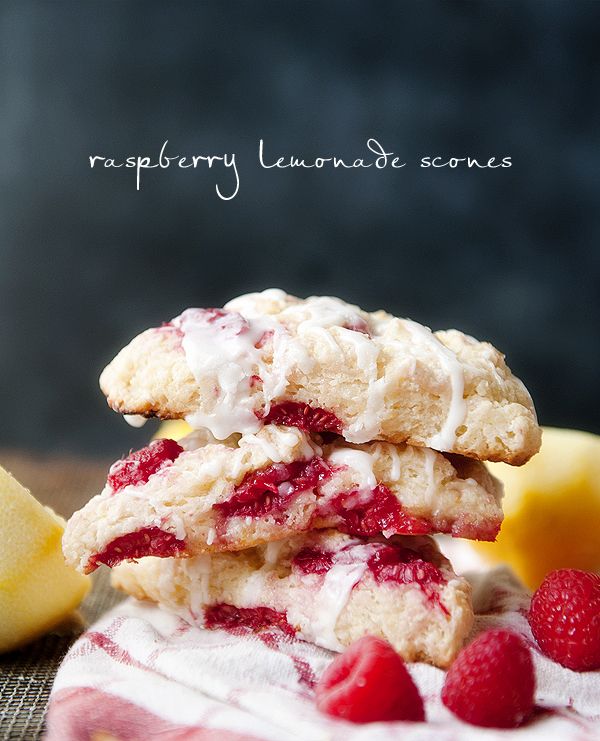 Sometimes you mix ingredients together and the outcome is exactly what you imagined. Other times you make 3 batches of scones and cry over all the butter and raspberries that end up in the garbage disposal.
Had my man not bought me the giant container of raspberries we would no be looking at these delightful scones. (Had I not caught him eating the just enough raspberries I had left for a last scone attempt…well, I'll put put it this way, the man still has his fingers.)
My first attempt I thought I would get cute and use San Pellegrino for the lemonade flavor. I have never baked with carbonation like that before. It was a complete disaster. The second go around I have no idea what happened. My best guess is I completely got a measurement wrong. The last one though, it was exactly what I was hoping for. Light, yet crispy on the edge scones filled with juicy raspberries and brought alive with the zing of lemon. These are iced coffee ready people.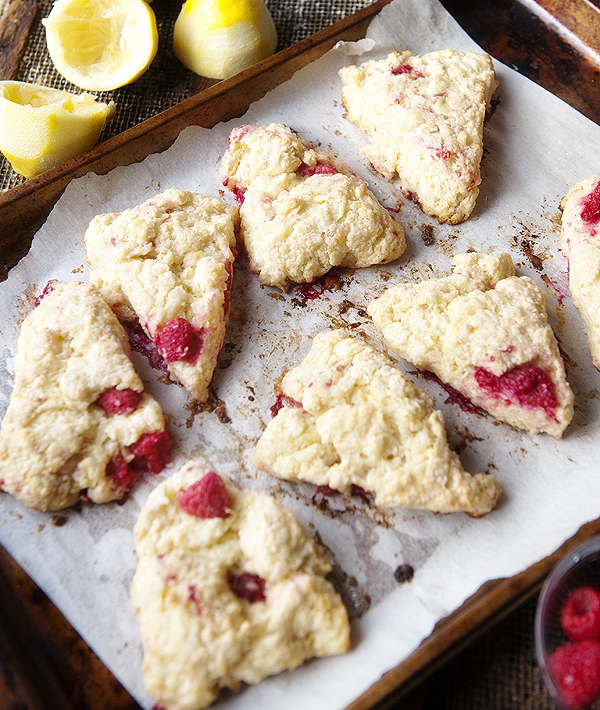 At first I thought the scones were kind of ugly but then I drizzled the glaze on them and they got all cute. Wish that's all it took for us human folk. Can you imagine? Wake up. Drizzle. Done.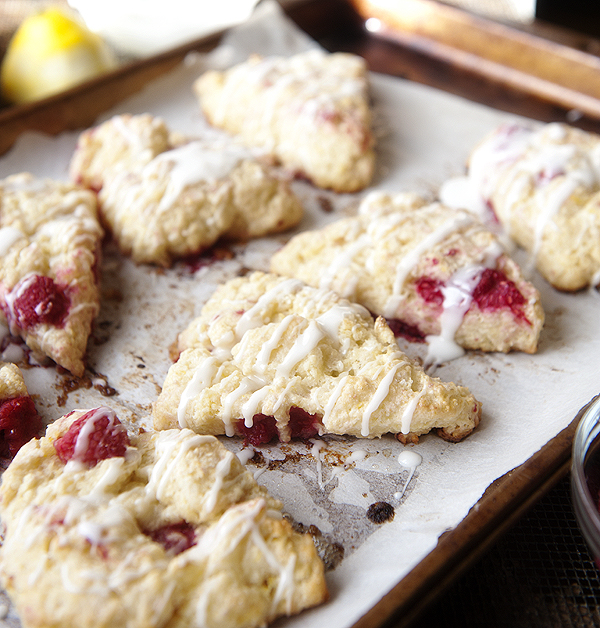 One thing that was extremely important to me is that these did not taste like raspberry with lemon scones…I wanted that lemonade flavor there. In doing this, I 86'd any vanilla I would typically use, and added more zest. But the true lemonade flavor comes from the glaze. It's a thick, creamy lemon shake-up dream glaze. Placed on top of that raspberry scone sends it into a whole other world of goodness.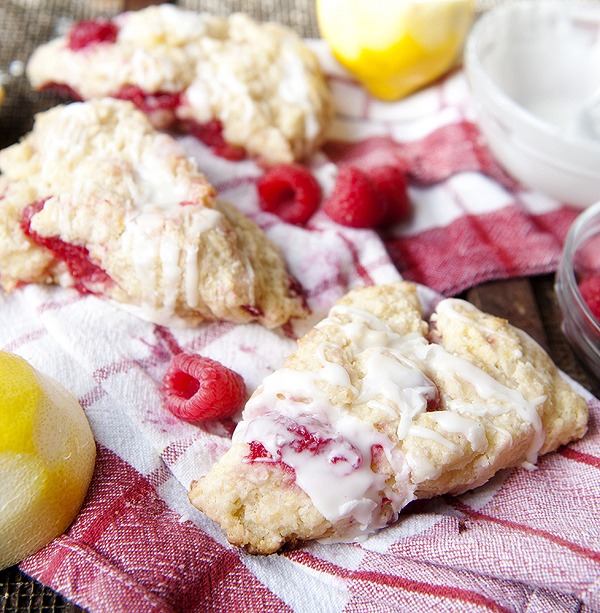 Bright flavors are my thing right now, as they should being that we are more than halfway through March. Get ready for more lemon guys, and raspberries but I pretty much obsess other those year round.
Enjoy!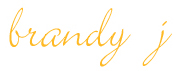 raspberry lemonade scones
Ingredients
1 stick of unsalted butter frozen
⅓cup granulated sugar
zest of 2 lemons
2cups all purpose flour
1½tsp baking powder
¼tsp kosher salt
1 large egg
½cup greek or plain yogurt (do not use fat free)
2tbsp freshly squeezed lemon juice
⅔cup fresh raspberries
for the glaze:
⅓cup powdered sugar
1tbsp lemon juice (more for adjusting)
Instructions
Preheat oven 400ºF. Line a baking sheet with parchment paper.
Grate the frozen butter on a large grate and place in small bowl back in freezer until ready to use.
Place the sugar and lemon zest in a medium bowl and rub together with fingers. Add flour, baking powder and kosher salt and whisk together.
In another medium bowl whisk together egg, yogurt and lemon juice until well blended. Add to dry mixture and gently combine with a spatula until just incorporated it. It should have an almost fall apart, crumbly look to it. You want to stop mixing before all the flour disappears. Very important not to over mix.
Add the raspberries and very gently fold them in. They can easily break but don't worry if they do. Just be as gentle as possible.
Dump the dough onto the prepared baking sheet and form into a 7" to 8" disk. If dough is too sticky add a little flour to your hands. Not too much as this can make the scones tough. Cut the disk into 8 wedges and arrange evenly on baking sheet.
Bake to 12 to 15 minutes our until scones begin to turn golden. Allow to cool on sheet completely.
While scones are baking, make the glaze by combining the powdered sugar and lemon juice. You want it to be a consistency where if you pull up a fork and drizzle the drizzle stays for a bit before disappearing into the remaining glaze in bowl. Add more powdered sugar if too thin, more juice if too thick.
Once scones are cool drizzle the glaze on top and devour. Best ate day of but can keep in airtight contain for up to 2 days.