When talent, creativity and drive combine magical things happen. Our small town has seen quite a few magic makers taking the leap in recent years, with one of them being my gorgeous friend Alex.
HB Salon opened not too long ago. A dream that I know Alex has had for many, many years. Before I ever met her I would hear people say "She will do it someday. She's a doer." They could not have been more right. Not only did she "do it", she knocked it out of the park. Took a small, not so lovely space, and transformed it into a swanky, intimate setting for hair stylist and her client.
Every corner of the salon has a little piece of Alex tucked away in it…with the touches from her grandmother (the sunburst clock and quote) being my absolute favorite:

(So good right? Gosh I love brave people with big dreams!)
Of course I couldn't visit Alex without stealing a hair tutorial from her. With help from another pretty friend, Siobhan, here is a 3-way braid:
First, part your hair to the side and take small section from the front. Next dutch braid it all the way to the end. Either by holding onto the end, or by securing the low bottom with an elastic, begin "pulling" the braid to give it a fuller, larger look. Pull from bottom to top, messy is good here. Once braid is nice and full secure the bottom with an elastic band.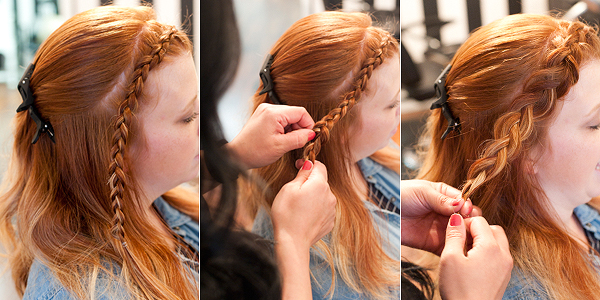 Now take a small section behind the dutch braid and do the same as above except with a classic french braid. Again, imperfection is okay here. In fact, it's recommended!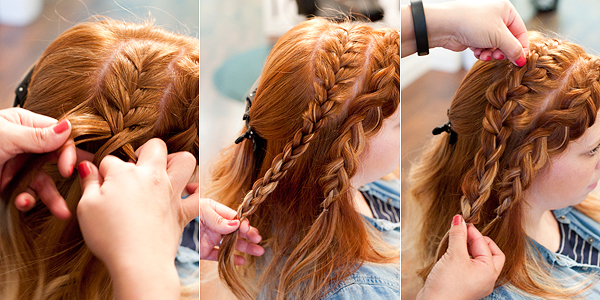 With a 3rd section, directly behind the french braid, get your fishtail braid on. Do the same as the previous two braids as far as plumping and messing up that braid. When all braids are full and secured with elastics, grab some bobby pins and secure the braids in a swooping formation, around the back of your head. How far you will swoop over depends on your hair length. Siobhan has medium long hair and her swoop went a little past the back center.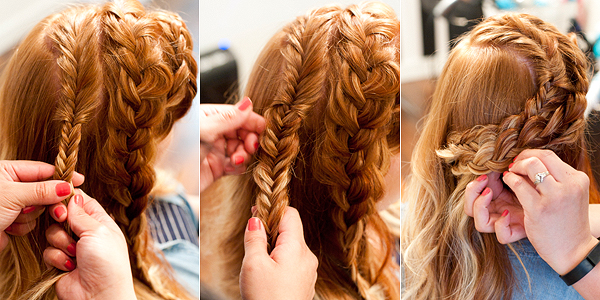 It's sort of like a casual half crown with lots of fabulous textures: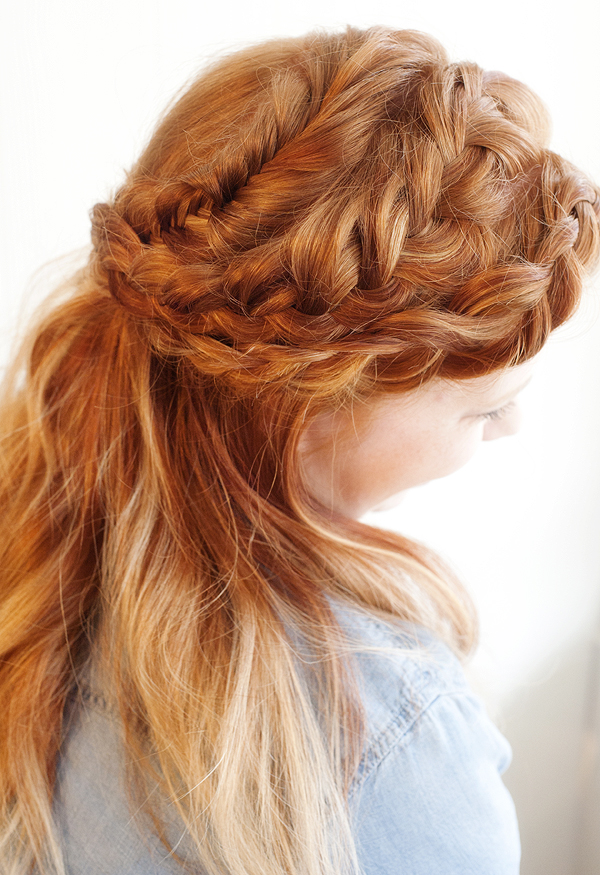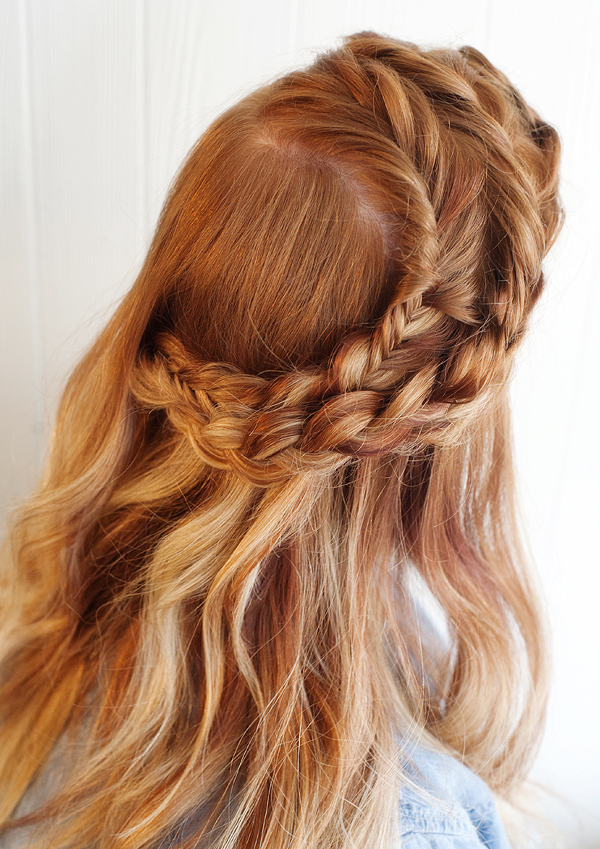 To keep it on the simple side you can forgo the bobby pinning and simply do a loose braid with the 3 "tails" of the 3 different braids: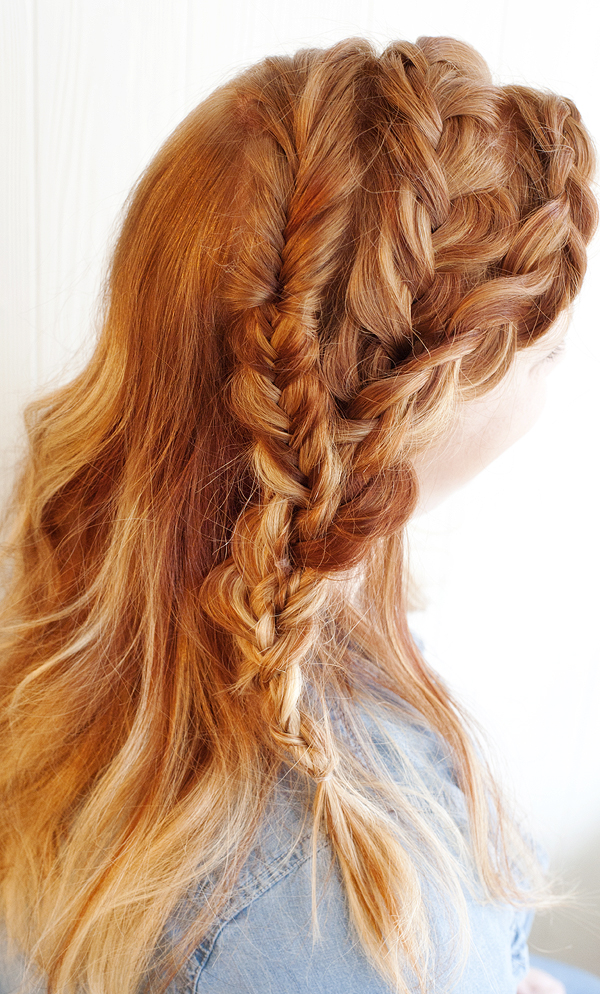 Thank you to Alex and Siobhan for helping me out on this fantastic post! And one more big CONGRATS to Alex and HB Salon. A new gem in our humble little town. We are lucky to have as many as we do.
[And hey guys, if you want more from Alex please let me know! I wouldn't mind bugging her again!]
xoxo,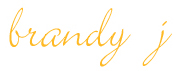 If you are in the area (Van Wert, OH – near Lima, OH and Fort Wayne, IN) and would like to schedule an appt you can do so by calling 419.910.9424. You can also see what the girls are up to at HB on Insta: @salonhb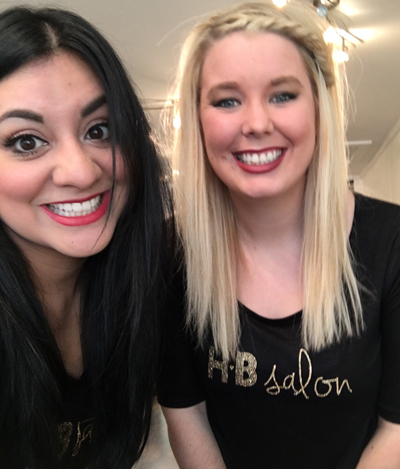 Alex Giessler & Bri Wyse of HB Salon