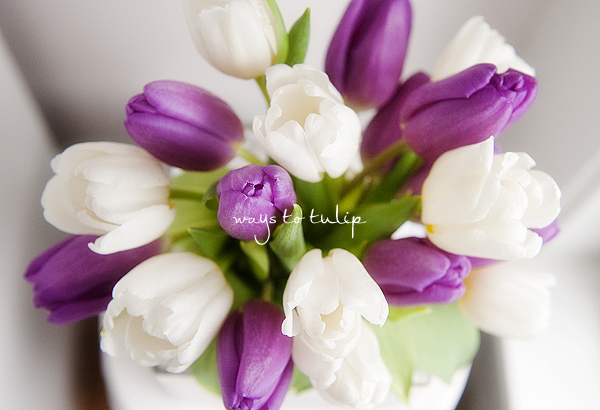 Tulips are undoubtedly my favorite flower on the planet. As a child they were the signal that my birthday was approaching. Later in life they simply meant a new season was on it's way…and I love that change.
But the real seal the deal moment came in the spring of 2004. Sticky was living in Madison, WI and the tulips had already bloomed around the capital. It was gorgeous, made even more so by winter's one last snowfall. Every single tulip was filled with powdered magic. I realize it was not great for their longevity, but I told Sticky it was one of the prettiest things I had ever witnessed. My birthday came less than a month later and the boy "who didn't want a girlfriend" sent this girl a vase of tulips. I've received many more since then but I'll never forget those 2004 blooms.
Now that you know the lovey dovey part of why I am obsessed with tulips, I want to also let you in on a little secret: They are by far the easiest flowers to arrange and display in your home. Here's why:
They practically arrange themselves. Especially if you cut them so that 2/3 of their length is in the vase and 1/3 hangs out.
They are delicate looking yet very sturdy. You can rearrange and fuss with them without needing wire or tape.
Little trimming if any is needed. Their leaves are beautiful and add to the arrangement in most cases.
Easy care. Room temp water, just barely covering the ends (they don't like to soak in high water). To get the most out of them trim the ends slightly and replace water everyday.
Now the fun part. 3 super easy ways to arrange your gorgeous tulips:
Take a bunch of tulips (I bought mine at a grocery store) and trim them so that 2/3 of the length will be in cylinder vase, with 1/3 hanging out of vase. Remove one leaf from a stem and wrap around the middle 1/3 of stems. Tie ribbon or twine around that to hold in place. Put flowers in vase with a some water and enjoy!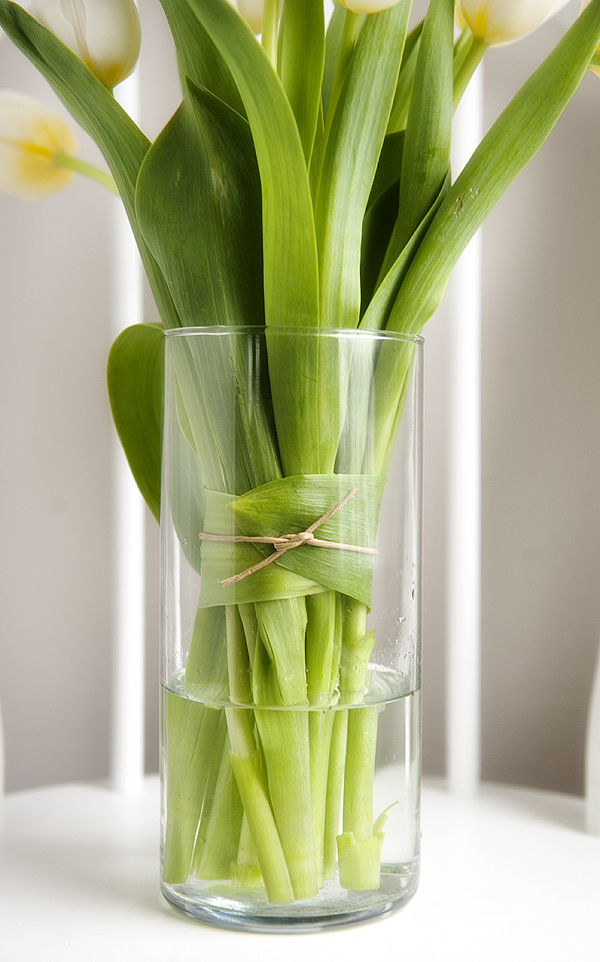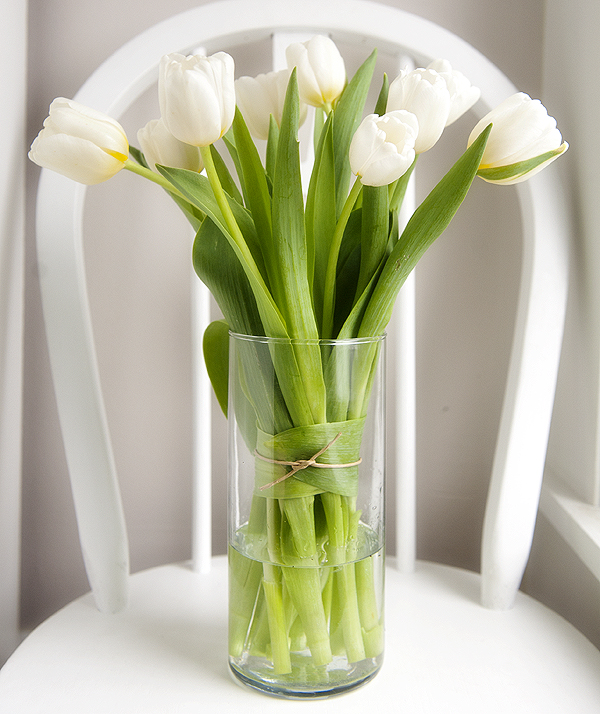 2. Perfect for when you find one lonely tulip bloomed. Simply cut so that entire length of tulip will fit in jar. Add a little water and enjoy! A line of these across a table would gorgeous. This guy is making my kitchen window happy all by himself though.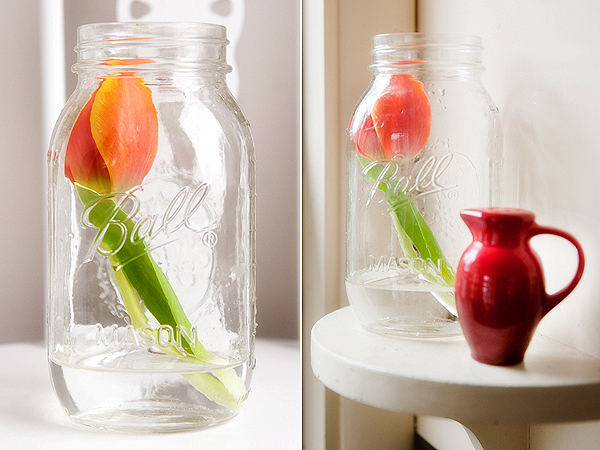 3. Find a jar that is not taller than and will fit inside of another vase or container (that is clear). Fill the space in between with your candy, rocks. or anything else that will fit in the space. Trim 2 bunches of tulips to fit the interior jar to the 2/3 in, 1/3 out length. Alternate colors when placing in jar for a more distributed look. Use leaves to cover up any of the top of the jar showing. Pour a little water in the jar with the tulips. This particular version is perfect for Easter. You could also fill with jelly beans or even Peeps!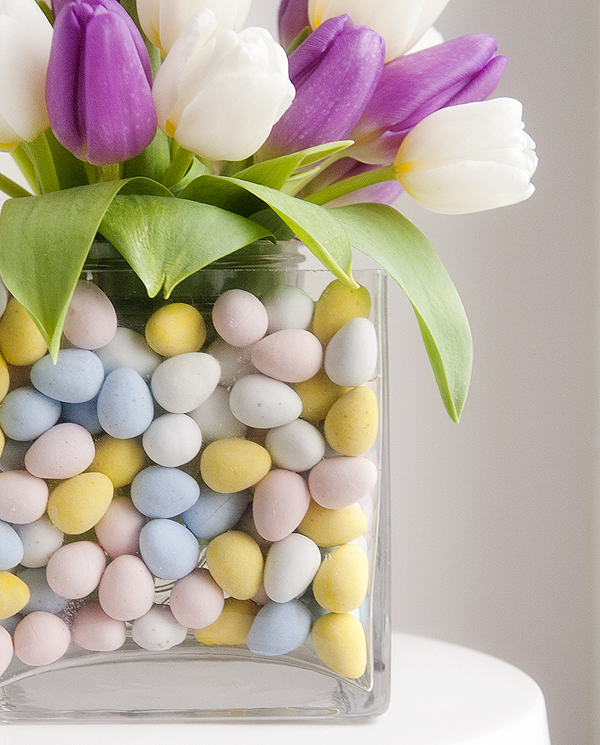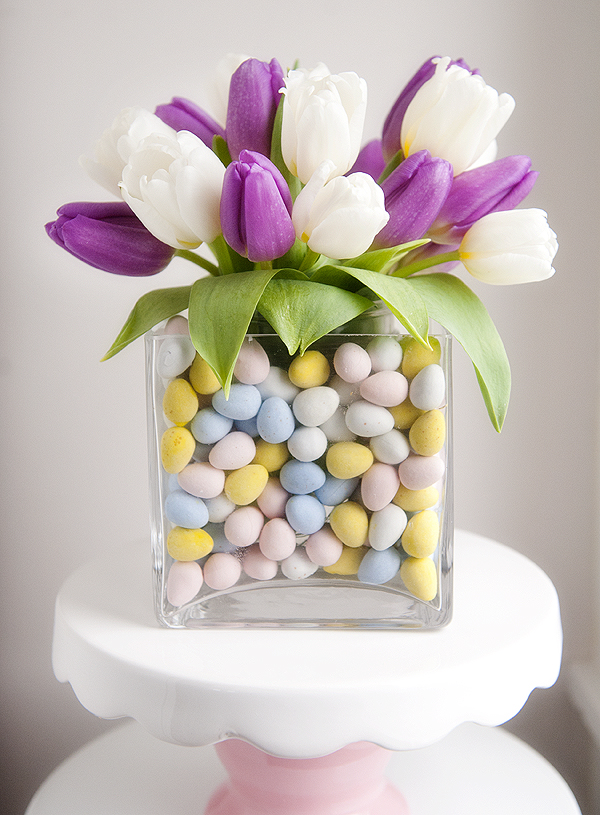 There you have it! 3 easy ways to enjoy tulips. Next time you are at the grocery grab a bunch and put some happiness in a vase. It is practically spring after all.
xoxo,