I've got 2 products that I have been using for a couple of weeks now and my results (thus far) are extremely positive…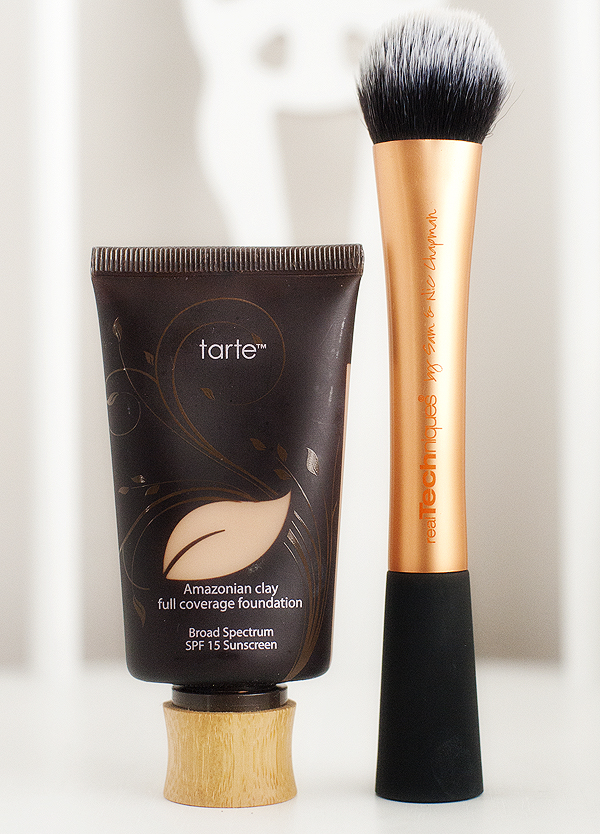 Let's start with Tarte's Amazonian Clay Full Coverage Foundation.
First off, this stuff breathes like a dream. This is absolutely no exaggeration either guys. Yes, it is full coverage, and by every sense of the meaning of the phrase "full coverage" it should feel like there's a little something on your face. But it doesn't… and that's magic.
What about that full coverage? On me it is true to it's statement. Lasting coverage on my somewhat combination skin (although this time of year it's far more tame if not on the dry side). It's a very buildable blend as well. A small pea size goes a long way, a larger pea will get you through an evening on the town done up right. It also happens to have SPF15. [Sunscreen always gets a plus in my book]
As far as applying above dream foundation I am crushing on this guy: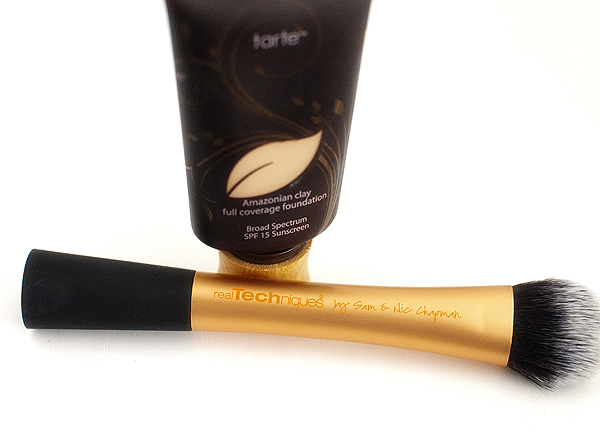 Real Techniques Foundation Brush.
If you get one, you will be out a whopping $6.44. Thank you makeup gods.
I have seen beauty bloggers talk, and use, and basically crush allover this brush so I had to give it a go. [Especially at that price!] There are recommended tutorials on how exactly to apply your foundation with this tool, ones that I am sure are incredibly helpful and more than likely something I will watch someday. But for now I squeeze that pea size of Tarte on my hand, dip the brush in and start swirling all over my face.
The brush is super soft and feels amazing on the skin. I love the way it distributes the foundation, especially in tough blending areas. While I cannot report on the long haul of this brush I can say for now I am canning my other foundation tools and solely using this guy. He's a steal of a keeper.
Do you have a favorite foundation and/or foundation brush? Please share as I am sure my skin will change in the next 6 months and I will once again be on the foundation hunt.
xoxo,