Tomorrow Sticky and I will celebrate 9 years of wedded bliss. Per usual we are hitting up a restaurant and trying our best not to talk about work or kids. [We give it an honest effort.]
The only dilemma is what to wear. He's got it so easy. Shirt. Blazer. Done. Me on the other hand will have things like what kind of mood I'm in, or how bloated I feel, or whether or not I am up for putting on tights to consider.
These are serious considerations…right ladies?
My plan of action is to have 3 pre-selected, head to toe looks to chose from. Which I have already done as you can see below. Come tomorrow, I will have a choice…and there will be no trying on everything in my closet. Been there, done that and hate cleaning it up.
Option 1
A dress with casual knee highs, simple bracelet and clutch. Not pictured are dark grey tights and obviously I'll need some warm outwear. If I am feeling like a busted can of biscuits this will work because there is no cling to the belly area. If the restaurant is cold, I'm screwed. [Yes, I know I could bring a sweater to wear over it but I really don't like the look of that with this dress.]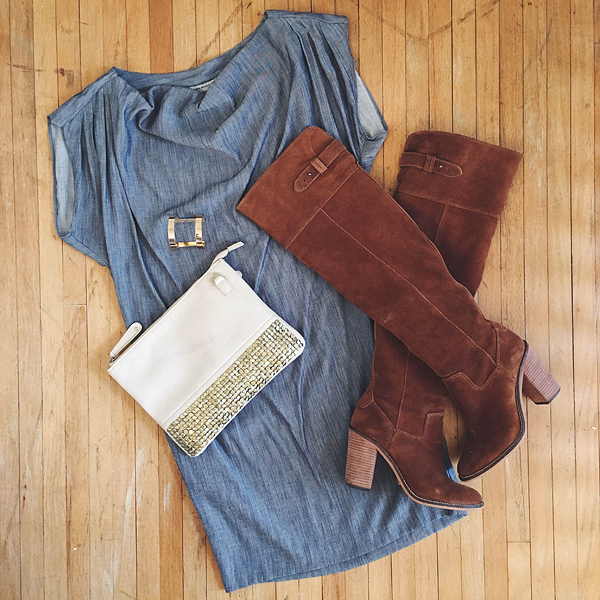 Option 2
Fun skirt, jacket, necklace, clutch, boots. All of this is definitely my idea of a fun yet sophisticated ensemble. I love those boots with all my soul. They just go with everything in way I can't explain. The jacket is lightweight, and the shirt is a tank, so I am thinking I'll at least need a chunky scarf for transport from car to restaurant. Oh, and there will be black tights. [I'm not that tough and my legs aren't that fit yet.]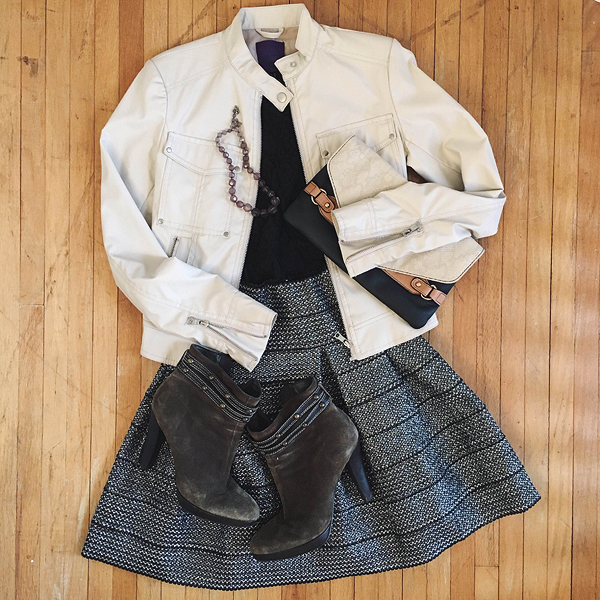 Option 3
Denim shirt and faux leather detailed jeggings dressed up with a statement necklace, bright clutch and heels. Definitely the most casual of them all until you consider that bling. This is the perfect ensemble if I am feeling absolutely BLAH tomorrow evening. Which I hope I am not but let's be real…there's a good chance I will. It'll also make a great date night Target run. Pretty sure we need diapers so yeah, that's happening.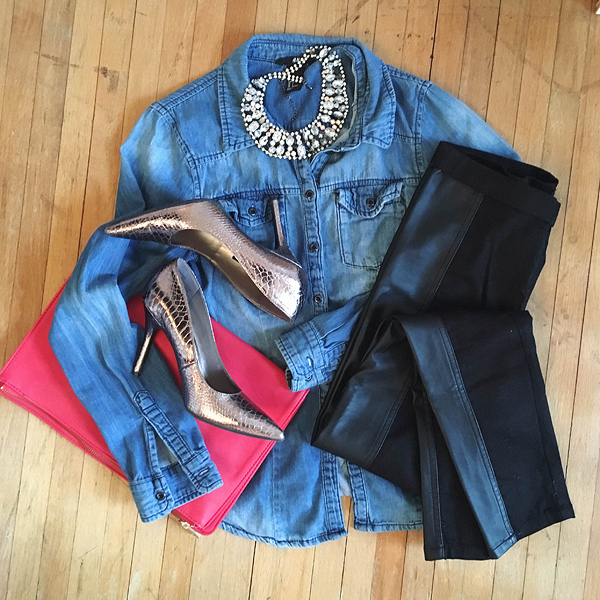 I am going to sleep like a champ tonight knowing I have a game plan. Hopefully I have my crap together enough to post a pic and let you know what I chose via instagram or snapchat. [Heck yes I snap! I'm pretty terrible at it but you can find me at ppj_brandyj.]
Regardless of what I wear 9 years with my man feels pretty damn good.
xo,