I am not sure 2 things could be more different as far as what they represent. That said no one likes cracked heels or smeared makeup…which is why I wanted to try these: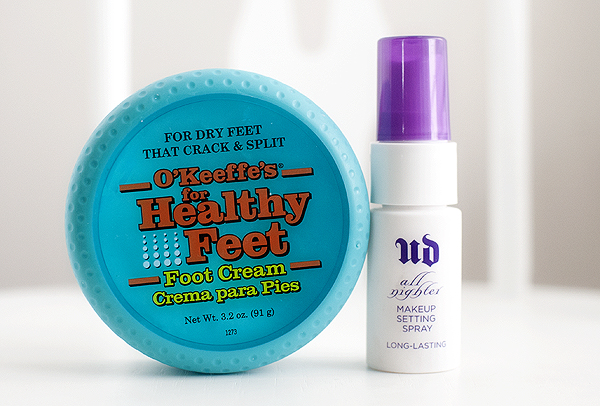 First up the O'Keefe's for Healthy Feet.
My family has been using the hand version for a few years now and love, love, loves. This formula is specifically for dry, cracked feet….you know, the kind that make you never ever want to take off your socks. For those of you who suffer from this condition [raising my hand high but you can forget seeing an image of the monstrosity] you know how frustrating it can be to not only find relief but healing power.
Sticky and I both apply this cream after every shower. A little truly does go a long way and after a week we could tell the difference. Much softer overall feet and the really tough spots, like the heels, are definitely improved. Highly recommend this tub of goodness.
I received Urban Decay's Setting Spray as a sample from Sephora and could not wait to try. If you are a girl who gets an annoying dark line in the crease of your eyelid from your eyeliner,  this product is for you.
Last week I used for everyday makeup and was very impressed. But the true test was this past Saturday. Full on, heavy application face for a night out with my man. Black eyeliner was used and not a even a speck was found anywhere but where it was suppose to be. I will be purchasing the full size version as soon as my sample runs out. Good news is that won't be for awhile since even the small trial size seems to be lasting for a long time.
100 thumbs up for 2 products I am loving. If you give them a try I hope you love them as much as I do.
xoxo,