2 holidays ago Sticky got me a coat for Christmas. A beautiful coat that I really wanted. What he nor I knew was that said coat ran really, really, really small. Like so small that it almost felt like a cruel joke. Any other year I would have probably laughed it off and went on my holly jolly way. But that particular Christmas I was 6 months post partum. I basically wanted to throw the flipping tiny coat in the fireplace and punch a reindeer in the face.
My man's reaction…"I should have got the damn boots you asked for."
And that's just what he did last December. I have wanted Sorels to call my own for as long as I can remember. Opening up that box completely depleted the awful Smurf size coat fiasco. I am sure Santa could hear Sticky's sigh of relief all the way up from the North Pole.
I have been breaking in my fancy new snow boots since December 25th. I am not kidding when I say these bad boys live up to all the hype and then some. They are so, so warm….and after you get over the initial "big foot" feeling, you will love the way they look so perfectly winter chic. There are many ways to sport your Sorels…this is my favorite for super frigid days: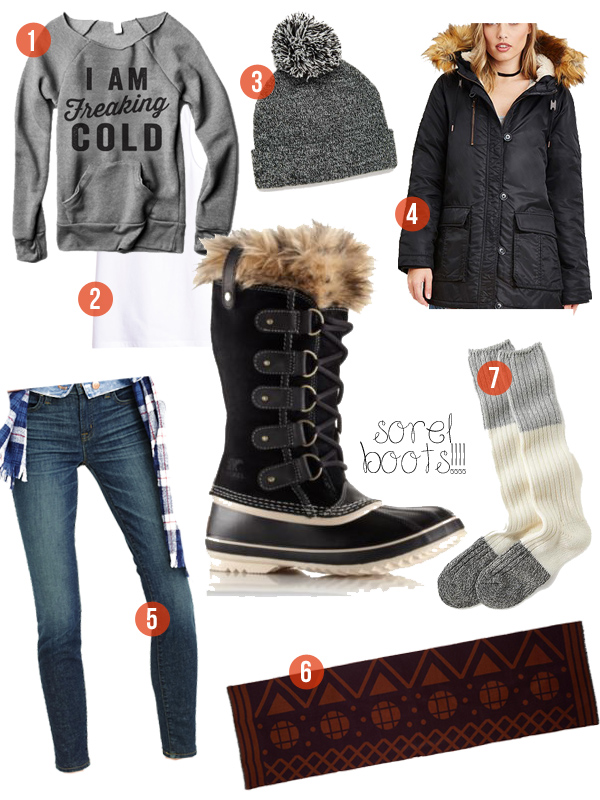 SOREL Joan of Arctic Boot 1Thug Life Shirts "I Am Freaking Cold" sweatshirt/2H&M long jersey tank top/3ASOS short turn up beanie with ball/4Forever 21 faux fur puffer parka/5J Crew toothpick jeans/6ASOS oversized geo scarf/7Old Navy marled boot socks
You did good babe, you did good.
xo,