I am by no means a planner…well I sort of am if trumping up all sorts of ideas is considered planning. Timely execution on the other hand is not my forte. Right now I am dreaming of 2 birthday parties. Events that will not be taking place for another solid 4 months. Jettie and I talk about her and Bing's parties on a daily basis. I have created a monster and I couldn't be more proud. (I realize I may eat those words in a few months.)
One of the reasons I love my etsy shop so much is that I get to have a small hand in other celebrations. I especially love this time of year because having no winter babies of my own, means no fun frosty themes for me. Luckily, my oh so fab clients request custom designs and just like that, I am creating a penguin theme invite!
This guy could not have been more enjoyable to put together. What's cuter than a penguin? Not many things. And the word "waddle" – does a word get more perfect for a ONE year old? While we are on the word waddle how perfect would this be for a baby shower…or a gender reveal. "Waddle it be?" UGH! I can't take it!
Someone I know needs to have a penguin party STAT! Here's some beyond cute things to inspire you: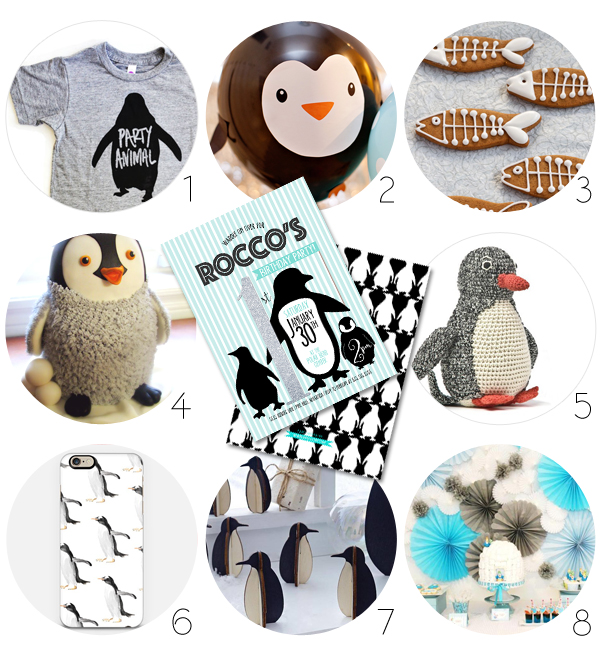 1party animal t-shit Celebrate Always Shop/2penguin balloon tutorial HWTM/3fish cookies The Bearfoot Baker/4penguin cake Tumblr/5penguin soft toy Smallable/6penguin iphone case TripleShop/7penguin decoration Not on the High Street/8arctic party table Bird's Party
PENGUIN INVITE found at www.ppjshop.com
As are all the shop's invites, the colors can be customized to fit your party theme. There is also a script font version of this invite to pretty it up a bit.
Find this and many more fun, bold, fresh party invites/decor at the PPJ Shop!
Cheers to penguins!