Seems like a million years ago my mom had me at the dermatologist with a face covered in a lot of embarrassment and a little acne. Middle school was not kind to me in many many ways. I was tall, gangly, awkward and now there were pimples. How lovely.
The good news was that I had the version of acne most of us succumb to at some point in time in our adolescence. Annoying, yes…but not the life ending event we all felt it would be at the time. (Wasn't everything out of the norm life ending back in those days?)
What I did learn back then from my fabulous dermatologist were 2 things…Retin A cream was my new BFF and skin toner was awesome.
Fast forward all the way to today and my Retin A use is now a thing of the past. (For now, I'm sure I have adult acne in my future.) Unfortunately I have been delinquent with my toner usage. New year, new leaf though and I have fallen back in love skin toner. It deep cleanses, it minimizes pores, it evens skin tone…why I don't use it morning, noon and night is beyond my reasoning.
Here are 3 toners I have used in my life with my favorite at the moment being #2. Thayer's smells AMAZING and it contains zero alcohol which is perfect for sensitive skin or those of us who are concerned about our natural oils being stripped. (The smell alone though guys…WOW!) #1 was my the toner of my youth and it is fabulous for oilier, problem skin. #3 has been my on and off toner the last decade or so. It's incredibly gentle, hydrating and cheap as dirt. Always a bonus in my book.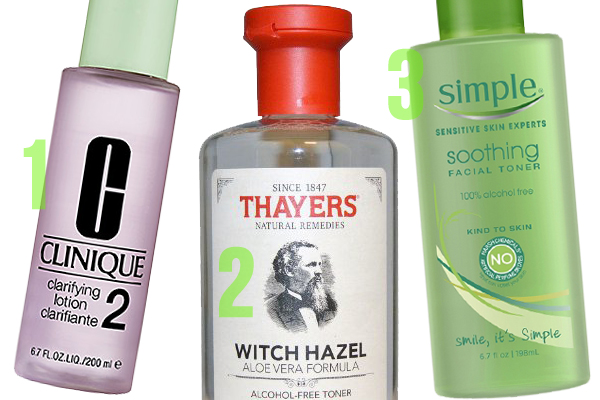 1Clinique clarifying lotion/2Thayers witch hazel/3Simple soothing facial toner
So tell me…what's your favorite toner?
xo,