Perhaps you hoped the culotte would reenter the fashion scene in 2015 and let that, be that. It was good for a giggle, maybe looked okay on a few people, but thank goodness that's over. Or is it?
2016 is screaming with all sorts of fun, Carrie Bradshaw 90s inspired fashion. [Let's take a moment to be real and admit none of us dressed like Carrie Bradshaw did in the late 90s. I was wearing Monica Gellar cardi sets all the way people.] From bomber jackets to mini dresses,  the 2016 fashion scene is exploding with sexy fun 90s style.
And oh yeah…there's culottes. Lots and lots and lots of culottes.
Now before you turn your nose up in disgust, do consider, just for one second, that there may be a culotte for you. Maybe it's a more tailored version. Maybe it comes in romper form. Maybe it's longer, maybe it's shorter (okay, even I just threw up in my mouth a ltitle)….whatever it may be it's worth a shot trying because that is what fashion is all about. Discovering things about yourself that you never knew you would like or even love.
Here are some culottes you might like, at least a little, or maybe a lot: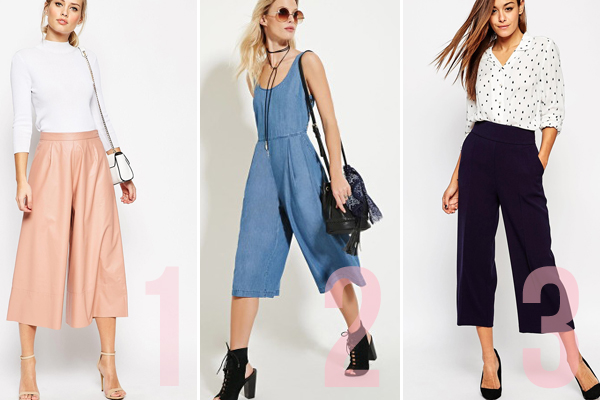 1ASOS leather look structured culotte/2Forever 21 chambray culotte jumpsuit/3ASOS clean tailored culottes
My favorite is by far #3, not that I am ready to purchase but I am definitely not counting myself out of the culotte game.
Cheers!