Blogger hair, mom hair, Kardashian hair…call it what you want the lob is holding strong. Meanwhile I am holding onto the same long hair I have had since before my children were born. Aka the official 2009-2013 "blogger, mom, Kardashian hair"..you know, before everyone started lobbing.
I am not sure whether or not I am ready for the scissors. Last time I made a dramatic cut was based on the drastic haircut of someone who was married to Tom Cruise at the time. Clearly she was not in her right mind…so yeah, copy her hair…that's a wise decision. Truthfully, I didn't hate the cut. My heart wanted a change and change is what I got. My heart hasn't felt that same need since, yet I am beginning to feel like my long tresses are a bit of a drag for everyone who has had to look at them the last 8 years. Myself included at times…
So here I am again, kind of drooling over hairstyles yet not officially committing. Lauren's messy bob is everywhere and would be perfect for those of you wanting to go shorter with your lobs. I love the fringe but the maintenance of the bangs makes me hesitate. I do not have the face to pull off blunt bangs with long hair like Cece (I know her name is Hannah but she will always be Cecei to me) but somebody out there reading this does and should. If my hair was naturally straighter I think a blunt lob would be fantabulous. (I think a longer version of this would be even better.) The flipped crop gets a big "oh hell no" from me but you know who you are…you delicate faced, look like Tinkerbell's biological sister….please do this so the rest of us can admire you. And lastly the deep part with sleek, straight hair. Polished is supposedly coming back for 2016 and I for one wouldn't mind the change. (But I hate straightening my hair.)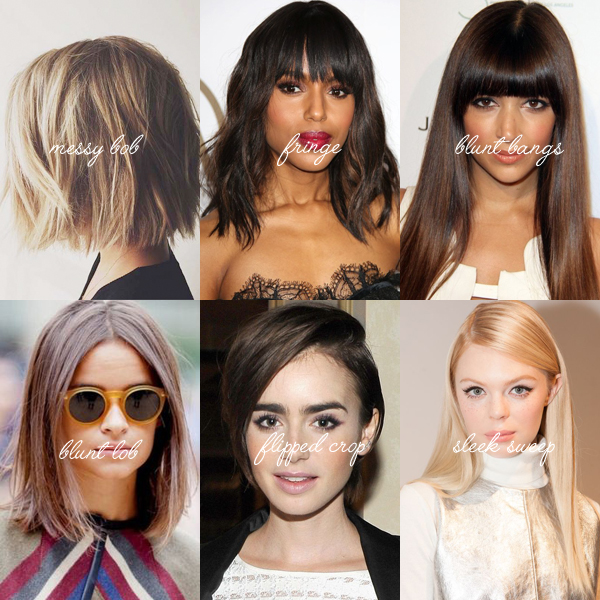 There you have it. 6 amazing styles I will most likely not be rocking. I fully expect a "same old long hair for umpteen years" intervention from my friends and family at some point.
What are you going to rock this winter?
xo,