Over the holiday break I spent sometime cleaning up issues I was having on the blog …things that were making posting more time consuming yet I didn't have the time to actually fix them. My mindset was that I'd be going into 2016 with efficiency…all was well until our heater went on the fritz. Next came the internet failure. We had a repairmen in the basement and our service provider on the phone. Fun Monday.
Efficiency plans were foiled but I did not lose my cool over any of it. After 2 weeks of watching "the real" Cinderella (human version) I decided more grace could be added to my life. Of course I am not sure anyone could be as kind as Cinderella in real life (except for maybe Joanna Gaines) but I'll give it a shot. I'm sure I can keep on track for at least a week…
One great thing about your heater going out is covering your living room in every blanket you own and snuggling hard with your kiddos. We of course didn't sleep here but someone had to be available on Monday to make sure the repairman could get through the door. I thought the kids would be miserable but they both loved it. Who wouldn't love a blanket cocoon and movie marathon? If anything we snuck in one extra day of break with our fantastic heat snafu.
Regardless of whether we have heat or not, our house always gets a little chilly this time of year. Now that winter has really set in I am finding myself living in huge chunky throw on sweaters. I like to call them "house sweters" because I rarely wear them outside of my house. Not because I don't love them…more so because they are so big that I do not have a giant enough winter coat to throw over them.
Nonetheless, they are an essential item to have. Here are some picks for any of you in the market for your very own "house sweater":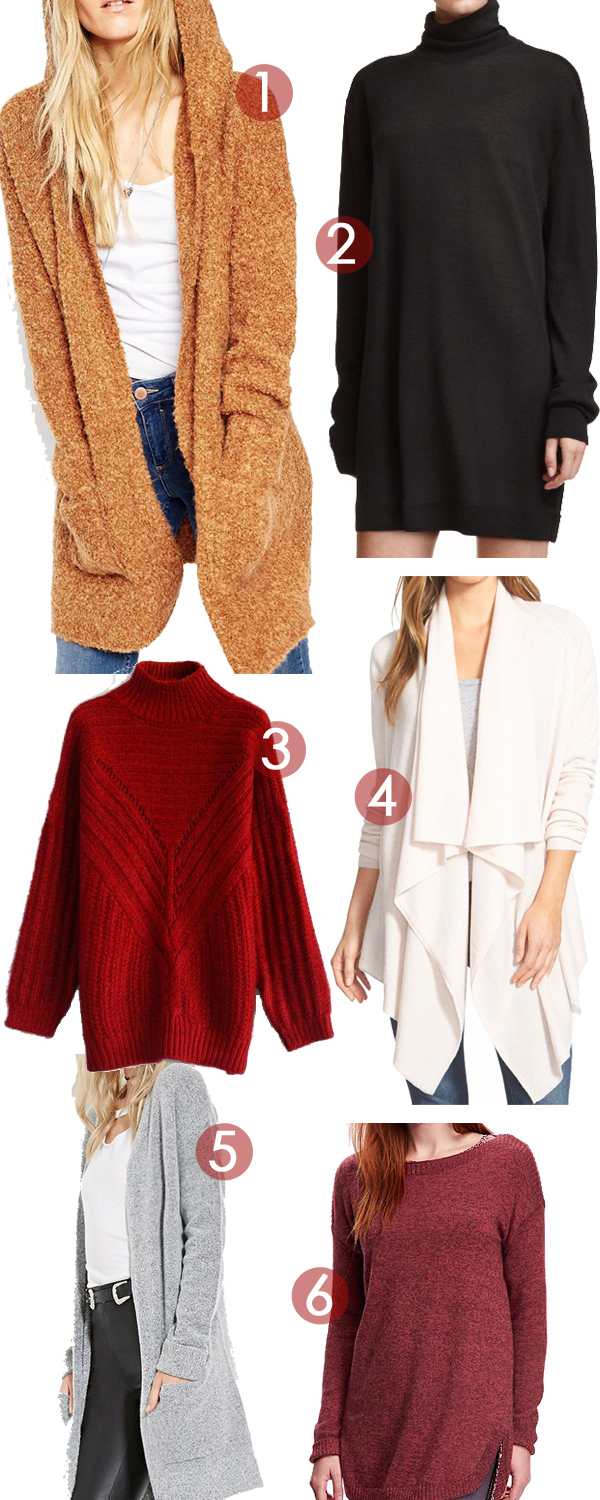 1ASOS coatigan in boucle with hood/2H&M knit turtleneck sweater/3Chicwish oversized turtleneck sweater/4Halogen wool & cashmere drape front cardigan/5Forever 21 marled open-front cardigan/6Old Navy curved hem pull-over sweater
Okay…yes, some of these would be easy to wear under a coat but I added them anyways only because they looked so dang comfy.
A word of warning on oversized sweaters though…they do add nonexistent mass in photos and videos. Be on alert for anyone holding up a phone while wearing. Nothing ruins a cozy mood more than unapproved social media postings where one looks larger than one actually is.
Enjoy your sweaters!
xo,