I can't lie…my brain is mush at the moment. Between editing and designing and sneaking in more shooting whilst completely and totally being in the weeds with shooting, editing, blogging, designing, Christmas shopping and basically everything in life I am feeling a little woah. But then it's December and I am not sure how else to operate. (And honestly should have known better when I planned two big trips in the middle of November without realizing how much that would put me behind. Silly me…)
With all that being said I refuse to allow the craziness to consume me and I will enjoy my favorite parts of this season. Even if I have force myself because let's face it…being busy is not living. It's just being busy. Which is sort of boring if you think about it.
One fun thing I have slacked on is getting my wish list around for our families. This is something I get worse and worse at every single year. I really do not need anything, in fact I am longing for less things. But I do love gift giving so I have to do my part to make another gift giver happy.
I can usually count on my mom or husband to "surprise" me with a new pair of boots. (Let's be clear – I will always have room for more boots. Do I need them – absolutely not. They do however put a smile on my face, so….. I'm gonna keep em.) This is my wish list for holiday 2015, and there's a reason behind each selection…
1Because a mom has every right to look stylish while playing in the snow with her kiddos.
2My shoe closet has never met a wedge bootie, I think the time for an introduction has come.
3Believe it or not I do not own a pair of riding boots.
4Because they are cute and timeless.
5Ding! Ding! Ding! Ding! Ding! These are the ones I want worse than gold. They swoon me, they make me blush, they need to be part of my fall/winter life. I LOVE THEM. (Hint, hint. Wink, wink.)
6These, these bad boys, I absolutely and utterly do not need for any reason other than they are hot and I might want to feel sexy…someday…again..maybe.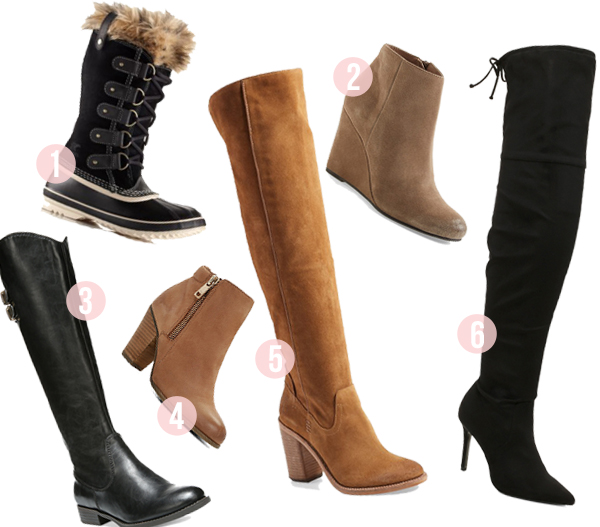 1Sorel joan of arctic boot/2Dolce Vita garim wedge bootie/3Fergalicious lullaby chelsea boot/4Aldo janella/5Dolce Vita ohanna over the knee boot/6Aldo asteille
What boot would you love to see under the tree this year?
xo,