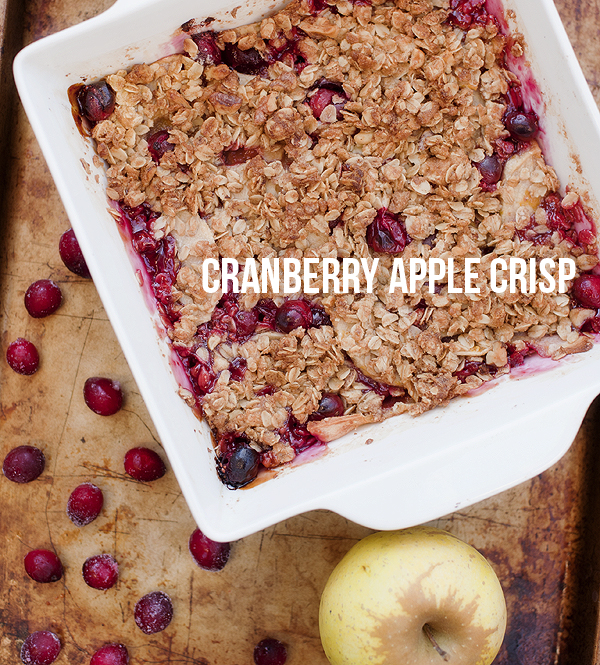 If you love a good fruit crisp then you have got to try this twist on a classic cranberry and apple recipe. It's got all the standbys…tart fruit, check – cinnamon, check – oats, check. But what this one has that many others do not is an extra crunch in the topping (from nuts no less) and a little zing from some orange zest in the filling. It is without a doubt one of my favorite crisps to date.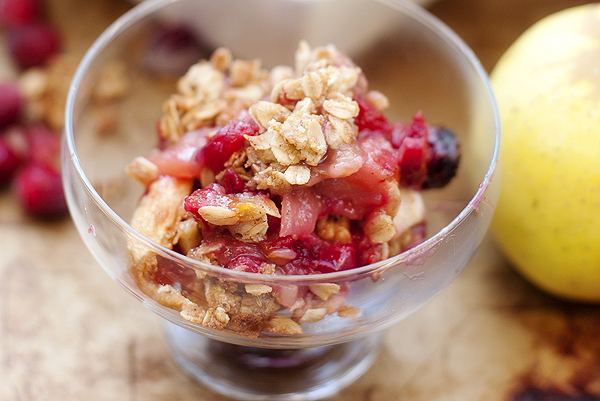 Can we talk about how unreal it is that Thanksgiving is just around the corner? When I was a kid November felt like an eternity because as we all know the official countdown to Christmas couldn't start until Thanksgiving dinner had been served. As an adult things feel rushed, like we are trying to zoom straight to December 25th, without even a pumpkin left out for turkey day. Don't get me wrong, I love both holidays… I just wish this one was savored a tad more. What could be better than food, people we love and more food? Not much if you ask me.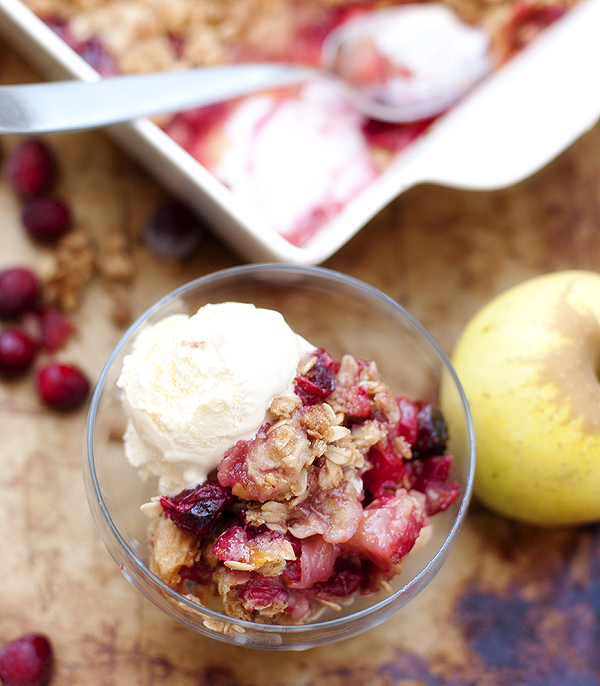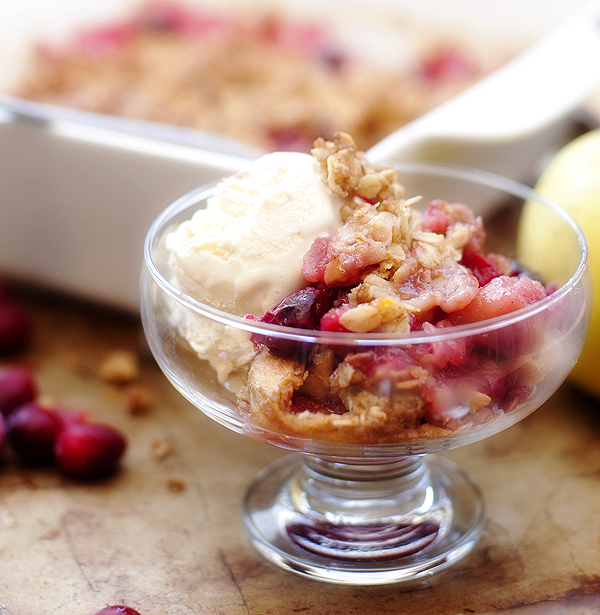 I have yet to decide what exactly I am bringing for our Thanksgivings (we are lucky, we get to celebrate twice on separate days). But a fruit dessert is almost always on my roster. This crisp would make a wonderful addition to anyone's table!
Enjoy!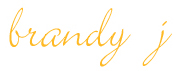 cranberry apple crisp
Ingredients
For the topping:
1cup rolled oats
¾cup all purpose flour
⅔cup brown sugar
¼tsp kosher salt
6tbsp butter, melted
1.4cup chopped walnuts (optional)
For the filling:
5 large apples peeled, cored and sliced into ¼" thick slices
1½cups fresh or frozen cranberries
⅔cup granulated sugar
1tbsp cornstarch
1½tsp cinnamon
1tsp orange zest (optional)
Instructions
Preheat an oven 375ºF. Grease an 8X8 baking dish.
To make the topping mix all topping ingredients in a medium bowl. Press the ingredients together gently with your fingers until small clumps form. Place bowl in freezer while you make the filling.
For the filling place apples, cranberries, sugar, cinnamon and zest in a large bowl and toss together. Dump into the prepared dish and spread evenly.
Gently press the topping on top of filling evenly. Place in the oven for 60 to 70 minutes or until the crisp is bubbly and topping is a little golden. Cool for 20 minutes and then serve with vanilla ice cream.