T-minus 12 sleeps until Halloween! Yes, I love this October date maybe a little more than the average Joe but I can't help it.. any event that involves a costume is typically my kind of event.
If you are more of a "meh…" person when it comes to Halloween (party pooper…) might I suggest dipping your toe in just a bit? By wearing one festive thing or going incredibly easy in the costume department may make this fabulous holiday more manageable for you. (That's right, this is a fabulous holiday.) Here are a few options to bring out the festive Halloweener I know is somewhere deep down inside: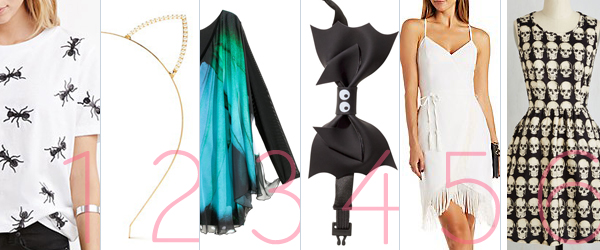 1Forever 21 aunt t-shirt/2Forever 21 cat ear headband/3H&M butterfly dress/4H&M bat bow tie/5Charlotte Russe flapper dress/6Modcloth skull dress
Whether elaborate or only wearing pumpkin socks I wanna see your Halloween! Please tag #PPJHalloween, my favorites will be posted on November 2nd!
xo,