A couple of months ago I was contacted to do a custom "It's a Small World" invite. My instant reaction was yes, Yes, YES! My next reaction was "Why didn't I think of that?!"
Disney is a part of my heart, soul, mind, air, body, etc…so yeah, I was all over the idea of designing an invite inspired by one of Disney's beloved rides. Diving into this one I fell in love with the geometric aspects of the ride's facade. Triangles, rectangles, ovals and pennants collide with a deconstructed clock and make one cool architectural structure…or in this case, birthday invitation.
I was thrilled with the final outcome, and so was the client which made me even more smitten. This is by far one of my favorite birthday theme ideas of recent. You can do so much with the languages, travel angles and of course, the cute kids that make up "It's a Small World." Your imagination knows no limitations with this one. Here are a handful of ideas to get you started:
It's a Small World invitation from the PPJ Shop
1adorable smash cake HWTM/2it's a small world theme cake One Charming Day/3geo cookies Sweetcheeks Cookies & Cakes/4diy honeycomb balloon garland Studio DIY/5sequin cap sleeve dress Nordstrom/6diy piñata Confetti Pop/7little luggage favors One Charming Day/8boat ride replica Pinterest
Since this pretty invite has debuted in the shop there have been some orders which included completely different color schemes. I love how this design can go pastel or bold without losing any of it's fresh, child-like vibe. And that last one, she's a baby shower version. Seriously, how much fun is that?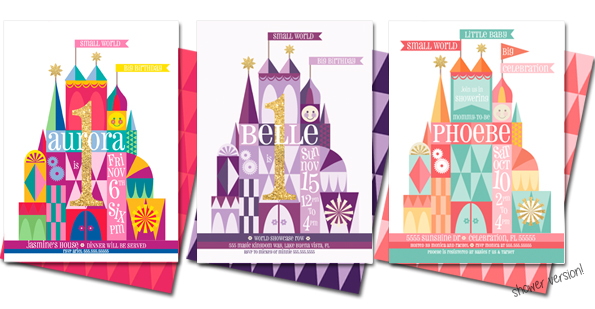 If you really want to go all out the shop has you covered with this adorable coordinating party printable set: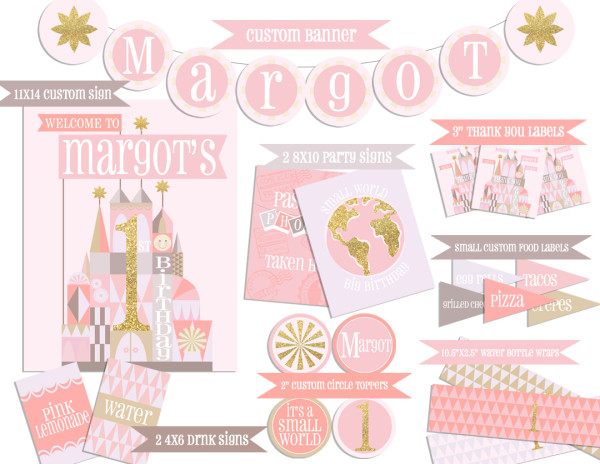 Happy Party Planning!
xo,