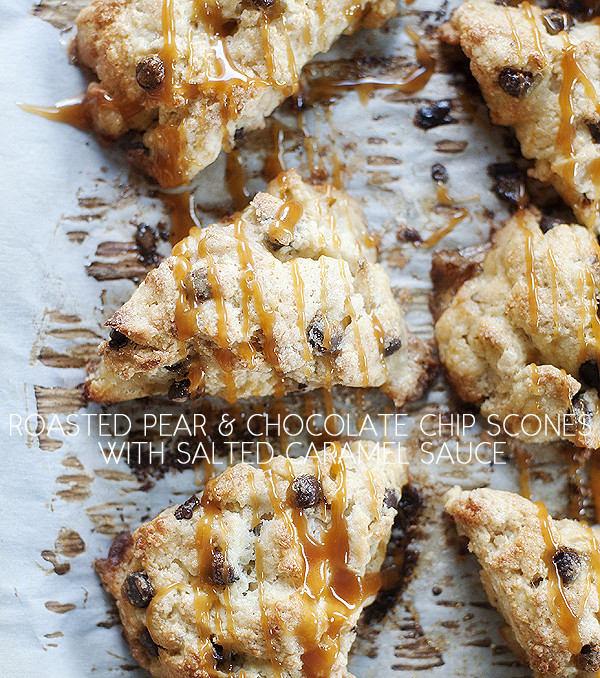 If you are looking to impress yourself or someone else you need to grab some pears and make these scones. One bite and you will be convinced that you could open up your very own scone shop. These are that perfect people.
Part of their amazeball-ness is due to the goodness in the below image – roasted pears. Your life will never be the same again.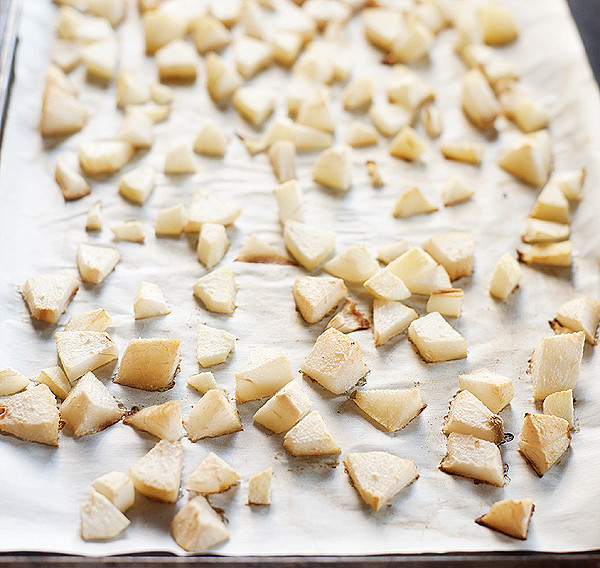 I talk about scones a lot on here and I will continue to do so because I love them. One thing that throws people with the scones though is the dough – it is a hot mess. And it is suppose to look like a hot mess. As long as you have a well floured surface though you should be able to form that mess into a round.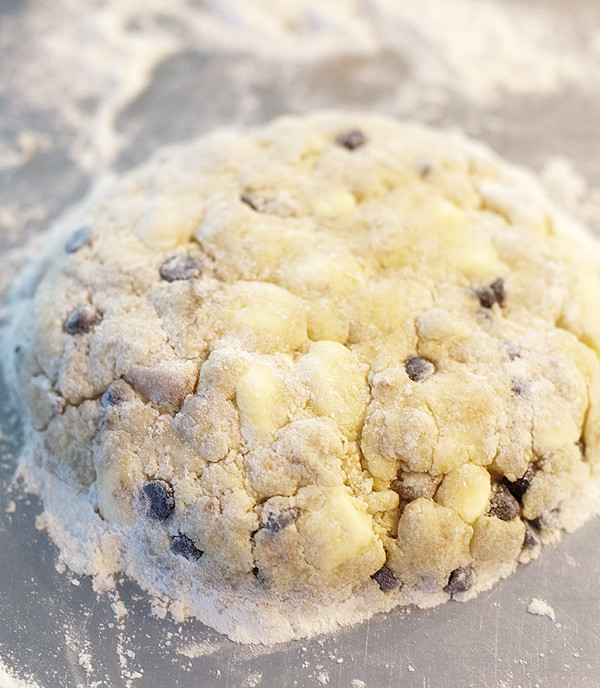 20 minutes in the oven and you have tender, fluffy scones bursting with warm pear and bitter chocolate. The worst part is waiting them to cool enough to shove in your face.
Now, these are absolutely fabulous on their own. Let's get that straight. But for some reason I had the urge to drizzle..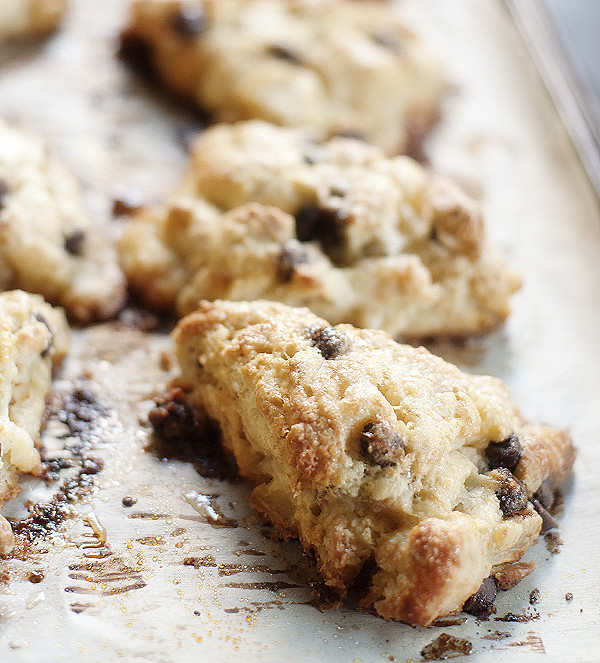 and I am so happy I gave into the urge. The salted caramel sauce takes these bad boys from incredible to "I can't believe this came out of my kitchen"status. It was worth every second of the extra effort to make these already perfect scones out of this world.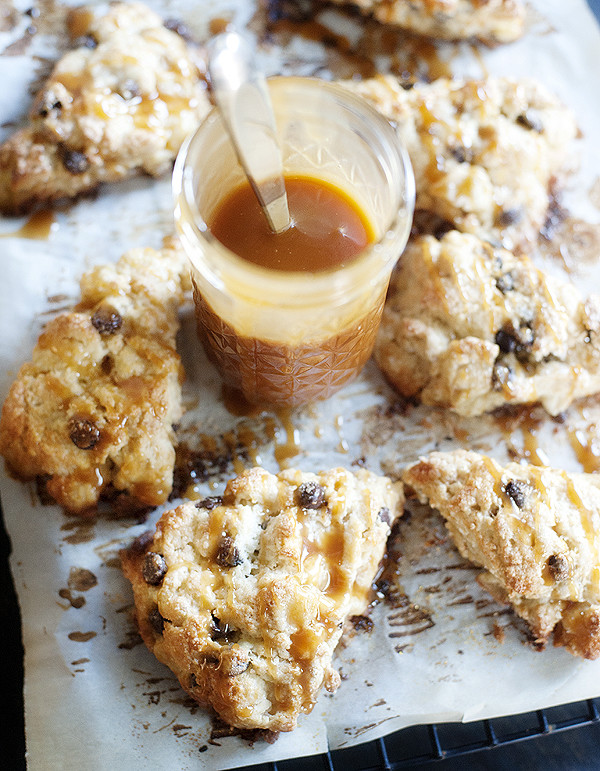 If you have yet to try your hand at sones I urge you to de-virginize with this recipe! You will absolutely not regret it!
Enjoy!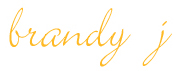 roasted pear & chocolate chip scones with salted caramel sauce
Ingredients
For the scones:
3 medium size firm pears - not overripe but not rock hard - peeled, cored and chopped into 1" pieces
1½cups all-purpose flour
¼cup sugar plus 1tbsp for sprinkling
1½tsp baking powder
½tsp kosher salt plus a pink add'l for egg wash
6tbsp cold unsalted butter, cubed
¼cup heavy cream
¼cup semisweet or dark chocolate chips
2 large eggs, 1 for dough, 1 for egg wash
For the sauce:
1cup sugar
6tbsp unsalted butter, cubed
½cup heavy cream
1½tsp kosher or sea salt
Instructions
Preheat oven 375ºF. Line a baking sheet with parchment paper and roast pears until dry and a little brown on the bottom. A bout 20 minutes. Set aside to cool. Do not turn oven off.
Place flour, ¼cup sugar, baking powder and ½tsp salt in a mixing bowl. Whisk together. Fit mixer with a paddle attachment and add cooled pears, butter, heavy cream and 1 egg. Mix on low until ingredients are just combined (no over-mixing!). Add chocolate chips and mix for just a for more seconds.
Place fresh parchment paper on your baking sheet. Dump dough onto a well floured surface. Form into a 6" disc. (The dough may seem really crumbly - it's okay, just put it together with your hands.) Cut into 8 wedges and carefully transfer to the prepared baking sheet. Bake in 375ºF oven for 20 minutes or until scones are firm to the touch. Allow to cool on the sheet.
For the sauce place sugar in a saucepan over medium high heat. Stir constantly with a heat resistant spatula or wooden spoon until melted. Will turn lumpy and then deep dark amber brown. Make sure to keep the story going otherwise your sugar will burn and no caramel will be made.
Once sugar is completed melted add the butter, continuing the stir. Be careful because the butter will make it bubble. Continue stirring until butter is completely melted. SLOWLY add the heavy cream, stirring the whole time. Once completely added let boil for 1 minute (no stirring during this step).
Take sauce off the heat and add salt. Stir will and then carefully pour in a heat tolerant container. Allow to cool before using (doesn't need to be cold though - a little warmer than room temp is good). Drizzle over your beautiful scones and devour. Store extra sauce in airtight container, in the fridge for up to 2 weeks.