Transitional seasons are the best. It's that special time of year when hats, jackets and booties are center stage. You don't have to hide your super cure outfit underneath a bulky coat.  And you no longer have to worry about those piggies being painted and legs being freshly shaved. (Hallelujah!)
As with most transitional seasons there is always one item that is all the sudden a fresh, must have. Lucky for us this year's have to have is more than likely something we already own. And if we don't, it certainly won't break the bank purchasing new.
Break out those bandanas ladies – except this time we are going to accessorize our necks with them. And here are a handful of ways to do just that: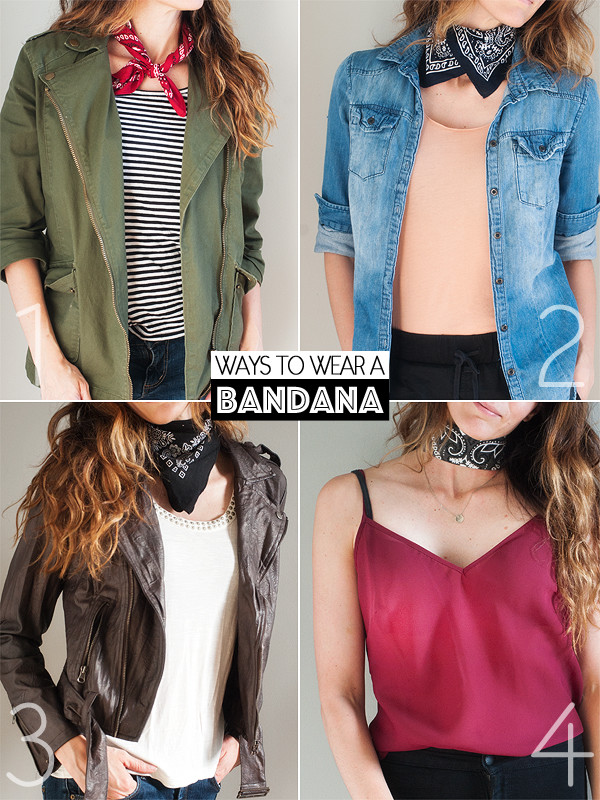 1Twist & Knot – fold bandana in half, point to point. Continue to fold by about 2″ increments until you have folded down to 2″. Hold at one end and beginning twisting at the other. Do not stop twisting until entire length is twisted. Wrap around neck and tie into a low knot in the front (you will want to hold onto the ends secretly while knotting otherwise twist will untwist)./2Double Pennant – fold bandana in half, point to point except angle one point farther than the other (this creates your double pennant). Fold the folded side down a bit and then tie around neck – knot in the back with pennants facing forward. You can adjust points slightly after bandana is tied./3Cowboy – fold bandana in half point to point. Placing point in the front, tie around neck in the back. Easiest and maybe the coolest way to wear your bandana./4Chocker & Necklace – fold bandana in half lengthwise all the way down to 2″. Wrap around neck already decked out with a dainty necklace. Tie in the back.
As you can see the bandana is incredibly versatile – going with everything from your military jacket to a thin strap cami. The key to it looking effortless is to pair is with one basic piece (like a solid tee) and one current piece (like jogger pants or utility jacket). Simple as that! (But we won't tell anyone because it is effortless after all.)
Now go dig out those bandanas! (I think the last time I wore mine was when Trading Spaces was on current television – oy vey!)
xo,