I've been swamped lately which means I do not mindlessly peruse IG as much as I normally would. There are handful of accounts, outside of people I literally know, that I do classify as "favorites". In other words, I'll check into their feed to see what sort of style I may have missed. The list is far too long of all my beloved fashion ig-ers, but here is a sampling of some of my absolute favorites: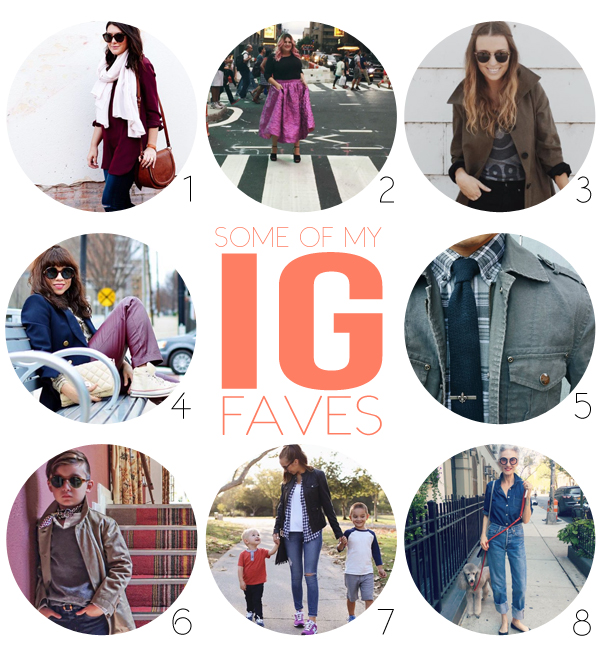 1@kendieveryday has been a long time favorite. Her style is accessible yet there is almost always a little twist to make the look her own. Approachable, fun, classic – those words come to mind when I think of Kendi./2@nicolettemason speaking of fun, no one seems to be having it more than Nicolette. Right now she is taking over NWFW with her bold "I love color" approach to fashion. Gorgeous proof that style has nothing to do with size, and everything to do with attitude./3@sydneyliann is not a 100% style account but she is the queen of casual, cool mommy fashion which makes her pretty awesome in my book. Sydney's looks are so simple and effortless. I want to rock a t-shirt like this chick when I grow up./4@my_small_wardrobe style doesn't end in your 30s…thank goodness! Carelia rocks the latest trends, while looking classy for her age and somehow pulling it all off with very little in her closet. Yeah, she pretty much rules!/5@thedressedchest…this is brilliant. There are few things I love more than styling Sticky and this account gets my gears going. Menswear is a lot cooler than people give it credit for, and if you ask me more men should embrace all the coolness to be had./6@luisafere if you are not following Mateo and his gorgeous mom Luisa I am not sure what you are doing with your life. Yes, they live in an unrealistic world of travel, style and good lighting. But the way she dresses Mateo and the way he pulls it off is like a gift from the fashion gods./7@merricksart and then back on the earth with the rest of us is the ever so adorable Merrick. Besides her name being incredibly awesome, she is a seamstress and all in all crafty girl. Merrick wears and makes beautifully modest clothing. Another mommy being all sexy in a comfy pair of New Balances and ripped jeans. (She also just announced baby #3 on the way!)/8@advancedstyle stop what you are doing right now and follow this account. I love these stylish human beings. Rocking who they are and what they are in a stage of life that is typically downplayed. I hope to rise to the occasion when it is my time. (Heck, I wish I had half their gumption right now.)
Who has style that you love to follow on IG?
xo,