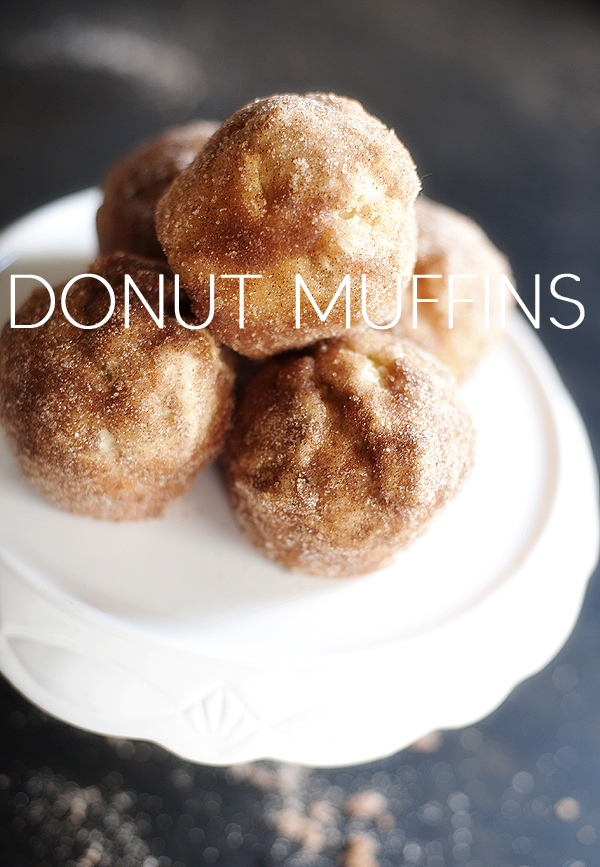 Need to make new friends? Stand in public places with these muffins. Piss everybody off at the office? Show up with a plate of these and no one will remember why they are mad at you. Need a recipe that will knock the socks off your Labor Day guests? These muffins are your answer.
In other words…make these muffins. Right now. (FYI, you're going to need a lot of butter.)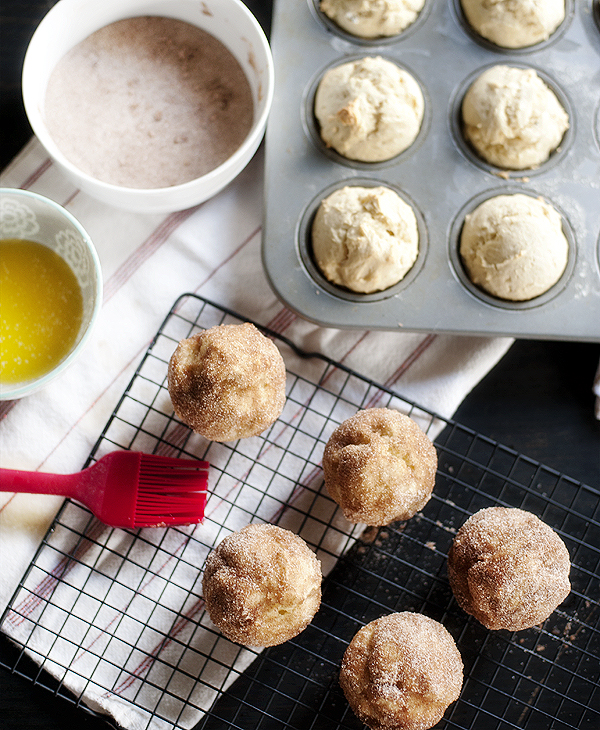 What makes these little guys so good? Um..what doesn't? The batter is simple and bakes into a muffin very reminiscent of a cake donut. Firm yet soft and full of nutmeg flavor. But the thing that seals the deal on being an amazeballs muffin recipe would be the sweet, cinnamony, almost crunchy exterior…which is achieved by a butter shower and a roll in some cinnamon sugar. If you think it sounds good just wait until you take a bite.
Muffin superiority.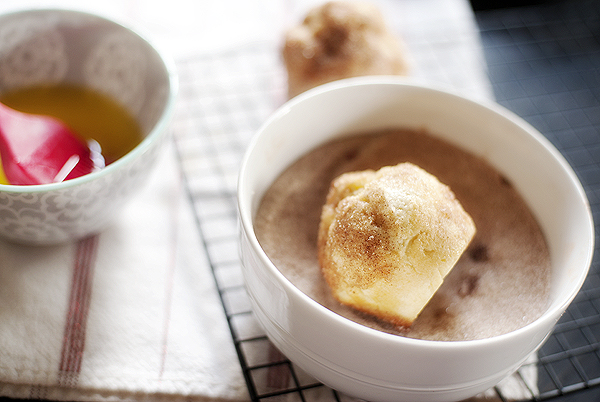 How did I discover such a wonder of the baking world? A show called The Best Thing I Ever Ate – "Snack" edition. Candace Nelson of Sprinkles recommended this treat from the Downtown Bakery & Creamery. It was love at first sight, and basic torture to watch her take a bite. I needed these in my life and was overjoyed to find the official recipe online. (Thank you internet.)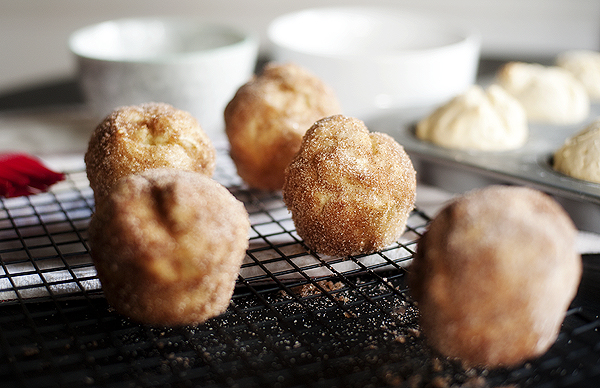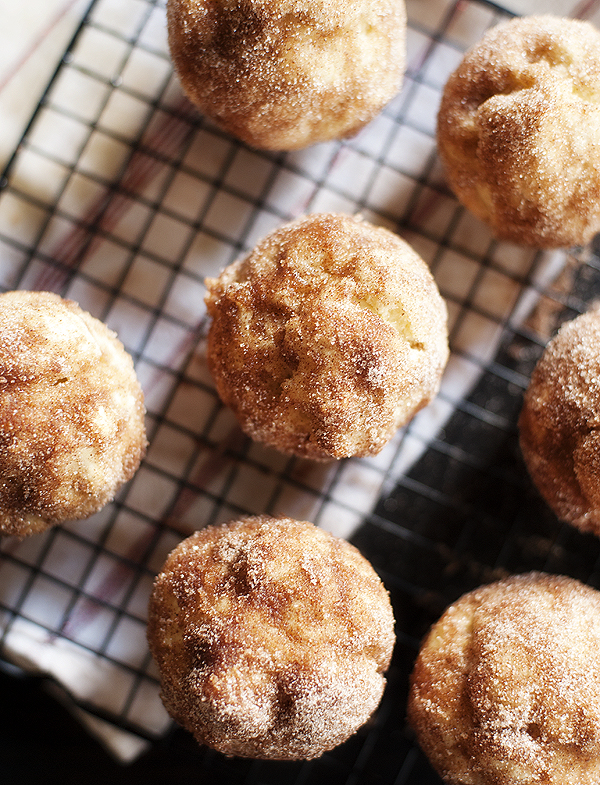 You can admit it…you want a bite. I don't blame you.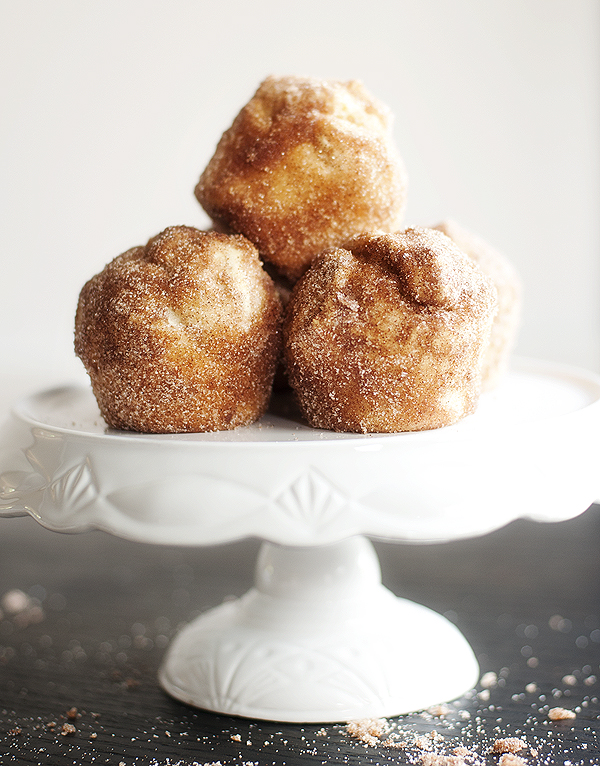 Sticky at first called these croi-nuts which I informed him makes zero sense. He then moved onto to do-fins,  and later muf-nuts. You can guess which name was his favorite. I'm too busy to call them anything because all I want to do is stuff them in my mouth.
You better be creaming some butter and sugar right now…
Enjoy!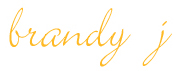 donut muffins
Author:
recipe found at Just Baked
Ingredients
for muffins:
12tbsp unsalted butter, room temperature
¾cup plus 2tbsp sugar
2 large eggs
3cups all-purpose flour
2½tsp baking powder
¼tsp baking soda
¾tsp salt
½tsp ground nutmeg
½cup plus ⅓cup milk
⅛cup buttermilk
for dipping:
8tbsp unsalted butter, melted
1cup sugar
1tbsp ground cinnamon
Instructions
Place rack in the middle and preheat oven 350°F. Grease and flour a 12 count regular muffin tin.
To make muffin cream butter and sugar together in a stand mixer. Be sure to cream until pale, fluffy and you can almost not see the sugar granules. About 5 minutes. Add eggs one at a time and mix until just blended.
Sift together flour, baking powder, baking soda, salt and nutmeg in a large bowl. Combine milk and buttermilk in another bowl. Starting with the dry, pour about ¼ of it into the creamed butter/sugar/eggs. Stir until just combined with wooden spoon. Then add ⅓ of the milk and stir until just combined. Repeat this until all dry and wet have been used - you will end with the wet. Batter will be super thick - always stir until just smooth. Be sure not to over mix. (Very important.)
Scoop batter evenly into muffin tin - batter should fill to the top. I used a large ice cream scoop. Bake for 25 to 35 minutes or until muffins are firm to the touch. Take out of oven and allow to cool.
Meanwhile melt butter for dipping in a small bowl. Combine sugar and cinnamon in another. Once muffins are just cool enough to handle take one and brush with butter, all the way around and then roll in sugar/cinnamon mixture until covered. Set aside and repeat with remaining muffins. Enjoy!