Fall is coming which means it's time to press the reset button on our hair color! I am way overdo for a refresher (story of my life – my poor hair). The dark side is calling my name…or at least that's what I am thinking as of today. #1 is something I've done before and know works for me. But #5 is different and intoxicating…
Check out my considerations and a few others!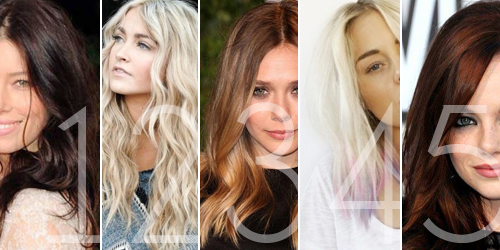 1single process brunette – a classic that never goes out of style. A definite option for my fall color reboot./2cool, frosty blonde – a less harsh version of platinum that makes all girls who love going light swoon. Allover blonde is not my thing but if it was I would be running to the salon for this shade./3bronde – it's not going away and why would it? Warm, honey highlights intertwined with a gorgeous shade of brown. That fall light twinkles through these strands making you look pretty damn fabulous while sipping your cider./4candy dipped hair – you will find a plethora of tutorials on how to do this yourself (like this one). Obviously not for everyone but if you are in the mood for something funky, fresh then by all means throw some pastel in your hair!/5deep, dark auburn – can we talk about how amazing this is? I'm generally not one to consider red but this shade has me drooling. Granted it could be the fact that little miss hottie Emma makes every hair color fabulous. (And she has a sexy smokey voice! Girlfriend has it all!) Nonetheless, this is on my possibility roster.
What hair color are you considering?
xo,