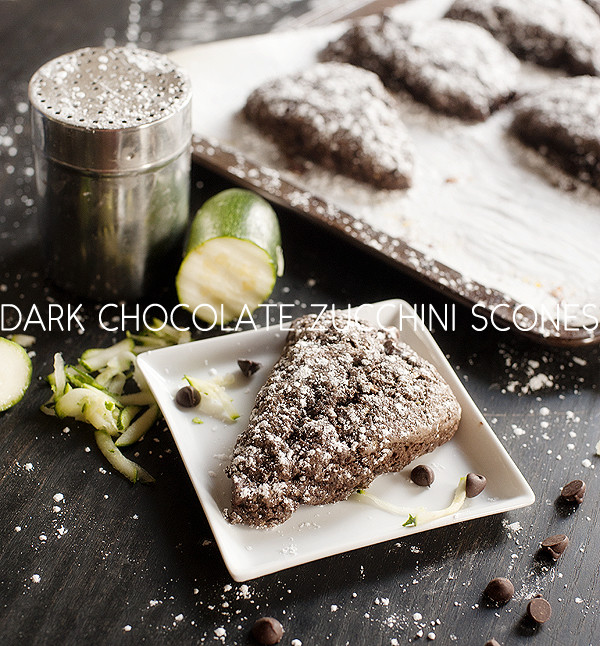 Don't you hate when you have a specific craving for something that is not in your home? You rifle through the cupboards, eating everything in site only to be left with an empty unsatisfied feeling. That is me every single time I want dark chocolate. I ate one Tootsie Pop, a handful of butterscotch chips and 4 jumbo marshmallows before finally SOS-ing Sticky. "Please, please, please bring home dark chocolate before I search the couch for hidden M&Ms."
(I wouldn't really do such a thing. Maybe.)
Luckily my husband is more than happy to save me from myself (and my cravings). For those times when he is unavailable though, I could always whip up these oh so chocolatey scones. They are a cinch to make and a sure fire way to curb a cocoa craving.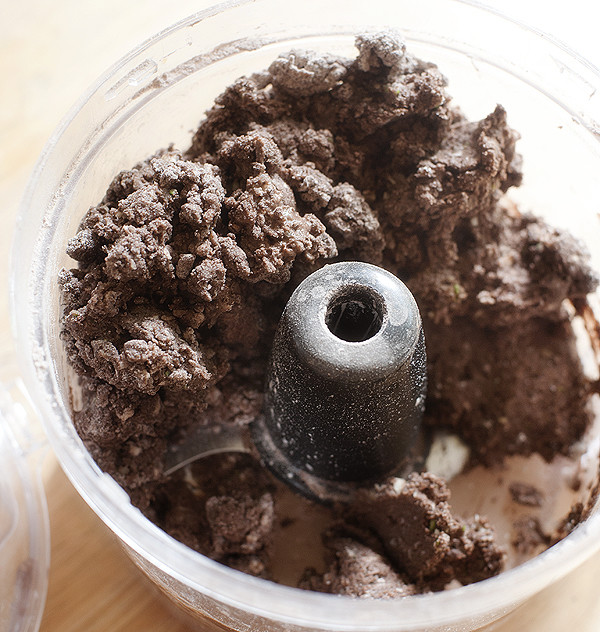 I like to make my scones in a food processor – not everyone's favorite but I find it's far easier to control the texture than it is with a pastry cutter by hand. This is totally a preference – by all means if you are a pastry cutting master have at it!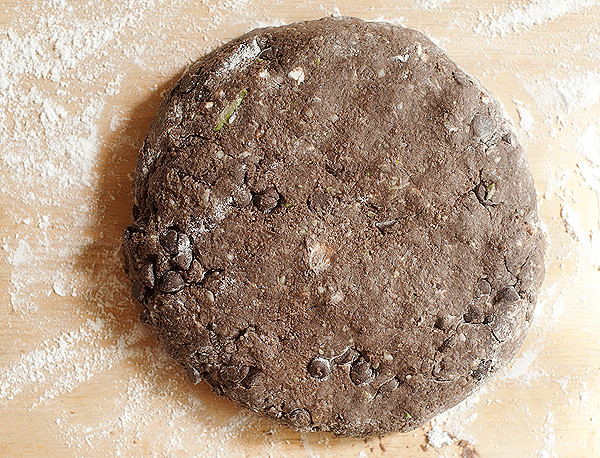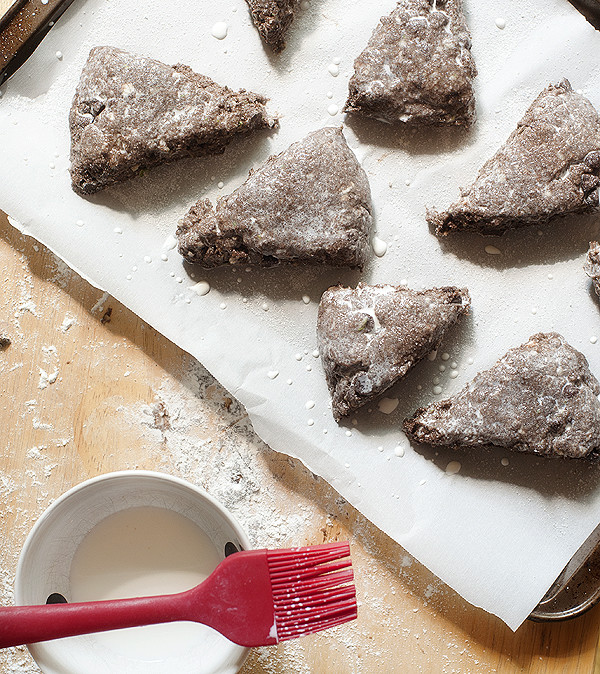 These scones are far sweeter than any other scone I've made, but they are still in true scone form by not being overly loaded with sugar. The texture is also different with a much softer, sort of cake like bite in the center. It's your favorite, fluffy chocolate cake wrapped in a scone shell. It's scake! (Yeah, I don't think that word sounds so pretty either.)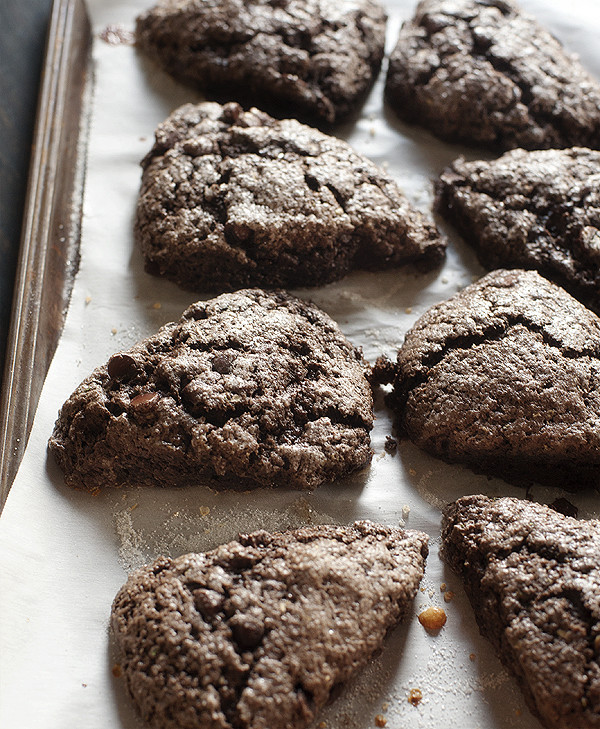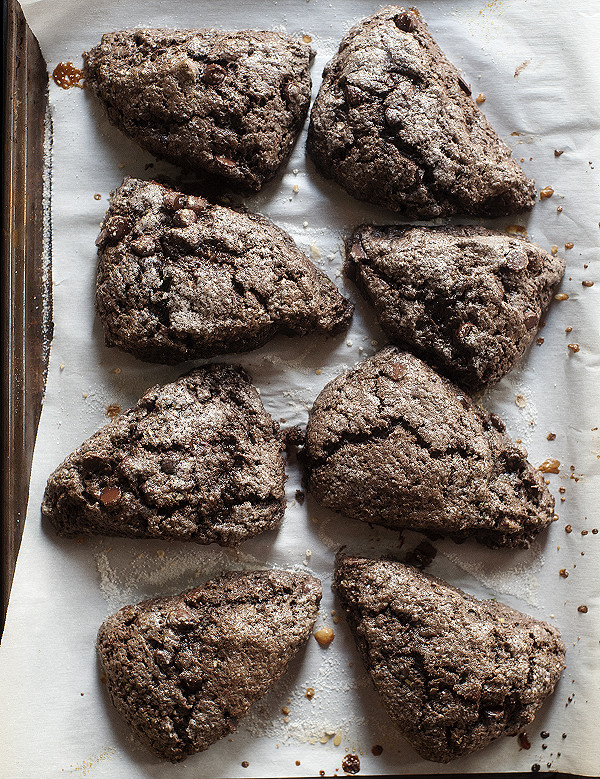 Did I happen to mention these have zucchini in them? Yep, a vegetable to start your day. Between that and the chocolate I'm not sure things can get better – especially if you are enjoying one with a cup of hot coffee.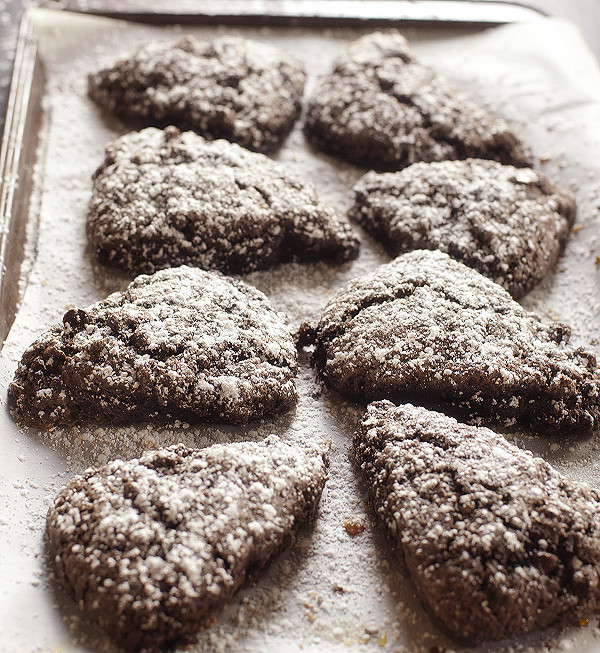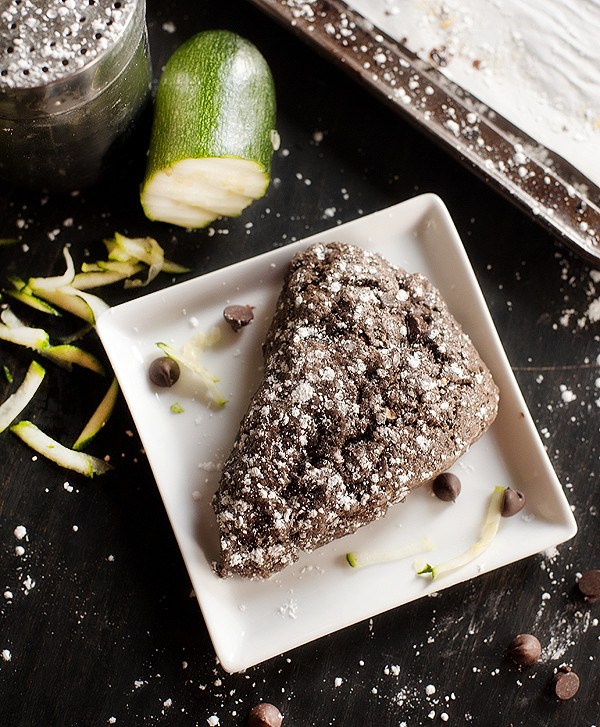 The next time you find yourself scavenging for chocolate give this recipe a try! Your belly and soul will be very happy you did.
Enjoy!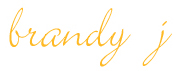 dark chocolate zucchini scones
Ingredients
2cups all purpose flour
½cup sugar
¼cup dark unsweetened cocoa powder
1tsp baking powder
½tsp baking soda
½tsp kosher salt
1½tsp cinnamon
½tsp ground ginger
¼tsp nutmeg
8tbsp cold butter, cut into small cubes
½cup shredded zucchini
5tbsp milk
1egg
½cup dark chocolate chips
1tbsp half&half
1tbsp sugar
Instructions
Preheat oven 400degreesF. Line a baking sheet with parchment paper.
Place flour, sugar, cocoa powder, baking powder, baking soda, salt, cinnamon, ginger and nutmeg in a food processor. Pulse a couple of times and add butter. Pulse until a small pea size texture forms.
In a small bowl whisk egg and 5tbsp of milk together. Pour into food processor with zucchini and pulse until a dough just forms.
Dump dough out onto a well floured surface. Gently fold in chips with your hands. Form dough into a 1" thick disk. Cut into 8 wedges and place at least 2" apart on baking sheet.
Brush half&half on each scone and sprinkle sugar on top. Bake in preheated oven for 12 to 15 minutes. Allow to set on baking sheet 5 minutes before serving. Enjoy!