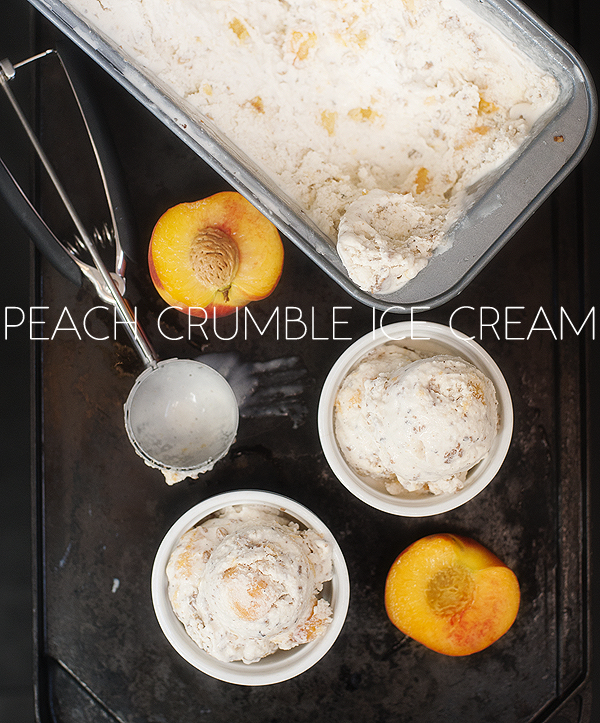 Peaches again! Sorry…except that I am not. These guys are crazy yum this year, and this ice cream is to die for.
To be frank, if this cream was a complete failure I would still love, love, love, love, LOVE it. Me and my girl whipped this up together in which we had a nice chat about who she was going to marry (my friend's son Jaxon), how many kids they would have (6 changed to 5 but ultimately landed on 2 girls – Mischa and Penny) and where they would all live ("This house of course mom!"). Both daughters would have baby kittens and no one would ever have to get their hands messy (she is not a fan of the messy hand business).
It was a perfectly unplanned morning of a mother and daughter chatting about life and making something delicious. It filled my mom tank up and then some. These days of her being little I would never wish away…but glimpses into the future I hope to have with her nearly take my breath away.
As for the ice cream…well, it may not take your breath away but it will make you and everyone you serve it to smile from ear to ear.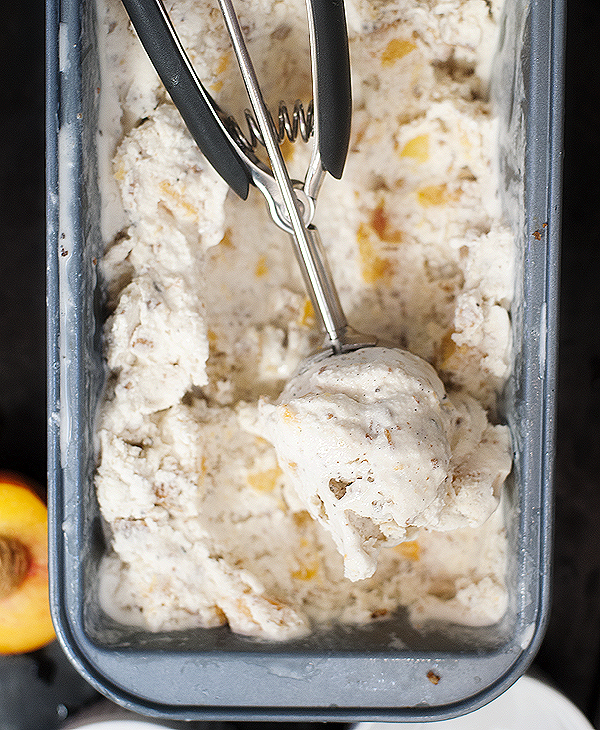 Ice cream tastes so simple and pure, at least the best kind does (in my opinion). Unfortunately the work that goes into make simple, pure ice cream can be a bit daunting. This is not a whip up in 20 minutes sort of thing (unless you're on Chopped of course). But if you have the desire and time I can promise you that this frozen concoction will not disappoint.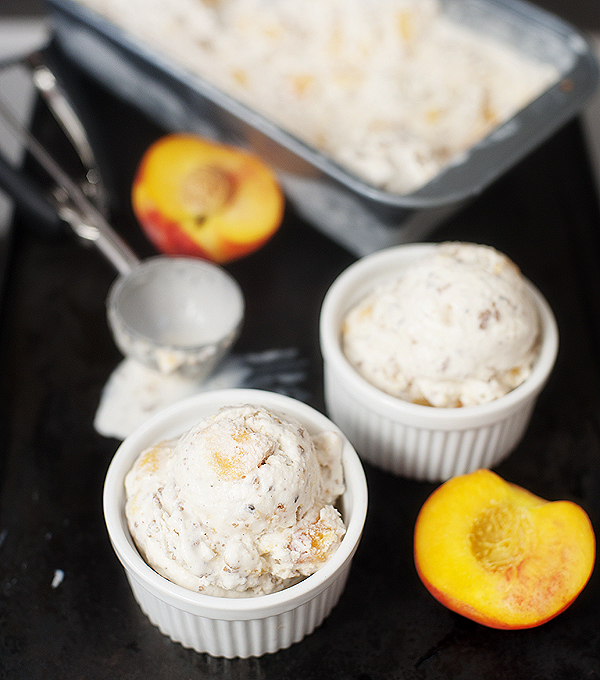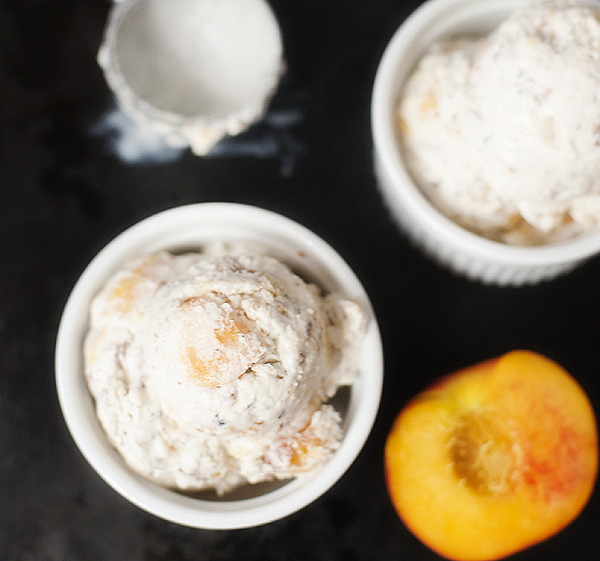 Velvety, frozen cream stuffed with vanilla flavor and littered with bits of peaches. Every bite is an experience for your palette with the crumble amping up the texture. It's bold, it's different, it's some of the best ice cream your freezer will ever see…  And if you happen to have someone to make it with you (or simply chat while you prep), that's even better.
Enjoy!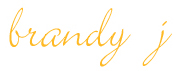 peach crumble ice cream
Ingredients
for the crumble
½ stick unsalted butter, cut in cubes and chilled
¼cup plus 2tbsp all-purpose flour
pinch ground cinnamon
3tbsp brown sugar
⅛tsp kosher salt
¼cup plus 2tbsp old fashioned oats
3 large peaches pitted, peeled and diced
¼cup brown sugar
for the ice cream
2cups whole milk, (divide 2tbsp out)
1¼cup heavy cream
⅔cup granulated sugar
2tbsp light corn syrup
1 cinnamon stick
1½tbsp cornstarch
4tbsp full-fat cream cheese, room temperature
¼tsp kosher salt
2tbsp pure vanilla extract
seeds from the inside of 1 vanilla bean (optional but highly recommended)
Instructions
Preheat oven 350degreesF. Combine flour, cinnamon, 3tbsp brown sugar and salt in a bowl. Cut in butter with pastry cutter until butter is about pea size. Add oatmeal and combine well. Spread mixture out on a baking sheet and bake for 20 to 30 minutes - until browned. Allow to cool completely, and then break into small pieces. (I do the crumble first so it's good and cool before adding to the ice cream.) Set aside.
While oven is on place peaches on a baking sheet and toss with brown sugar. Roast for 15 minutes. Allow to cool completely and set aside.
To make the ice cream combine milk (except 2tbsp), cream, sugar, corn syrup and cinnamon stick in a medium saucepan. Allow to come to a low boil for 4 minutes.
Mix the reserved 2tbsp of milk and cornstarch in a small bowl. Remove the cinnamon stick from the hot milk mixture and add cornstarch slurry, vanilla extract and vanilla seeds. Allow to boil for 2 to 3 minutes - liquid should easily cover the back of a wooden spoon.
Mix cream cheese and sea salt in a small dish. Add slowly to the hot milk mixture. Stir will to combine. Pour hot liquid into a large ziplock freezer bag. Place in an ice bath (large bowl filled mostly with ice and some water). Allow to come to a complete cool in the ice bath (about 30 minutes).
Pour mixture from bag into our ice cream maker. Churn according to your machines directions (mine takes about 30 minutes).
Once ice cream is done place ⅓ in freezer safe dish and layer with ⅓ peaches/crumble (which are both cooled completely). Repeat 2 more times.
Place parchment paper on surface of ice cream then seal with lid or plastic wrap. Freeze in the coldest part of freezer for at least 3 hours. Enjoy!