Apple season is just around the corner and I cannot think of a more clever or cute way to celebrate a fall birthday than with…APPLES of course! I've been slowly but surely stocking the etsy shop for Fall with apples being at the top of the list. You will find not one but TWO fun apple-y invitations to choose from (Apple of Our Eye & Apple Orchard)! Both would make excellent birthday, shower or apple picking invites for you to send off to your guests.
Inspired by the "Apple of Our Eye" invite, here is an all things apple storyboard to get your creative juices flowing for that special celebration: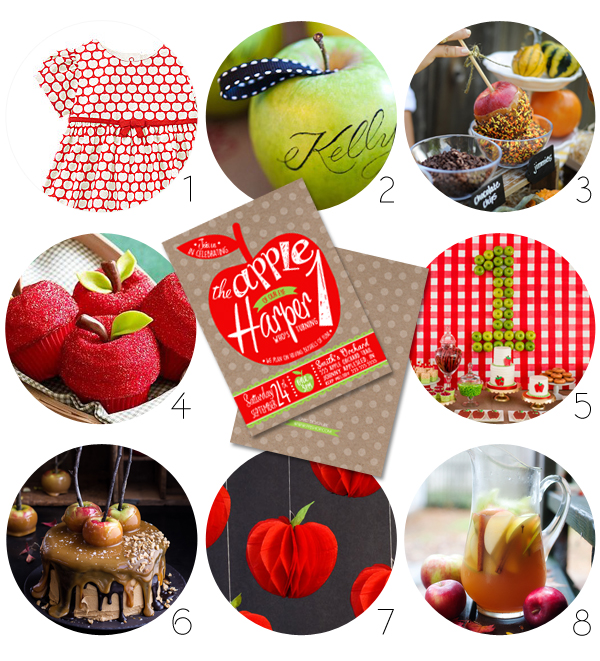 1Cherry Print Dress (that can totally pass as apples)/2the most adorable place settings I ever did see!/3your guests would got nuts over a candy apple bar./4a cupcake dressed as an apple – now that's just cute!/5I mean, this dessert table and backdrop…it's basically fabulous./6this salted caramel apple snickers cake needs to be in my life…and your apple party./7easy peasy honeycomb apples for big impact with little effort./8apple cider sangria because after all that hard work of setting up a party, you deserve a scrumptious cocktail.
"Apple of Our Eye" invite and many other fun invitations can be found at the PPJ Shop!
Happy Weekend!
xo,