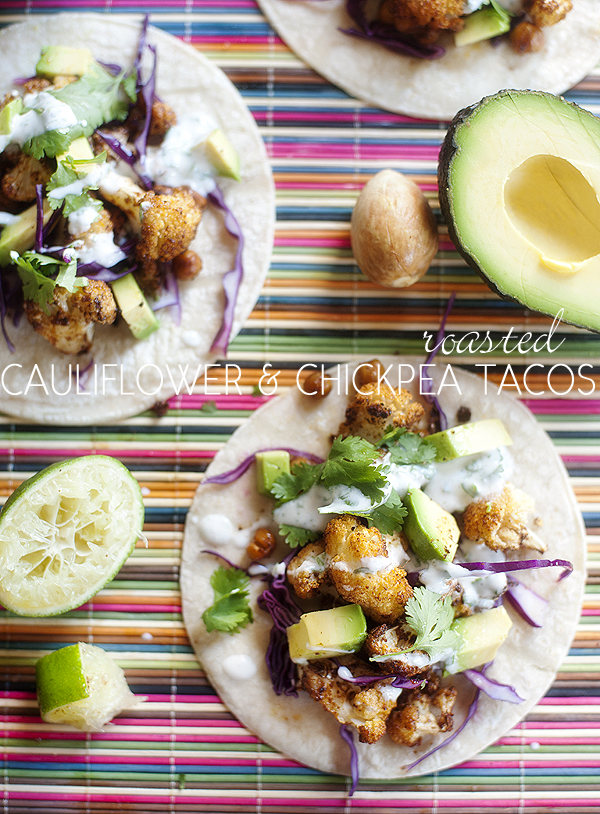 The man of the house claims he could eat pizza every single day and never tire of it. For me it's tacos. At least in the spring and summer months. A variety of vegetarian and seafood tacos to be precise. Bold, fresh flavors tucked inside a corn tortilla. My mouth is watering just thinking about it. Of course I love pizza too…but tacos are lighter with a little more attitude. (Insert Stickt saying "like you, Brand!")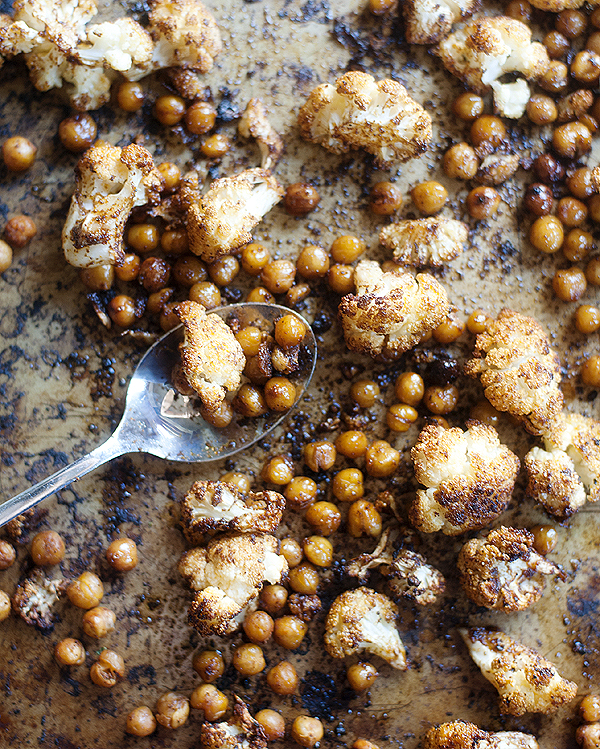 In case you were wondering…yes, this taco contains zero meat. Zippo carne. Nada. If you believe a taco must contain meat of some sort then I urge you to try this recipe.
Tacos are all about the explosion of flavor, texture and freshness. This version kills it in all three categories. The cauliflower and chickpeas have that smokey flavor, while the cabbage, avocado and cilantro add layers upon layer of bright flavor. What takes this to a top tier level though is hands down the crema. It's creamy and fresh and exactly what this taco needs.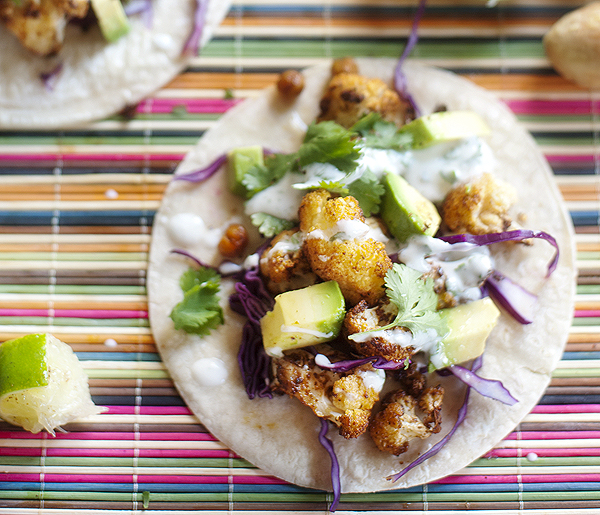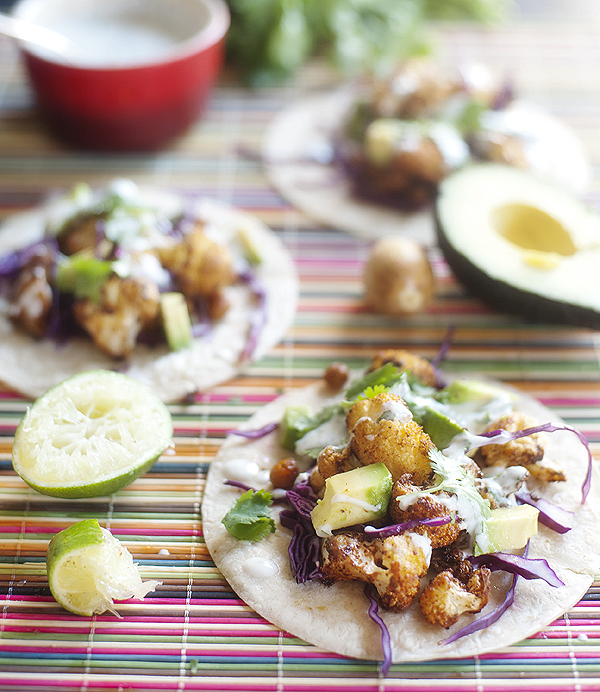 Something this fun to look at can not taste bad. It's simply not possible. Foodography for my eyeballs.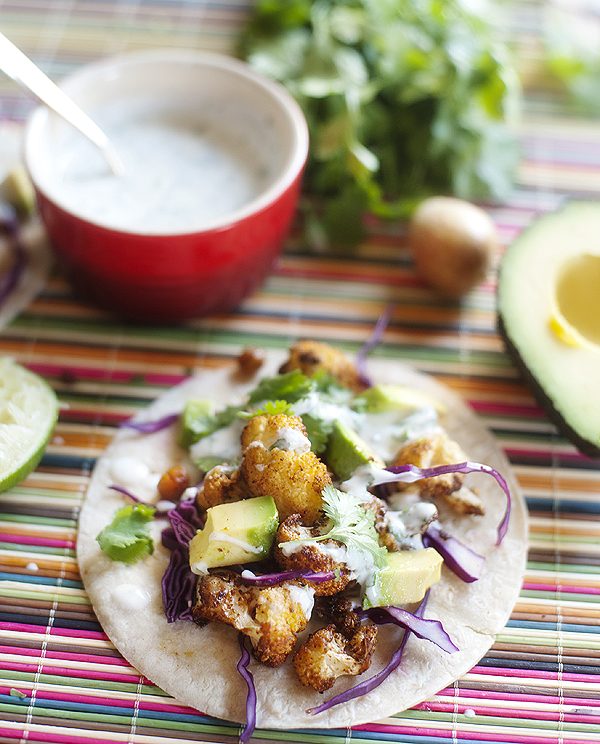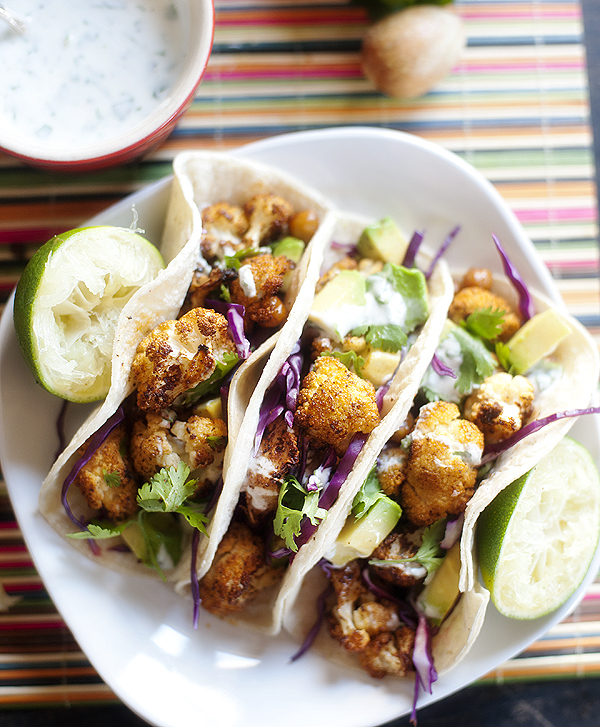 If you're looking to lighten up a meal with something that won't disappoint in the taste department, you have to make these. And don't forget to invite me over. I'll bring the cerveza.
Enjoy!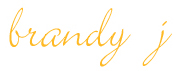 roasted cauliflower & chickpea tacos
Ingredients
for the tacos
2tsp chili powder
1tsp ground cumin
¼tsp garlic powder
¼tsp onion powder
1tsp sea salt (kosher will do)
Juice of half a lime
1tbsp olive oil
1tbsp water
1 (15 oz.) can of chickpeas, drained & rinsed
1 small head cauliflower, cut into small florets
Corn tortillas
1cup finely shredded red cabbage
1 avocado, diced
Handful of fresh cilantro
for the crema
½cup plain yogurt
juice of half a lime
½tsp red pepper flake
2tbsp chopped cilantro
Salt & pepper, to taste
Instructions
Preheat oven 400DegreesF. Mix chili powder, cumin, garlic powder, onion power, salt, lime juice, olive oil and water in a small bowl. Place cauliflower and chickpeas on baking sheet. Pour spice mixture on top and toss until everything is well coated. Roast for 30 minutes stirring occasionally. Cauliflower should have crisp edges.
While veggies are roasting, make the crema. Place yogurt, lime juice, red pepper flake and cilantro in small bowl and combine well. Add salt and pepper to taste. Add more yogurt if crema is too runny for your liking.
To assemble taco place some cauliflower mixture on a corn tortilla. Top with a little cabbage, avocado, cilantro leaves and drizzle with crema. Prepare to enjoy one of the best veggie tacos ever!