Remember my friend Johanna? You know, the hot girl who can wear the crap out of a pair of jeans? More specifically a pair of destroyed jeans?
Well, it doesn't matter if it's on a model, a stranger or someone I know…every time I spy a pair of purposely beat up denim I think Johanna. I swear when the girl was born a fashion ferry flew into the hospital room and beat her over the head with a "wear the hell out of edgy denim" wand. Ripped jeans + Johanna = Fashion Bliss
Knowing Johanna the way that I do though, she would want the rest of the world to experience the wonderfulness of torn denim…and I couldn't agree with her more. They are definitely her style – but she does it in such a sophisticated, updated way that reminds me they can be everyone's style as long as you own the right pair. Fit is key, as it is with every pair of jeans. Hole placement and the amount of destruction is important too.
If you shy away from this trend because you think you are "too old", "too thick", "too conservative", "too whatever" I urge you to try on a few pairs. You may be surprised how much you like them!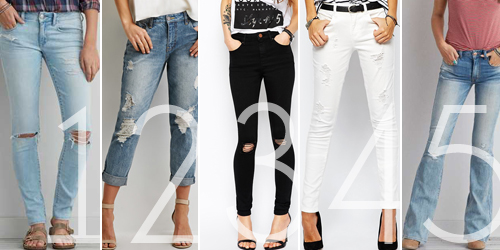 1AEO Denim X Skinny Jean – great ease you into option with it's classic skinny fit and light destruction. Especially love the added tear by the pocket./2Forever 21 Crochet-Patch Boyfriend Jeans – personally, I prefer a boyfriend fit on the destroyed side. This one is a nice price with a little girlie touch underneath those rips./3ASOS Ridley Black Skinny Jeans – two huge things are going for this pair. First of all, they are black which means they are naturally slimming (who doesn't want that?). Secondly, only the knees are "busted" making them on trend yet keeping chic at the same time./4Only Regular Skinny Jeans – because I didn't want to leave out my favorite denim color. While I do not own a pair of destroyed white jeans I do lust after them. Love how the rips on these are not so much open holes as the are rips with threads connecting each side. Perfect for the bright white shade./5AE Hi-Rise Boho Flare – 2 weeks in a row now I have been pumping the flares. (Clearly there is some determination on my part that you need a pair in your closet.) AE has always done denim, especially "worn" denim, well. These are no exception and completely on trend with the oh so groovy vibe going on in fashion.
Which is your favorite pair of destructed denim?
xo,