Forever 21 is famously known for their low prices and cheap clothes. Even the most skilled quality checker can end up with a un-washable top or broken after one wear accessory. But in this sea of super short bodycon dresses and see through crop tops you will be shocked at how many gems there are to be had. The kind of items that not only fit great but will have a life beyond one wear, one season, one year. These are the reasons I come back to Forever. (Well, that and the fact that I am a uber frugal.)
If you want to find a diamond in the ruff then you will need to have patience and be willing to put in the effort. By this I mean perusing new offerings on the website until you find something that catches your eye. Order fast (typically the quality "steals" go in a flash) and send back faster if you do not love it. Not good at returns? Grab your keys and visit your local store.
For me, online shopping is much easier and these would all be in my cart right now if I wasn't on a spending fast. But by all means you guys should shop away – someone needs to enjoy these possible steals: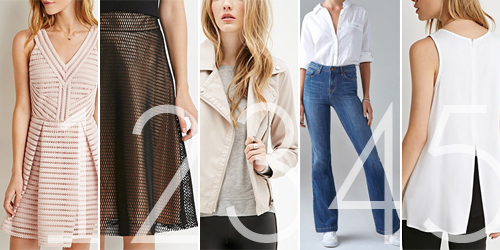 1Textured Fit&Flare Dress -$24.90- well placed seams, texture and rich detail – this fit & flare has it all. The only downfall would be the length for us taller gals, but we won't know unless we try!/2Mesh Overlay A-Line Skirt -$24.90-it is taking all my will power not to throw this in my virtual cart and press purchase. A modest length with a fun overlay effect is hard to come by, especially at Forever, but this number has both. Oh the fun I would have with this…must look away from skirt, must look away from skirt./3Zippered Faux Leather Moto Jacket -$34.90- I own not 1 but TWO Forever faux leather jackets. They have been in my constant rotation for almost 3 years now. It does take some digging – not all Forever jackets fit the same. But when you find a match you will be happy, and this light moto looks like a good place to start./4High-Waisted Flare Jeans -$27.90-Forever is a great place to dip your toe into a denim trend without breaking the bank on designer jeans. High-waisted jeans are not going anywhere, these flares would be perfect for your transitional season wardrobe./5Vented-Back Crepe Tank -$15.90-because if you're going high-waisted on the bottom then you need something to show it off on the top, right?! Vented, high-slit tunic tops are one way to top trendy flares. For under $16 you can rock the trend without having anything left for the cool hat that finishes off the look.
xo,