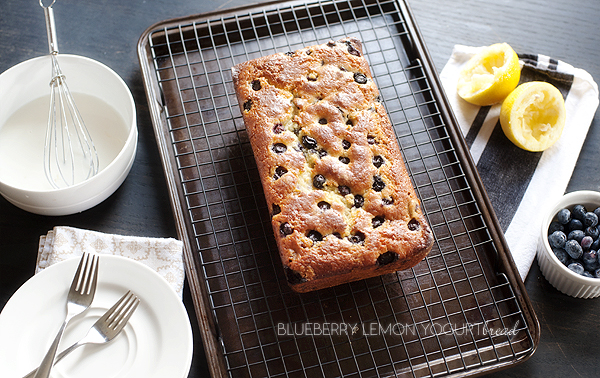 I can hardly believe we are more than halfway through summer and I have yet to make a loaf of berry bread. More so bread filled with my favorite combo – lemons and blueberries. Yum. Lemons compliment just about every fruit, but there is something extra special about when they hook up with blueberries…it's magical.
This bread is about as moist as they come. When you add full fat yogurt and 3 large eggs to a batter that sort of wet retaining capability forms. If the fat scares you just close your eyes when you add it. Besides…hasn't it been decided that carbs are the enemy, not fat? Yeah, I can totally get beside that decision. (Wait, are there crabs in this bread? Oh well…)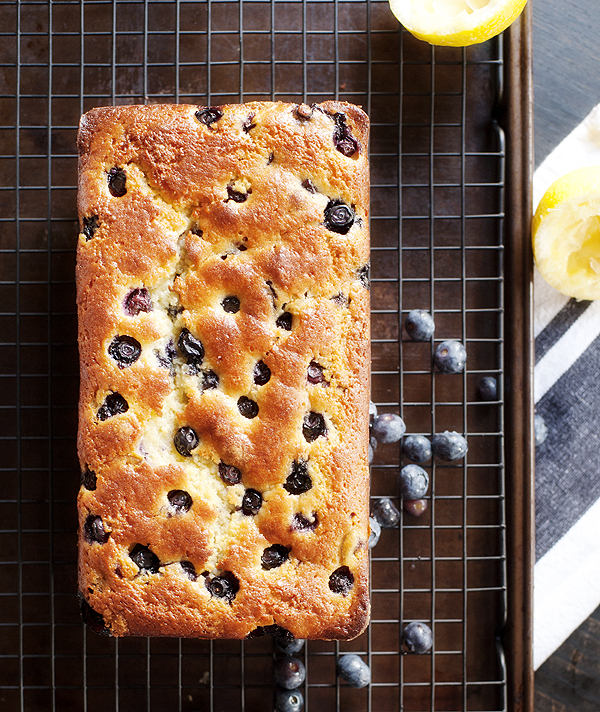 The original recipe calls for a simple syrup that is soaked into the bread after baking. I am sure this makes the bread above and beyond divine but it was not in the cards for me. …I may have ran out of lemons… I did not skip out on the glaze though and I highly suggest you do not either. The bread needs that little bit of extra tart sweetness to take if from good bread to oh my goodness bread.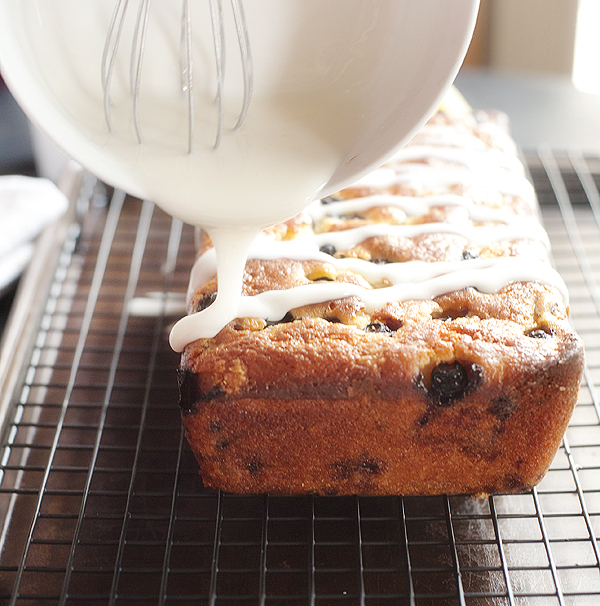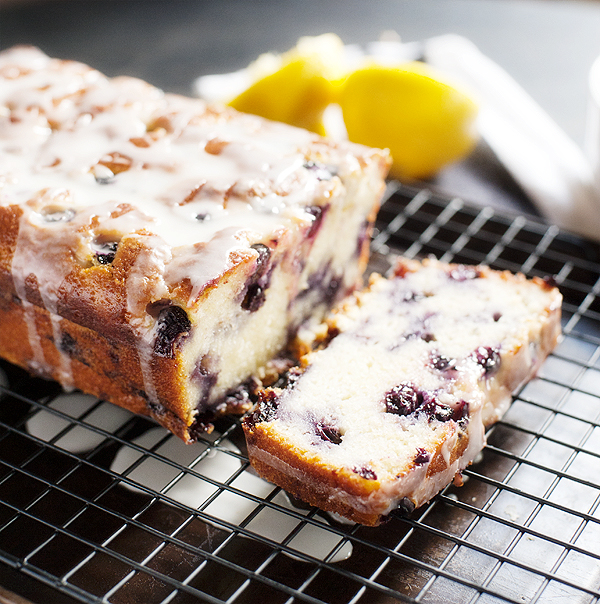 You, iced coffee and a slice of this…yeah, it's a fantastic idea. Go heat up your oven.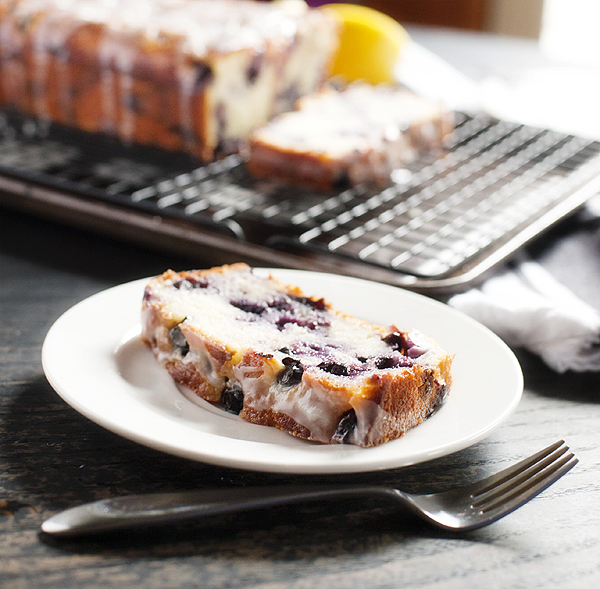 Soft, not too dense, moist bread bursting with blueberries and filled with fresh, zingy lemon. I can't think of a better way to bake up summer.
Enjoy!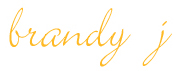 blueberry lemon yogurt bread
Author:
recipe from Sweet Pea's Kitchen
Ingredients
For the Bread
1½cups plus 1tbsp all-purpose flour, divided
2tsp baking powder
½tsp kosher salt
1cup plain whole milk yogurt
1cup sugar
3 large eggs
2tsp grated lemon zest
½tsp pure vanilla extract
½cup vegetable oil
1½cups blueberries, fresh or frozen, thawed and rinsed
For the Glaze
1cup powdered sugar
2 to 3tbsp fresh lemon juice
Instructions
Preheat oven 350degreesF. Grease and flour a 9" loaf pan.
Sift flour, baking powder and salt in a medium bowl. Set aside.
Take remaining tbsp of flour and toss with berries. Set aside.
In a large bowl whisk yogurt, sugar, eggs, lemon zest, vanilla and oil together until well combined. Slowly whisk dry ingredients into wet ingredients. Add blueberries and fold until just incorporated. DO NOT over mix.
Pour batter into prepared pan. Bake for 55 to 65 minutes or until tester comes out mostly clean. Let cool in pan for 10 minutes before removing.
While bread is cooling, make glaze by mixing powdered sugar and lemon juice. Adjust lemon juice based on desired thickness of glaze.
Pour glaze over completely cooled bread and let set 5 minutes before enjoying.