In honor of Bastille Day I did a little digging to find out what French women purchase from their drugstores….Why? Because they are walking around with their long legs and effortless style sporting natural hair and a bare yet completely chic face. I need to know how this is achieved. I mean, they throw on red lipstick and a little mascara with zero foundation and that is their most made up look. Me on the other hand…let's just say the coconut oil receives a heavy hit when I wash my face after a night on the town.
Here is what I understand about French vs American beauty – they focus much more on a steady skincare routine and far less on makeup. They believe in sticking to a regimen and not bouncing from one product to another. (And apparently they have been using essential oils for like ever.)
While there are many, and I mean many, products I would love to try these are the top 5 that stood out to me: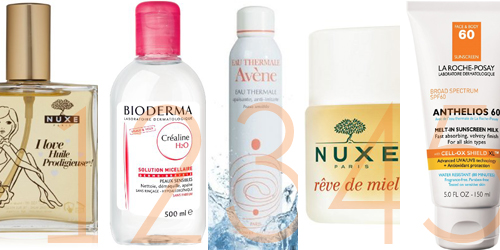 1NUXE Huile Prodigieuse Multi-Purpose Dry Oil – a moisturizer for your entire body including your hair. Said to leave skin and hair soft and smooth while leaving a beautiful scent. The French believe in a little perfume in their locks and this is one of their favorite ways to apply it./2Bioderma Crealine H2O Micelle Solution – a gentle and effective cleanser for removing dirt and makeup, including eye makeup. No unnatural foamy solutions here – this is the all natural way to safely remove the day from your face./3Avene Thermal Spring water spray – water in a can that you spray on your face…literally. The one and only ingredient is water, and as far as I can tell everyone uses it. I have to admit of everything I read about this makes me most curious. Boasting that is soothes and evens the complexion while leaving the skin feeling super hydrated. I just may have to order myself a can of "miracle" water spray./4NUXE Rêve de Miel Ultra-Nourishing Lip Balm – if you are going to go bare faced then you have to make sure your smackers are in check. This balm protects and repairs will leaving the lips soft and smooth./5La Roche-Posay Anthelios 60 Melt-In Sunscreen Milk – since many French women wear minimal foundation they are going to need a great sunscreen to throw on. This is reported to melt into the skin without leaving a greasy residue. Also moisturizes and makes a great base for a little blush.
Which product would you love to try?
xo,