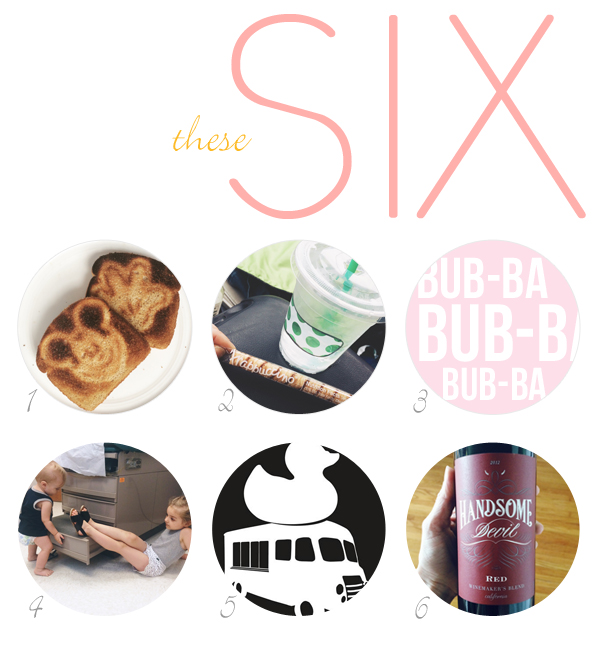 1About a billion years ago my mom gave me a Mickey Mouse toaster for Christmas. It is the best worst toaster a girl could ever own. I've had this thing longer than Sticky. At first, I wasn't sure. It played "Zippity Doo Dah" every time the toast would pop up for crying out loud. To my delight that feature broke soon after use, unfortunately it's toasting ability was never good and has quite possibly worsened over time. I absolutely do not care. Because every now and then we receive a perfect Mickey head & hand on almost perfectly toasted bread. Today was on of those mornings./2There is a Starbucks on State St in Fort Wayne, IN that blows me away with it's customer service every visit. Today was no exception. I had to wait a mere 30 seconds longer than usual for my iced latte – in that 30 seconds the barista decided Jettie needed ice water and a cookie straw on the house. Completely unnecessary and utterly kind. You go Starbucks./3Bing has yet to regularly say "Ma-ma-ma-ma" but he is saying more and it is ADORABLE. "Bub-ba, Bub-ba, Bub-ba" is a new favorite. If you can get him to say it prepare to smile huge./4This morning I took two kiddos for two wellness checks and two rounds of vaccinations. I really thought it would be a disaster but it didn't even come close. (That toast – I'm telling you it was a sign.)/5Tomorrow is our itty bitty town's 1st Annual Duck Derpy (with Eats on the Streets and Art from the Fort). That's right Wassenberg, I said annual. We have watched this town blossom in a positive direction and it warms my soul.  This event is a direct reflection of some amazing individuals who care about Van Wert and most importantly it's community. I'm proud, I'm excited and I want my ducky to win! If you live near us you will not want to miss out! (You may even see me and my man slinging some drinks at one of the gardens!)/6Doctor's appointments always end in a trip to Target. You know, the place where you can buy diapers and also look at fun wine while waiting for a prescription. While I was better than normal with my spending (willpower must have been in full force) I couldn't pass up a new blend. Especially one called "Handsome Devil".
That was a long these things…the wine must be making me chatty.
Happy Weekend Everyone!