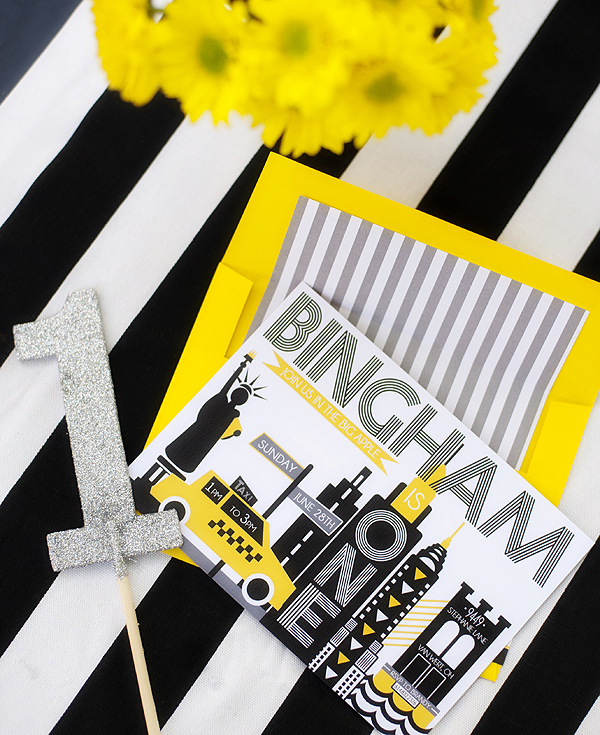 I heart NYC. Like really HEART NYC. Anyone who knows me for even just a day knows this. Naturally, when it came time to plan a 1st birthday party for our Binger boy I was in a "New York State of Mind."
Okay, no more NY verses, cliches or quotes. (Yeah right.)
In all serious though this party theme makes my heart happy on so many levels I can barely take it. From the cardboard buildings to the kids running around with "I heart NY" tats – it was everything I had hoped for in a big apple bash and so much more. This one was work – a lot of it. But so was Jettie's 1st birthday. Maybe its the amount of people or maybe it's the pressure to make the first one just so. Regardless I would do it all over again in a millisecond.
Now about those buildings…aren't they fab? Simply roll white primer paint onto cardboard boxes, then paint in the colors you want (if you don't want white of course). End with the accents by using a sponge brush and black paint. You will want to stack the boxes before you paint so you know which boxes go with which (mark the bottoms to make keeping track easier). When you are done you can attach your buildings with a lot of glue using a glue gun. To ensure you do not have a falling building incident, you will want to place a heavy object in the bottom one (such as a hand weight or sandbag).
Guests were greeted with our version of the Empire State Building (which I could not stop calling the Eiffel Tower – parties 6 weeks apart can do that to a person). Instead of painting windows I decided to use square images of Bing. I loved it!
The cake – what can I say? CakeCrazy did it again! Simple yet fun. Exactly what I wanted. Could not have asked for a better centerpiece for our little Manhattan.
The rest of the dessert table was a group effort. Shan's fab strawberry lemonade cookies, my mom's blueberry pie, mini powdered donuts (kids always love those) and a crack pie that I made which was only consumed by my Granny. It was good, I swear.
(Credit goes to Sticky for scoring a random wooden taxi cab in a big box store as I had just about given up hope for finding one. That's all the smash cake needed – way to go babe!)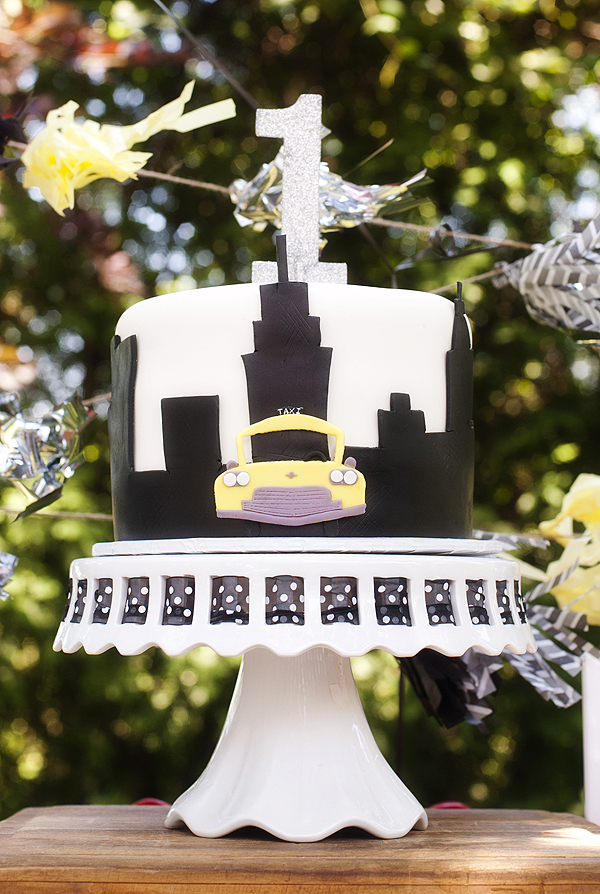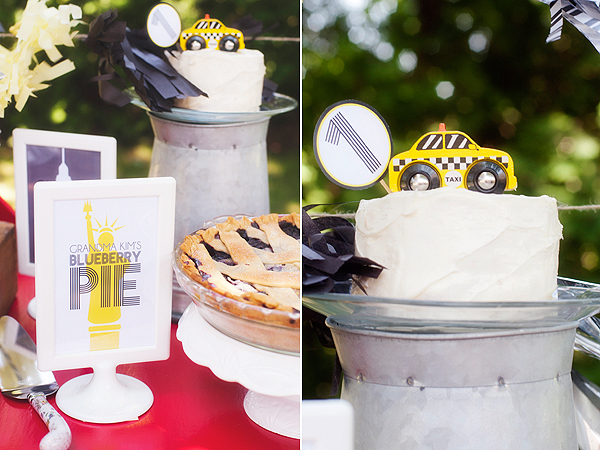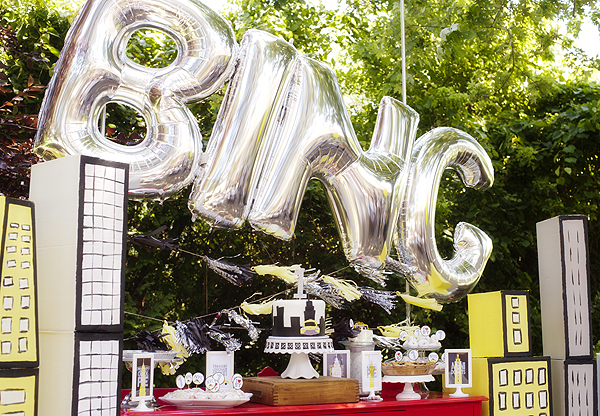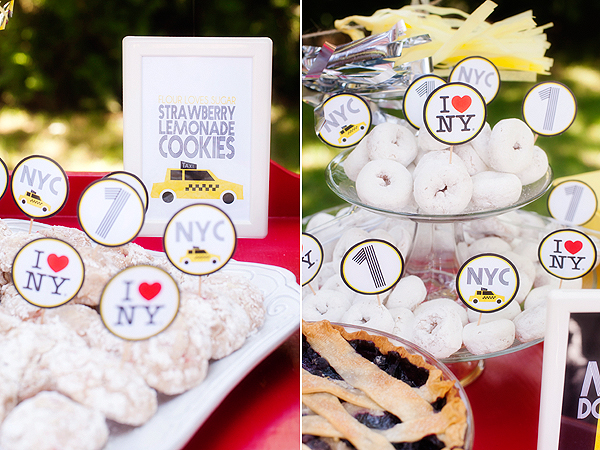 When it came to the savory items I had go with New York street fare. Pretzels and hot dogs it is! The names? Well, Jettie is often called "Sketts" which has transformed into "Skettzel" of recent. Sounded good with pretzels so we had to go for it. And the "Bingy's Weenies" happened because Sticky would not let me name it "Binger's Weiners". Good call Stick.
I made and froze the pretzels in advance. The hot dogs were thrown together in a crock pot and then wrapped with bun come party time. Had I not gotten some last minute help from Shan and a few early guests the food would have taken much longer to setup. Thank goodness for the good people in my life.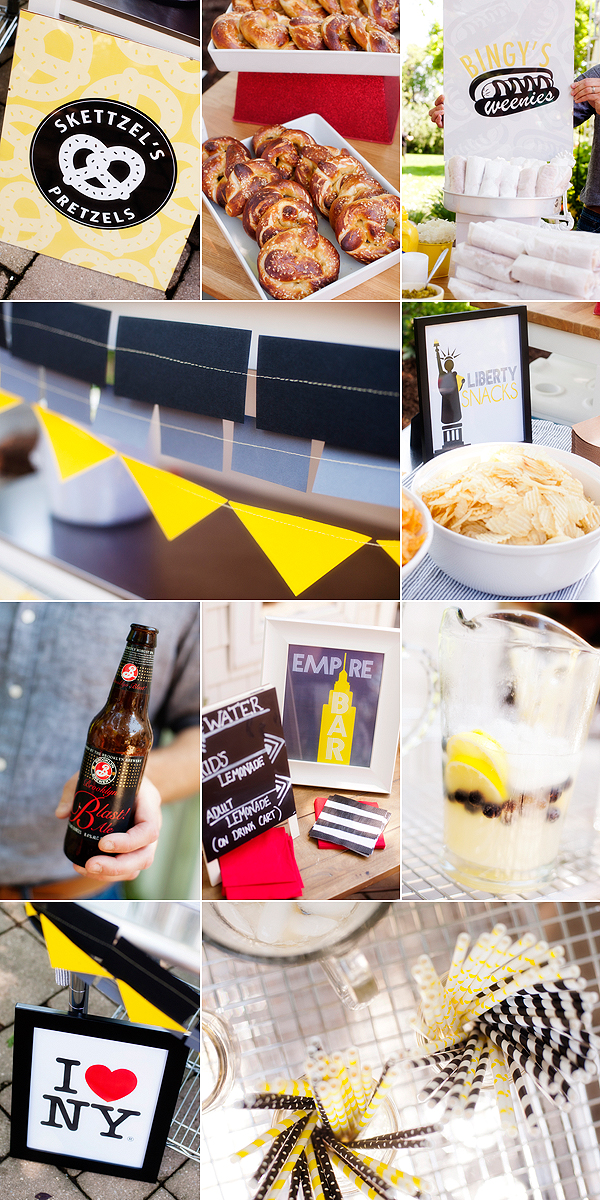 Early on I knew I wanted to have custom tattoos. This is one of those things I would do differently. Literally a day after the party I found a company that would do a smaller quantity (I have at least 25 of these bad boys left). I am also going to assume the other company's tats do not stay on with the will of hercules. My apologies to all the parents (especially Vicki, who's son thought the forehead would make a perfect spot for a tat). They did what I wanted them to as far as party flare goes though – can't complain about that.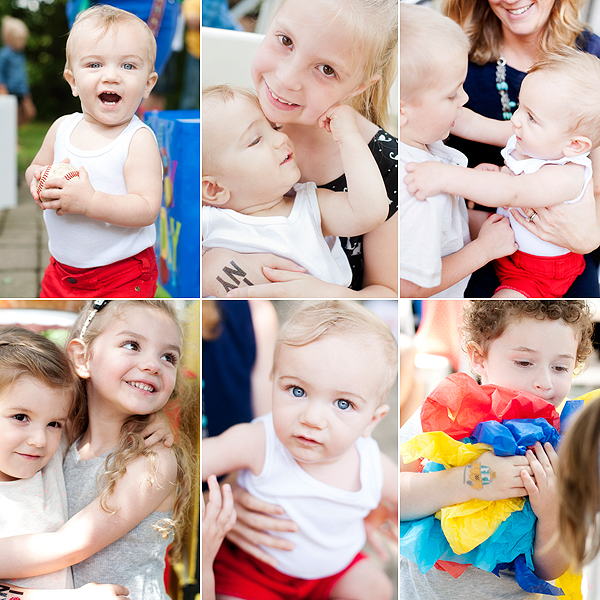 That first "Happy Birthday" song….there is just something magical about it. We had a little visitor literally moments before it was time to sing. Some may look at this and think "Awe, butterfly on the cake. So sweet." I looked at those fluttering wings and instantly thought…Locke. He didn't want to miss his buddy's first rendition of "Happy Birthday." Of course he didn't.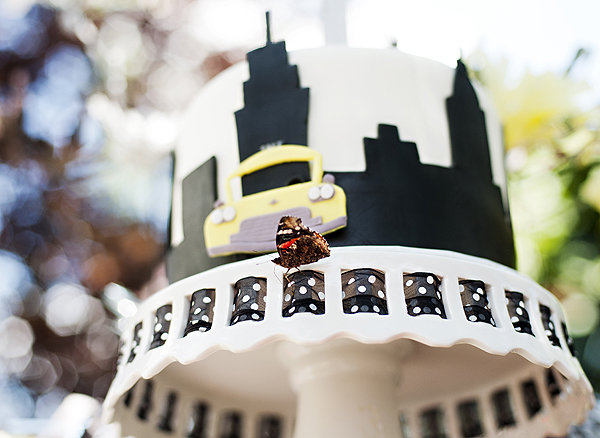 After "Happy Birthday" it was time for CAKE! He didn't exactly dive in but he did love it. Me…well, I love these images. Thanks to another amazing friend Jenna for snapping away for us. We will cherish every single one forever!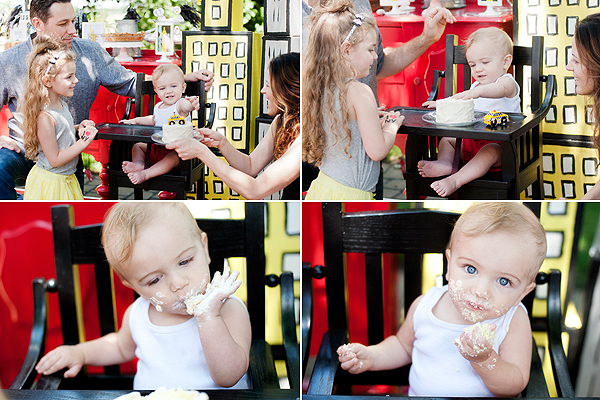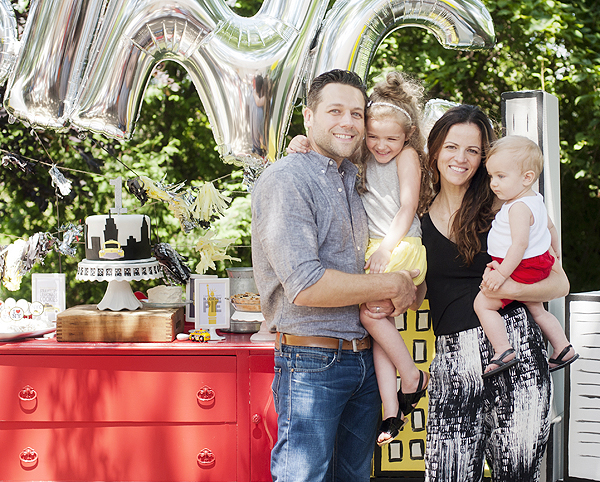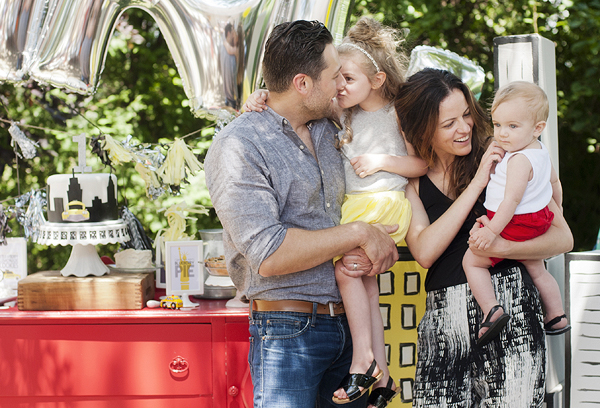 We had quite a crew of kids (in fact, we are missing a few from this image). This isn't exactly the smiley, everyone say "I love NY" pic I was envisioning…it's even better.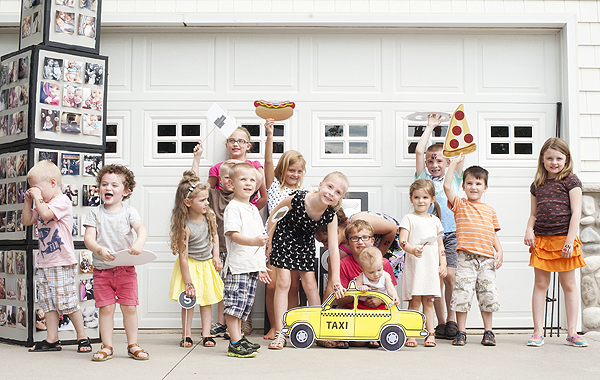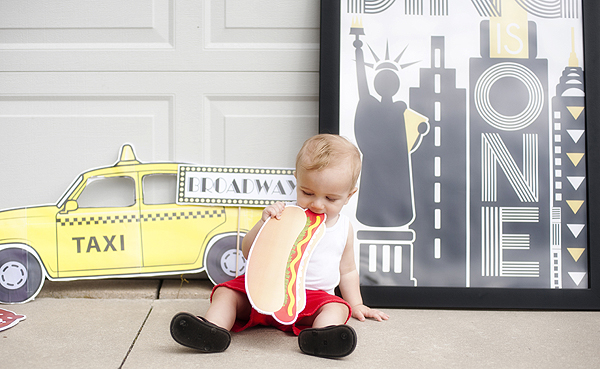 Oh Bing…how dare you turn one? Always let your mommy throw you parties and I will forgive you. While you will never ever remember this bash I can tell you for sure that your mommy will never forget it. Only you would get the one perfect sun-shiny day in the middle of the rainiest season we have ever experienced. It's fitting really…you are our ray of sunshine. Every. Single. Day.
Can I do a NYC theme again in 5 years?
Love you Bing-A-Ling,