Already having one child you would think the amount of food a 12 month can devour would not shock me. Maybe it's a boy thing, maybe it's simply adding a 4th mouth to this home – but good gracious Bing can eat. Great news for him is that I am far less over protective at what goes in his mouth. Don't get me wrong…he's not living off hot dogs or anything. But pancake batches are tripled and things like these scones are often shared with the ever so hungry little man.
I am thinking we need to start multiplying our scone batches as well…these peach ones are heavenly.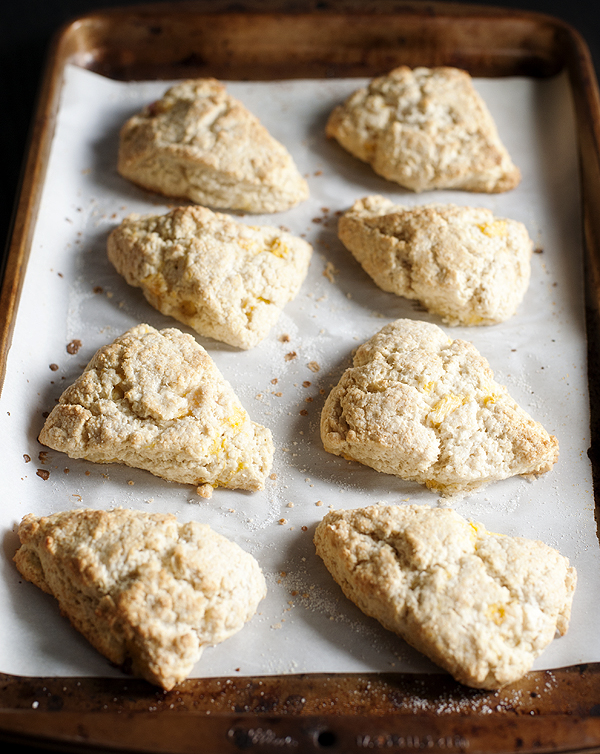 I know I post a lot of scones on this blog…but no apologies here because scones rule. Especially light, fluffy ones like these. With crispy edges and bits of sweet, bright peaches. If you can make a scone you can make a friend, that's how yum these are. (You can also share with Bingham and he will love you forever and ever.)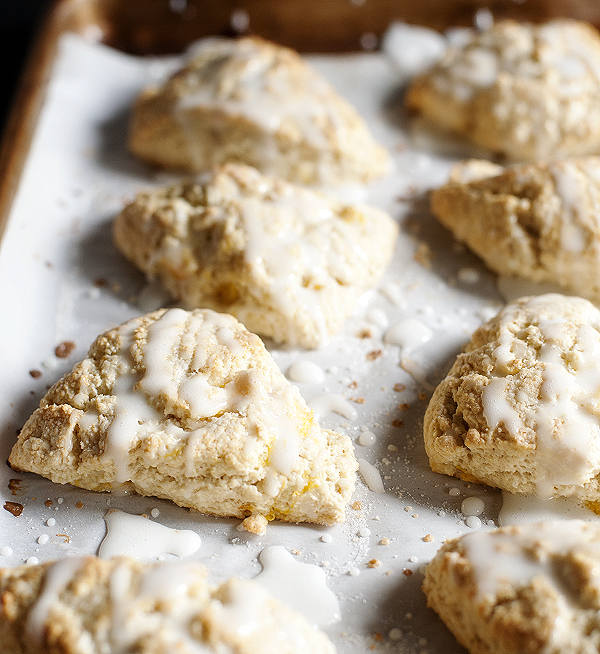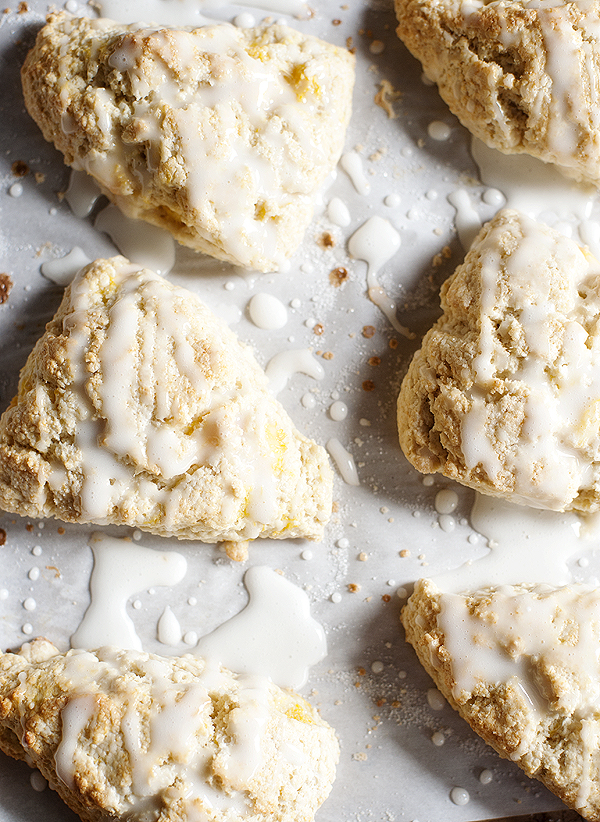 The glaze is optional…in some worlds I suppose. In mine there is no choice when it comes to glaze. A scone feels naked without it!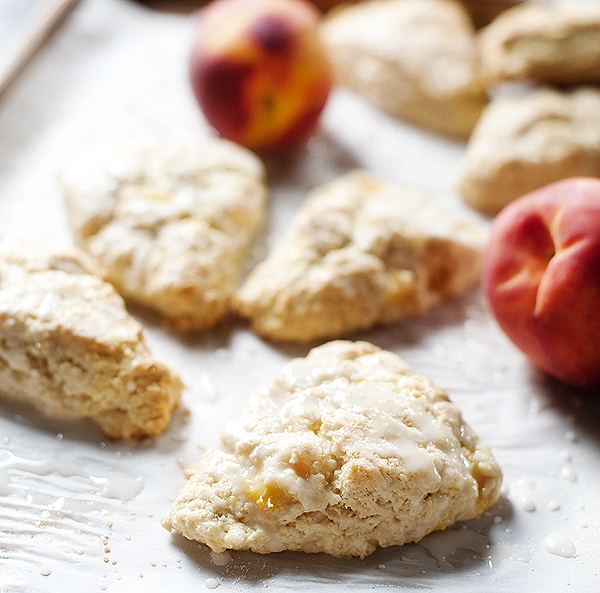 These are best warm and fresh with a cup of joe. They also freeze beautifully once cooled completely. (You can freeze with the glaze on but I would suggest not if you want your frozen scones to seem super fresh when serving.) When you are ready to enjoy a scone, pull out of freezer, let come to room temperature and then heat ever so slightly in a warm oven (4-5 minutes at 350degrees F). You'll be happy you didn't share those leftover scones…and probably wish you would have made more.
Enjoy!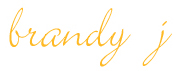 peach scones
Ingredients
2cups plus 2tbsp all purpose flour
⅓cup brown sugar
1tbsp baking powder
¼tsp baking soda
½tsp kosher salt
1stick very cold butter cut in cubes (I throw in freezer for 10 minutes before using)
⅔cup half&half, heavy cream or milk
1 large peach peeled and diced (dab with paper towel if your peachy is really juicy)
half&half (or cream or milk) and sugar for brushing and sprinkling on top
For Glaze (optional)
½cup powdered sugar
2tbsb (plus more) milk or cream
Instructions
Preheat oven 400degreesF. Line a baking sheet with parchment paper.
Place flour, brown sugar, baking powder, baking soda and salt in a food processor. Pulse a few quick times. Add the butter and pulse until coarse crumbs form (just 5 or 6 times for me). Add liquid (half&half, cream or milk) and pulse one more time until combined (careful not to over pulse here).
Dump dough onto a well floured surface. If dough seems really wet add some more flour (tbsp at a time). Dough should be slight sticky but not super wet. Put peaches on top of dough and mix in with your hands. Form dough into a disk and cut into 8 wedges. Carefully place on prepared baking sheet. Brush tops with half&half, cream or milk and sprinkle sugar on top.
Bake in over for 12 to 15 minutes until the edges begin to turn golden brown. Allow to cool on sheet.
While baking, make a glaze by whisking together powdered sugar and milk. If glaze is too thin, add more sugar. Too thick, add more milk. Drizzle glaze over warm scones and devour.