With the way our weather has been going the past few weeks – monsoon in Ohio – I was prepared for the inevitable rain come Bing's party. Even with a 10 day forecast claiming 0% chance of precipitation, I knew better than to get my hopes up. Well wouldn't you know Bingham got himself one of the few sunny, summer days we have had all month. What a lucky little man.
More on the party later, but for now let's talk about rain gear. Or basically everyday gear for those of us experiencing all this wet weather. Bad news is I'm not sure we will be drying out anytime soon…good news is rain gear is crazy cute. My absolute must have item is a clear bubble umbrella – that totes one with the stripe trim (#5) is impossible not to love. And glossy red Hunters…well, those are always on my wish list: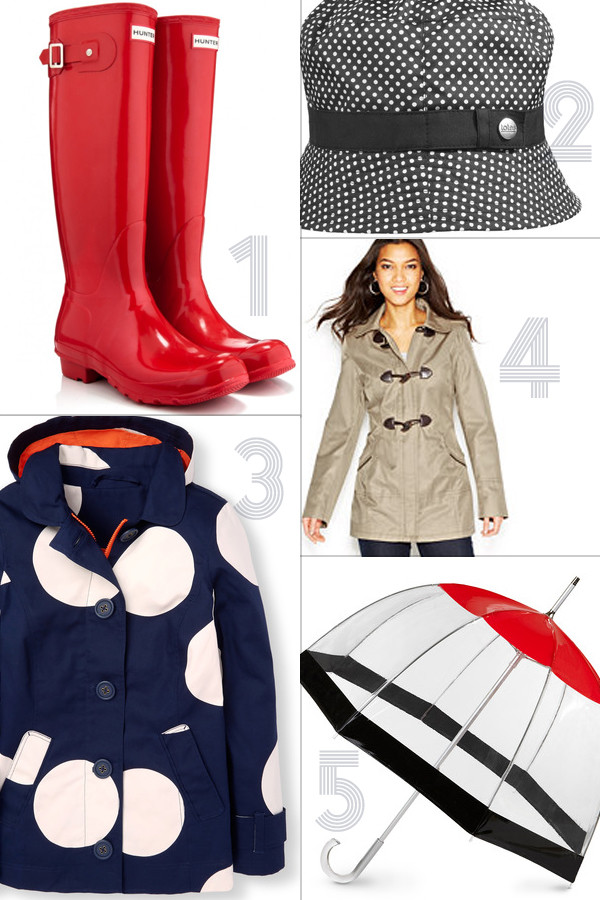 1Hunter Original Gloss Pillar Box Red/2Totes Pin Dot Bucket Hat/3Boden Short Rainyday Jacket/4Laundry by Design Faux-Leather Trim Hooded Toggle-Front Jacket/5Totes Bubble Umbrella
Stay dry!