There was a time in my life that the thought of throwing on sneakers over heels or flats was absolutely not going to happen. (Exercise excluded of course.) That's one of the amazing things about fashion though – it opens our minds to things we never thought we'd say yes to. Not only am I saying yes to sneakers but I am drooling over…can't believe I am saying this…slip-on sneakers. Between those and culottes I don't even know who I am anymore, and that can be a good thing.
Now before we get ahead of ourselves, I need to put it out there that besides my running shoes I only own one pair of "fashion sneakers". It took me a long time to find just the right sneak. Low profiles and a swoosh were requirements. (I have been wearing Nikes since my first grade school track meet. It's a loyal relationship.) I also wanted something that would go with everything and of course, there needed to be a deal had. Enter those cute little 80's inspired Nikes below. They make me and my tootsies very happy. A classic shoe that goes with literally everything (because you can wear sneaks with skirts and dresses right now and look pretty darn cool).
My favorite pair and a few others worth checking out (those navy New Balances, oh my…):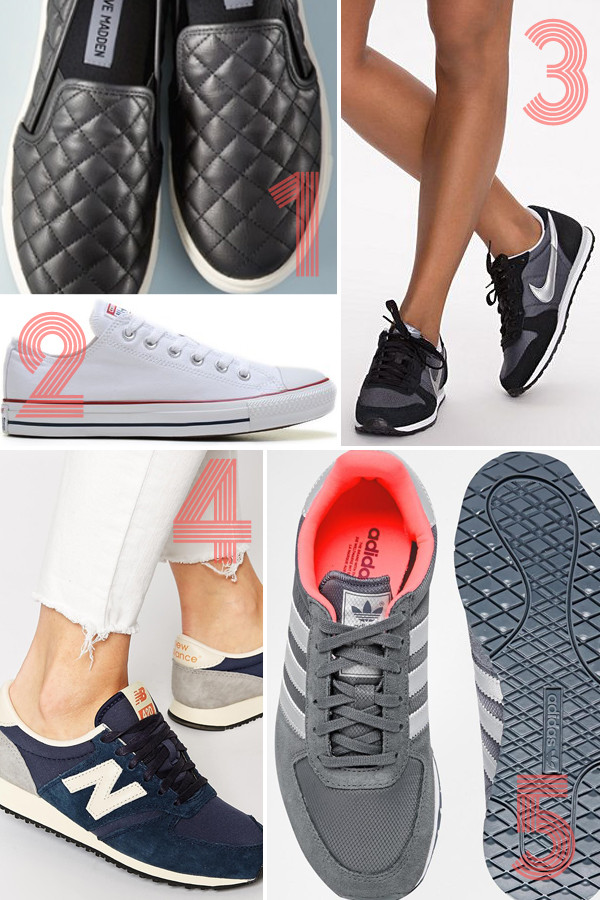 1Steve Madden Ecentrcq/2Converse Chuck Taylor All Star Low Top Sneaker/3Nike Genicco/4New Balance 420 Vintage Sneakers/5Adidas Original Adistar
What brand fashion sneaks are you rocking this summer?
xo,