It's been awhile since we have talked about working out and how sticking to my routine is going. Good news is that it feels like a must do part of my life again. I am no longer dreading tough workouts and actually look forward to exercise everyday. Bad news is it is not happening first thing in the morning as much as I'd like. I've been great about squeezing it in when I can throughout the day but gosh it would be so much nicer to have it done before I even take a sip of coffee. Late nights kill me – if I can work on going to bed earlier I know I can feel more motivated to move around in the early AM.
Speaking of motivated, I was recently talking to someone about how I workout at home and what kind of gear I own. Other than my treadmill (which I do use 3 times a week) what you see below is what you get. Of course there are many other bars, bands, balls and so on I could be using, but I'm low maintenance when it comes to these things. If you are too this is a great guide to get you started: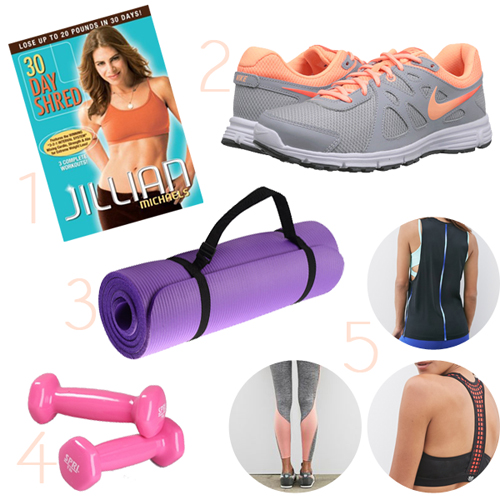 1Jillian 30 day Shred (yes I am talking about this DVD again) – July is my 3rd year anniversary of owning this DVD and I can't even believe how much I still use it. This is my go-to, not enough time to workout but absolutely must workout because I'll hate myself otherwise, video. With the actual workout, warm up and cool down you will have about 26 minutes of your time into it. The key is that there is absolutely no room for slacking. You must push yourself the entire time. And yes, Jillian is slightly annoying (especially after a bazillion viewings) but you can always mute her once you have the workout mostly memorized./2Cute Sneaks – for the longest time I would purchase most of my sneakers on super clearance. While I love to be thrifty I really didn't like looking down at my feet. I highly recommend taking the time to shop around and find not only a deal but ones you love as well. Colors can trigger feel good emotions and we all enjoy a cute pair of shoes! Just because you are not wearing heals doesn't mean they have to be ugly./3Yoga Mat – an essential for anyone looking to workout at home. I have used the same one from TJ Maxx for years – needless to say I have zero knowledge on what makes a mat great or not so great. But….much like the shoes I would purchase a color you love to loot at. (And if you are big on comfort you may want to go with a thicker mat to protect those bones from hard surfaces.)/4Free Weights – you absolutely do not need an entire gym in your home to get a good workout. I do believe however that a person should own a few hand weights to make strength training readily accessible. For me, its a 5lb set and an 8lb set – that's it! The only way I will purchase more is if those 8 pounders become easy, but I don't see that happening anytime soon./5Workout Clothes – sure you could wear your man's old t-shirt and a pair of crappy shorts but you wouldn't feel very cute. And if you don't feel cute you more than likely won't have a positive attitude…which just so happens to be the most important thing you need to get through a workout. So treat yourself to some fun sweat gear that fits your body now and then treat yourself again once you hit your goal. If you are like me and do not love the idea of spending a lot of dough on workout clothes you can always checkout Forever's. They've got a killer selection of fun and affordable athletic gear.
Do you have any must have at home workout gear?
xo,