With every trip a person makes to Kelleys Island there is always a slim chance that you may not make if off the island. (Or shall I say leave when you had initially planned.) Secretly we have always hoped for the ferry to close, forcing us to stay one more night. Of course in those dreams that free day would include gorgeous weather and dockside cocktails. You know, like a legit extra vacation stay.
Yesterday we got our free day…unfortunately it was due to crap weather. Nonetheless there are far worse places to be stuck. And welcoming a Monday lakeside is never a bad thing.
Speaking of being stuck, in the midst of planning Bing's first birthday celebration I am in that place of everything looking good in my head, just not quite yet on paper. Things are getting soooo close though – especially with the invites finally ordered. NYC is the concept. Black and grey with splashes of yellow and red is the color scheme. I have big ideas of modern/simplistic decor items with surprise pops of whimsy here and there. While I am still piecing the vision together, I absolutely cannot wait to see how this all unfolds. It'll be a lot of work but I love it. Love, love, love it. (And my helpers do too. Even though they don't verbalize it so much.)
Most things I can handle last minute but not having attire figured out is absolutely not one of them. This style board is in it's very early stages. I really want the kids to be the ones with the accent colors, hence the yellow and red on them. And I like the idea of so much solid because it is NYC and style is kept minimalistic there. But then I spied that window pane jumpsuit and it screamed summer in the city to me. My concern is being the only one in so much pattern though (pending if the romper is a yes for me of course). So obviously I need to add some stripes or other pattern, but for now this is our family party style board: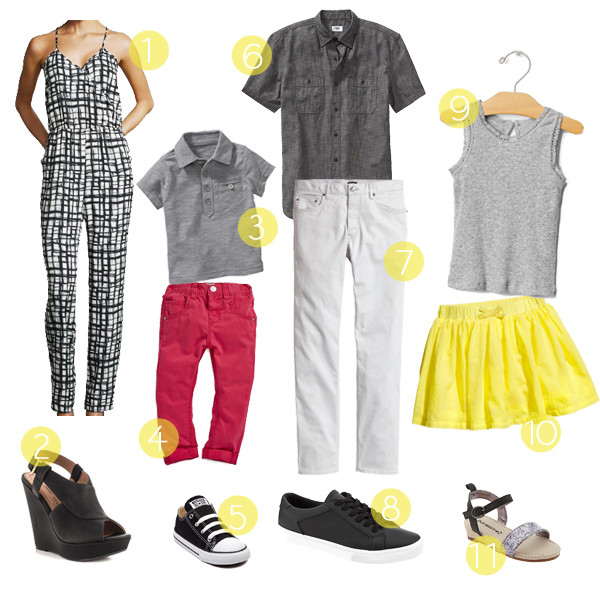 1Wyatt window printed chiffon jumpsuit/2Chinese Laundry mindy wedge/3Old Navy slub-knit baby polo/4Next Direct 5 pocket red skinny trouser/5Converse infant chuck taylor's/6Old Navy men's slim fit dark chambray shirt/7H&M light grey twill slim fit pants/8Old Navy black men's classic sneakers/9Gap ribbed lace-trim toddler tank/10H&M cotton crepe yellow skirt/11Old Navy glitter strap wedge sandals
Do not be surprised if in a month you see a family in nothing remotely similar to the above look. Who knows, I may just order us all "I Heart NY" t-shirts and call it a day.
No…I don't believe that will happen either.
xo,