Once again I feel like it's been a lifetime since I visited the hair salon. My locks are in desperate need of attention, especially the color. I'm in one of those "yuck ruts" about the way I look right now – new "do" is just the pick me up I need. While I am not sure which direction I want to go, I did find some fun trends that may inspire you (just in case you're in a rut too):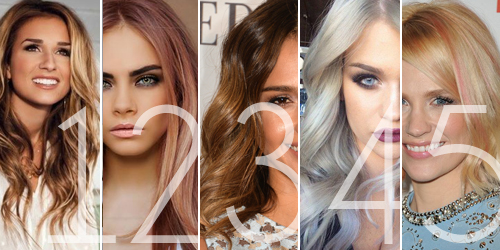 1Bronde – not blonde, not brown…so let's call it bronde. SJP has rocked this for years and I for one love it./2Rose Gold – I have zero business going down this road but I know a lot of gorgeous girls out there who could. Love the softness of it yet it's very edgy at the same time./3Balayage – (or tortoiseshell hair) kind of a buzz hair color for the last few months, this "painting" effect seems to have replaced the ever popular ombrè. It's a more natural, soft highlight yet remains low maintenance. A beautiful technique for any shade of hair./Silver Fox – is this for everyone? Absolutely not. But just look how hot that chick in the image looks rocking it. (I know…she'd look good with a clown wig on.) If you've got the cojones I say go for it!/Washed-Out Pastel – perfect for blondes out there who want to shake things up without committing to an overall shade or pink, blue or violet.
What color are you wanting to try?
xo,