Clearly I have margaritas on the mind lately. Just the other day I informed Sticky that we must always have tequila in the house. That way when the margarita craving comes we will be ready. Seems like I have my priorities in line…
In all seriousness these bars are a must make if you are a fan of limes. Which I am. In fact I'm slightly obsessed with any and everything lime. Especially in creamy pie filling form with a hint of tequila. It takes all my strength not to eat half the pan.
A bonus to this version is the pretzel crust. If you are like me you never ever order a margarita without a salted rim. Hence, I needed a little salt in my margarita bar. And let me tell you guys, when that melted butter hits the ground pretzels you will wonder why Bath & Body Works has yet to sell a buttered pretzel candle. (Or maybe they do…it's impossible to keep up.)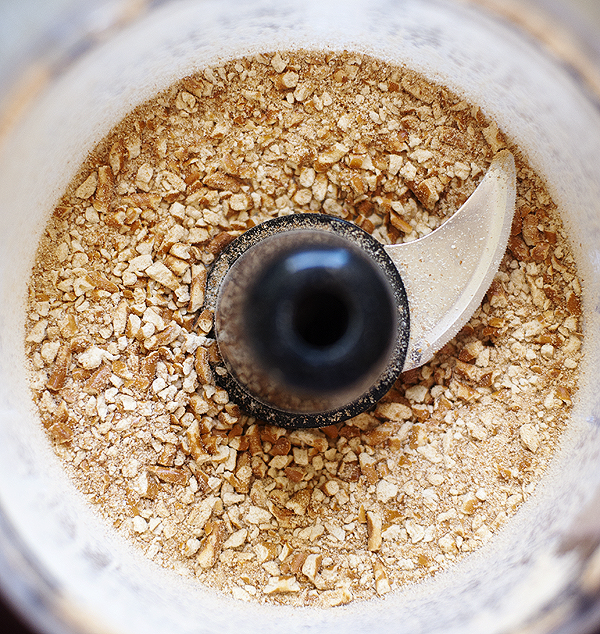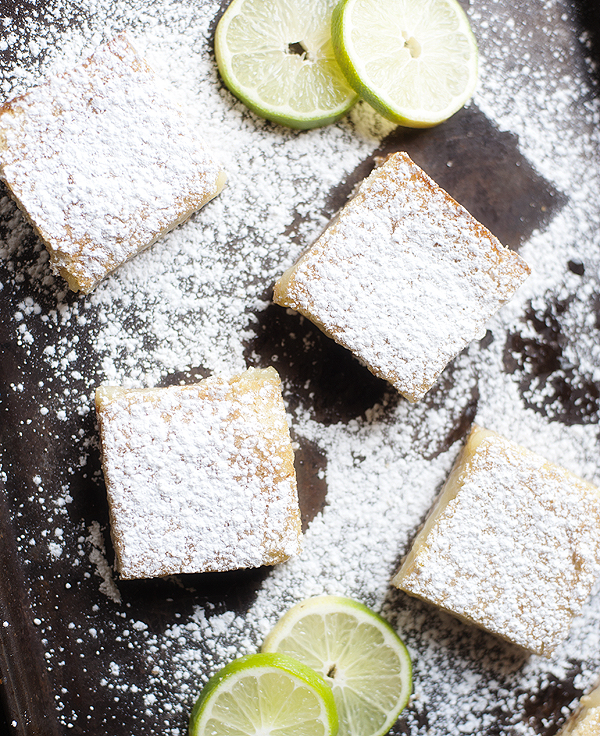 Something else I have on the brain right now are my kids' upcoming birthday parties. Jettie is up first and I'm shaking in my boots. Every weekend leading to her party, including the weekend of her party, are jam-packed with events. While I do love the hustle of it all I am terrified nothing will get done. Typically I work like a champ last minute and under a pile of pressure. True, it's not the best of habits but that is how I am configured. It's in my genes or something. I blame my mother.
This go around though there will literally be zero time for my procrastination. Who out there can teach me how to be organized and ready in advance? I will have margaritas ready in exchange for your secrets.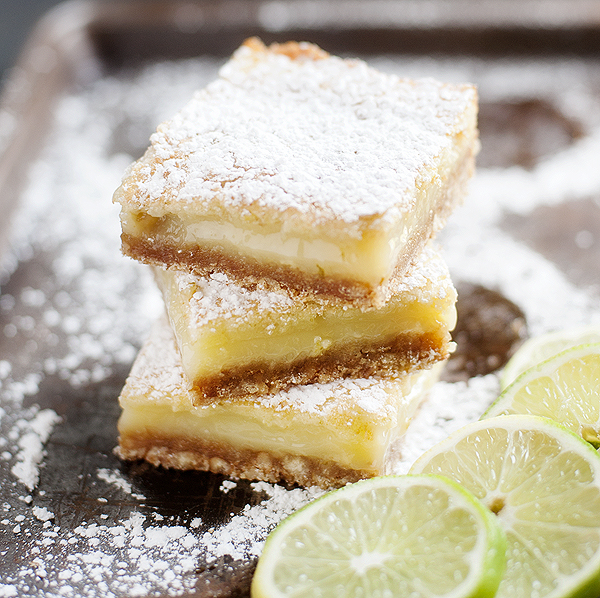 Of course it won't be the end of the world if everything doesn't get done for the party. Jettie will love it regardless – and that's what is so fantastic about turning 4. Details don't matter, all she needs are cake and friends to celebrate with. Sounds like me (although I'll take a margarita in exchange for the cake).
Cheers and yum!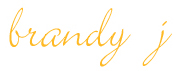 margarita bars with pretzel crust
Ingredients
Crust:
2½cups pretzels
¼cup sugar
7tbsp melted butter
Filling:
4 eggs
2 cups sugar
⅓cup fresh lime juice
2tsp lime zest
1tbsp fresh orange juice
1tbsp silver tequila (optional, replace with lime or orange juice of omitting)
¼cup flour
powdered sugar for dusting
Instructions
Preheat oven 350 degrees. Line a 8X8 or 9X9 square pan with parchment paper or foil and grease with butter.
Place pretzels in a food processor. Pulse until coarse but not fine. Add sugar, pulse once. Add butter and pulse until combined. (Some brand of pretzels are dryer than others - if crust does not come together when pressed add another tablespoon of melted butter.)
Press pretzel crust into prepared pan and bake for 12 minutes.
Meanwhile whisk eggs, sugar, lime juice, lime zest, orange juice and tequila (if using) together until well combined. Add flour and whisk to there are no longer lumps of flour.
When crust is finished, pour filling into hot crust and put back into oven for 20 to 25 minutes or until top is golden and filling is mostly set (can be slightly jiggly in center).
Cool bars in pan on wire rack until room temperature. Transfer to fridge until chilled. (Bars cut better chilled and in general taste even better cold.)
Cut into squares and dust with powdered sugar. Enjoy!