The last couple of weeks I have not been myself. Usually I can make a decision in a snap. No regrets or second guessing. For the last two days I have redesigned a birthday invitation for a certain 4 year old at least a half a dozen times. Too cheesy. Too simple. Too blah, blah, blah. Every revision would probably be accepted by the majority of others but I can't seem to get there.
In lieu of driving myself crazy with another decision I am putting one out there for the rest of you. Sticky and I have events coming up in the very near future that I need some fantastic new attire for. My time for online shopping is quickly running out…I need to order something and I needed to do it yesterday. Here are some items in my virtual window shopping dreams. All would work for our upcoming obligations – but which one catches your eye?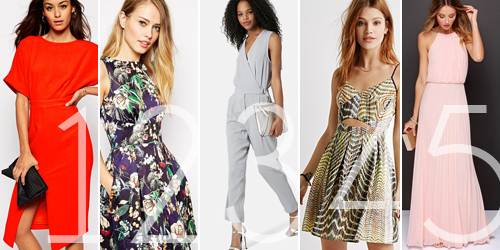 1ASOS wiggle dress with split from – mostly because I don't have a great red dress./2Closet skater dress in botanical floral – love the idea of a dark floral number./3Topshop sleeveless wrap front jumpsuit – there are few fashion dreams I want more than being able to rock the heck out of a jumpsuit. This one is particularly classy and fabulous./4Forever 21 abstract print cutout dress – to be real, barring being utterly intoxicated I would more than likely never wear this. But someone needs to because it is fun./5Bariano melissa dress – simply stunning and more than I would like to spend. I'd also need a gallon of Fake Bake but I would do it if this looked good on me.
Thanks for the help!