For years I fought the fact that I had any natural body in my hair by blowdrying and flat ironing it to smithereens. This worked great as long as my hair did not come near moisture of any kind (humidity was my worst enemy). Then I had a Jettie and decided if there was ever a time to embrace air-dried hair now would be it.
My hair is too curly to be wavy and too wavy to be curly – it's curl-wavey. Mistreated and without product however it is a hot mess. I am still learning which products, how much to use and when to apply. But all in all I have found a new appreciation for the natural body in my hair. This is a good thing considering Jettie has been blessed with some curls herself (but hers are far better than mine).
Below is a roundup of my most used products. (I do not diffuse my hair only because I prefer to air dry – use a diffuser if you need to dry fast.) Admittedly I still curl a few pieces around my face before my hair is ready, but these products leave me with the most "natural" head of curl-wavey hair I have ever been brave enough to rock.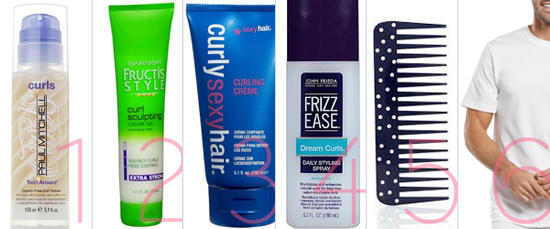 1Paul Mitchell Curl Twirl Around was given to me a few years ago by a friend and I absolutely loved it. Makes curls smooth and the softness lasts all day. Only downfall is it emptied fast but all in all well worth the price./2Garnier Fructis Style Curl Sculpting Cream-Gel is our go-to for Jettie's curls. At less than $4 a bottle you can't go wrong with using this on a little one. Apply to damp hair after a bath or spray hair with a little warm water and scrunch a pea size amount into it for a curl boost./3Sexy Hair Curly Sexy Hair Curling Creme is very similar to the Paul Mitchell product (I use this one more only because I seem to get my hands on it more often). I find this creme tames my curls without weighing them down. The first thing that goes in my hair after a wash./4John Frieda Frizz Ease Dream Curls Curl-Perfecting Spray is a wonderful in between washes product that I use on both me and Jettie. Curls can become dull and flat a day after a wash. This spray puts the spring back in their step./5Wide-Toothed Comb for detangling in the tub. You do not want to mess with curls much outside of the shower. Combing and brushing suck the life out of them and leaving you with a head of fuzz. Use a wide-tooth comb after the conditioner is set but before you rinse it out./6100% White Cotton T-shirt – yes, that's a t-shirt and you need one of these bad boys for drying those curls. After a wash take the thickest white 100% cotton t-shirt you can find and dab those curls dry. I don't know why it works but it does.
What product(s) do you love to use on you and your child's natural curls? Please share!
xo,