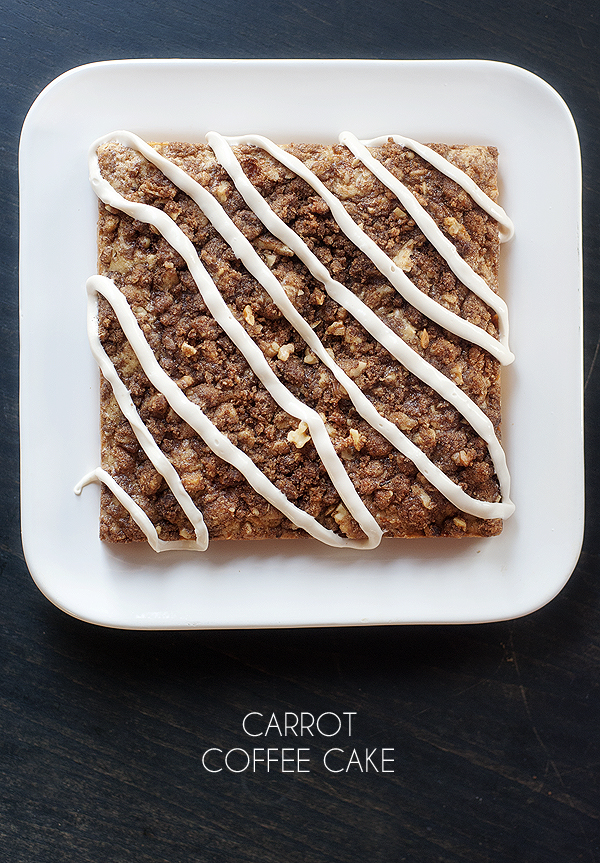 I love cake, especially those that are named carrot.  But it can't be dry and the carrots absolutely must be the star (yeah, I'm talking to you raisin).   We often see carrot cake in double layer form, but that's not something I am apt to make at home.  If a double layer cake doesn't turn out you have wasted a good chunk of your life between the prep and mess.  That's no fun for anyone.  This is why I prefer a good ol' coffee cake.  One layer, minimal icing (if any) and there is usually a streusel topping involved.  Plus it was invented to go with your coffee.  It's basically breakfast food.  Fool proof, easy to devour breakfast food.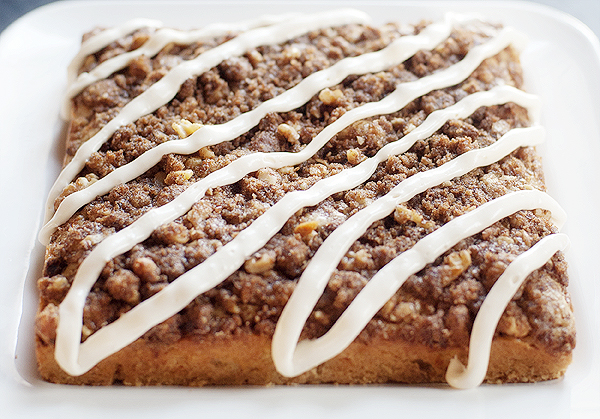 As a child I was certain coffee was actually in coffee cake.  I can remember sitting at my granny's dining room table thinking I was big stuff eating my caffeine laced dessert.  She never told me any differently…she's pretty awesome like that.  Whoever decided there needed to be a cake specifically for coffee is pretty awesome as well.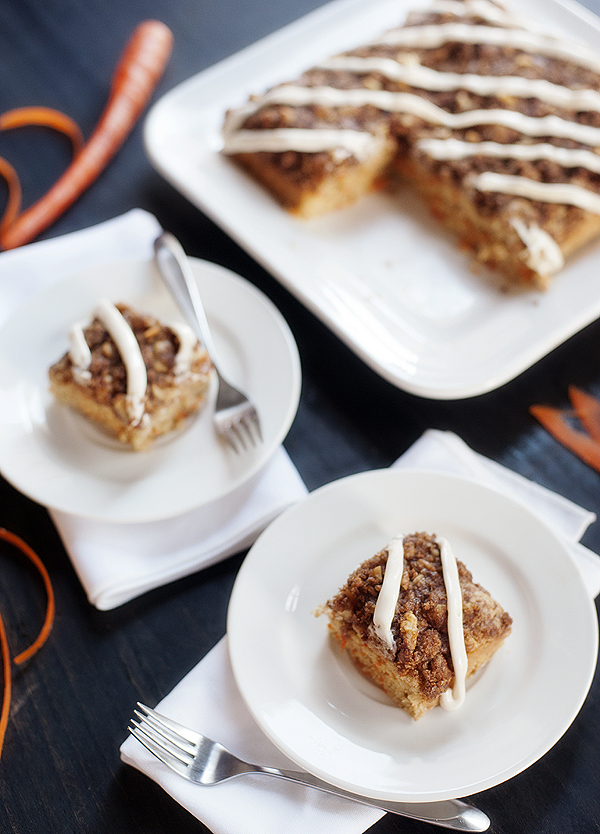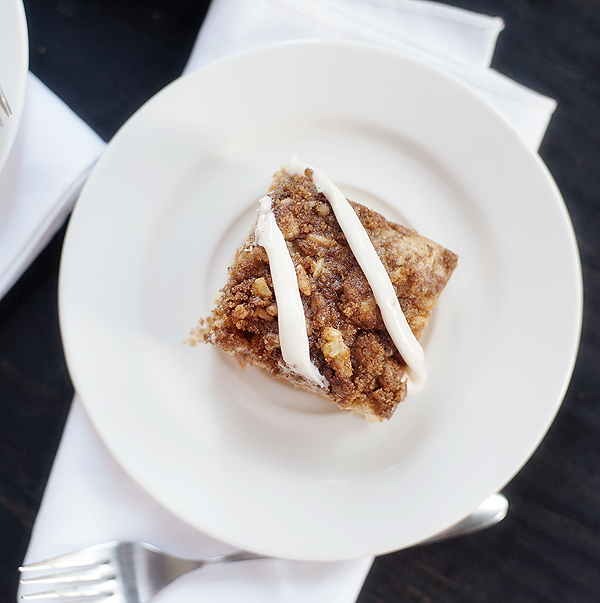 There will always be a debate when it comes to carrot cake.  Some people like raisins.  Others gag at the thought.  I need the crunch from a walnut – this would make my brother in law cringe (you're weird Chuck).  But one thing most of us agree on is that carrot cake must absolutely be moist.  And cream cheese frosting needs to be involved.  This version delivers on both counts.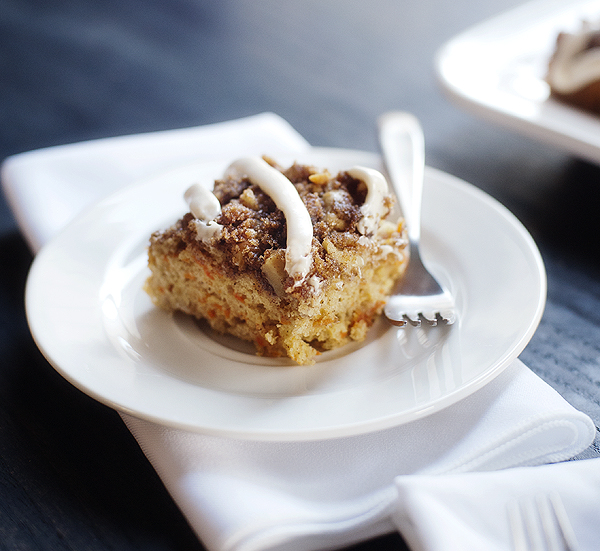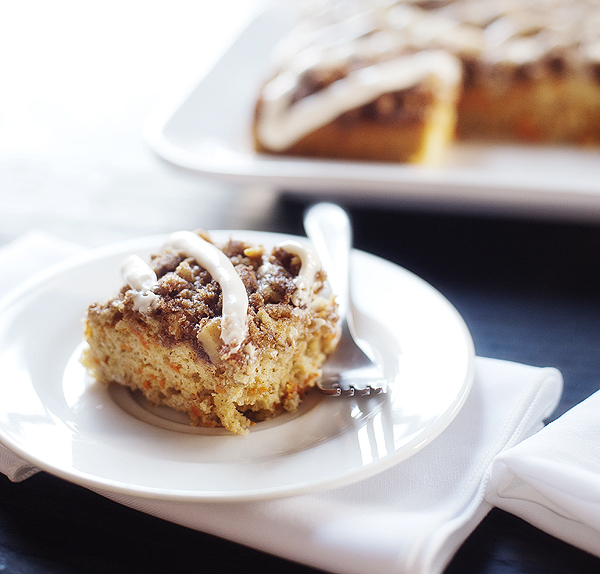 For obvious reasons carrot cake is considered a springtime dessert.  (This would make a perfect addition to your upcoming Easter brunch.)  But let's not let a bunny sway us to believe that after April 5th any and all carrot cake making ends till next year.  It's a dessert that can and should be enjoyed year round.  I know I will be enjoying this again and again.
xo,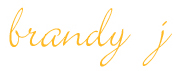 carrot coffee cake
Ingredients
For the cake:
1½cups flour
2tsp baking powder
½tsp fine salt
1tsp ground cinnamon
¾cup sugar
¼cup vegetable oil
1 large egg
½cup milk
2cups shredded carrots, patted dry
For the streusel:
½cup brown sugar
2tbsp flour
2tsp cinnamon
2tbsp butter, melted
¾ cup chopped walnuts (optional)
For the icing:
1tbsp unsalted butter. softened
2oz cream cheese, room temperature
¾cup powdered sugar
½tsp vanilla extract
2tbsp milk
Instructions
Preheat oven 350 degrees. Grease and lightly floor a 9" round or square pan.
Whisk flour, baking powder, salt and cinnamon together in a medium bowl.
In a large bowl stir together sugar, vegetable oil, egg and milk. Add the dry ingredients and combine until just combined. Stir in shredded carrots.
With the now empty medium bowl (that they dry ingredients were in) add the brown sugar, flour, cinnamon, butter and walnuts (if using). Stir until combined.
Pour batter into the prepared pan. Spread evenly and then top with streusel. Bake in oven for 25-35 minutes, until a toothpick comes out clean from the center. Allow to cool completely in pan.
While cake is cooling beat butter and cream cheese together with hand mixer. Slowly add sugar until well combined. Add the vanilla and beat a little more. If you like thick frosting stop here, if you want more of a glaze add milk until you reach desired consistency (one tbsp at a time).
Ice cake (I used a sandwich bag to "drizzle" icing over cake) and enjoy!