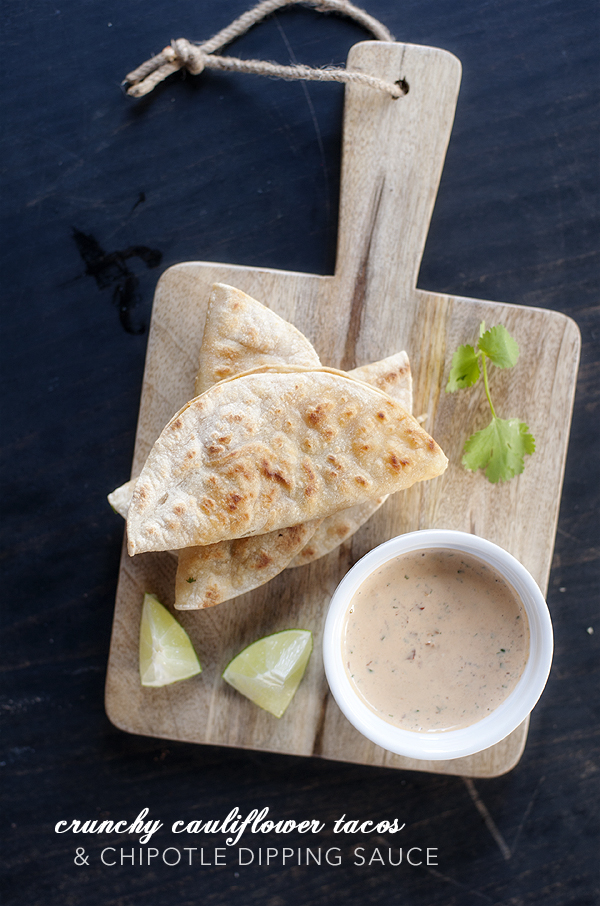 We have been eating cauliflower like they are going to stop growing it lately.  I am not sure what spurred the obsession and I am not complaining.  It's a versatile veggie – puree it, roast it, sauté it – you can do whatever you want to cauliflower and the end result is always yum.  (Unless you do something wrong, like burn it.  But even then it's probably salvageable.)
I sort of made this recipe up by combining our Crunchy Black Bean Tacos with Smitten Kitchen's Charred Cauliflower Quesadillas.   We enjoy those tacos on a biweekly basis at the very least and I thought why not switch things up a bit.  Last week I tried the quesadillas and absolutely loved them.  The only thing missing for me was a little crunch – mix the two together and we have the best of both worlds.
For those of you who are new to the pepper charring scene there are a couple of ways you can go about it.  Since I do not have a gas range – insert boo hoo angry face – I place the whole pepper under my broiler and keep turning until it is almost entirely black.  You can't leave your little pepper or it will burn, and then you'll have a boo hoo angry face.  For those of you with gas stoves simply grab the tongs, pick up your pepper and char that sucker over a high flame.  Be sure to take a picture for me so I can vicariously live through you.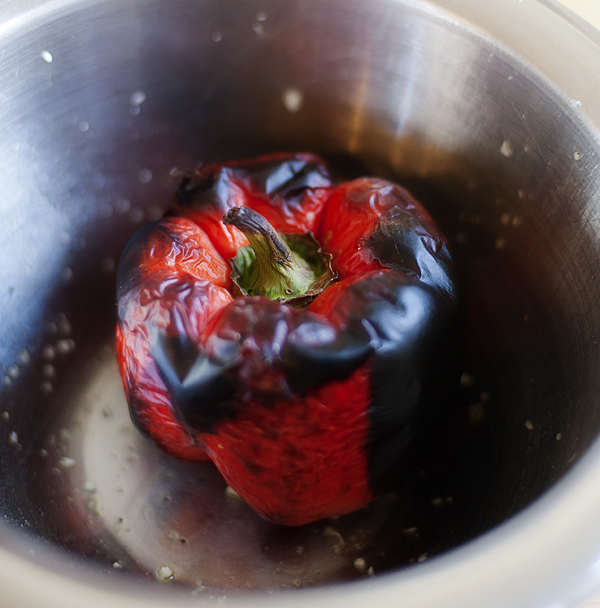 As for the cauliflower you really can't mess it up unless you allow it to become mushy.  Mushy cauliflower is no good in this recipe.  Don't let it happen.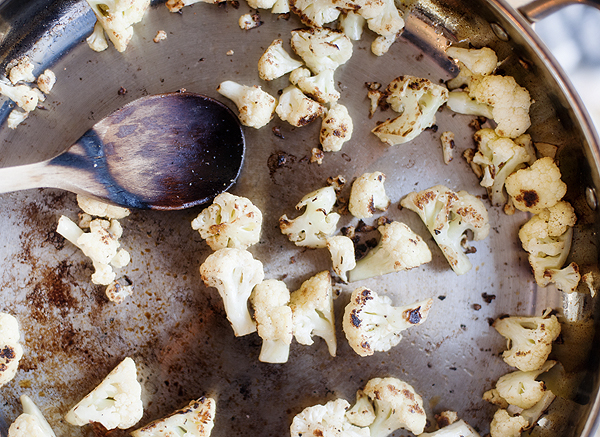 Feel free to adjust your spice and flavors in the filling.  Jalapeño, cumin, smoked paprika – all would be great additions.  This is basically a filled taco shell, it's not meant to be something your brain needs to kill itself over.  Put in what you like and leave out what you don't.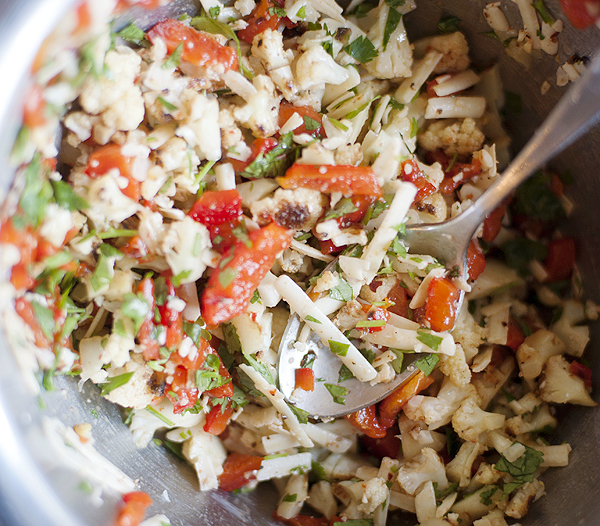 These are meant to be eaten immediately but you can buy yourself some time with a cooling rack and low 200 degree oven.  Do not stack your tacos otherwise they will steam and the crunch will disintegrate.  No one wants that to happen.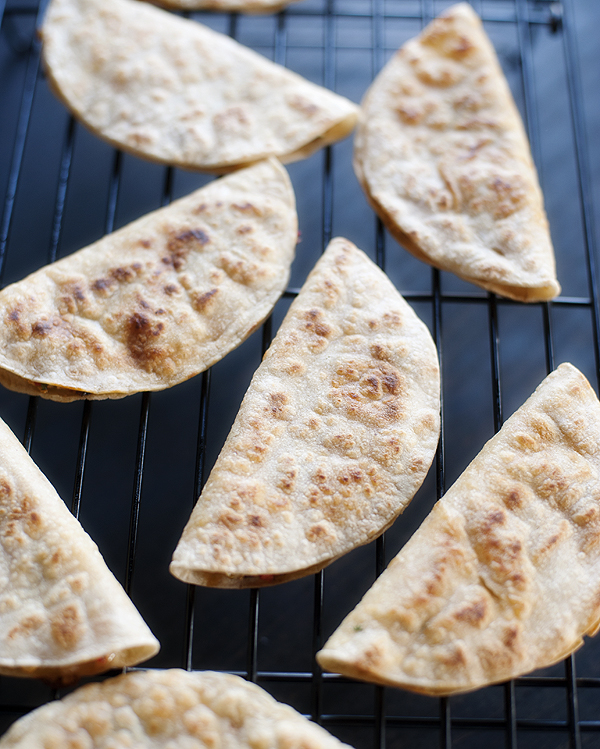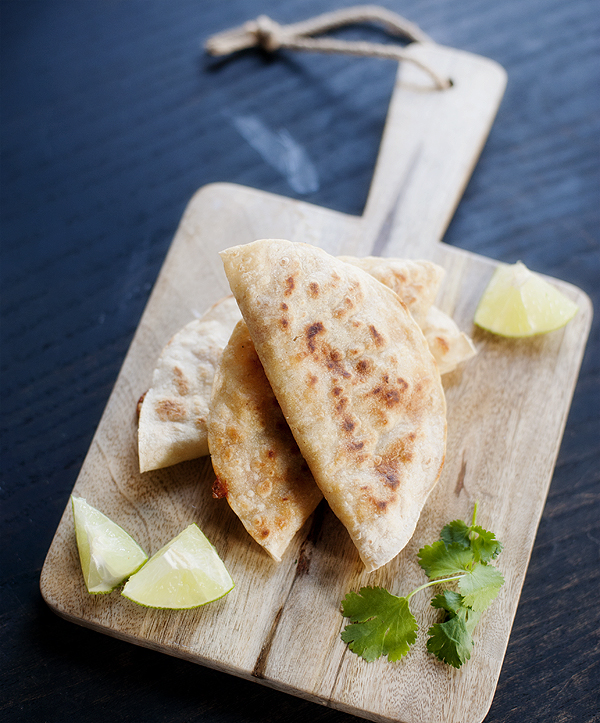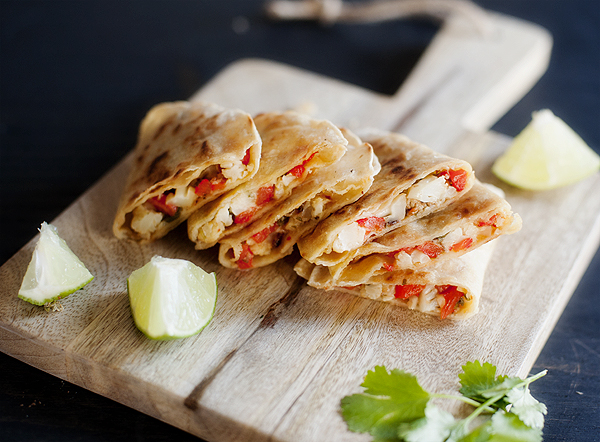 Notice the new itty bitty cutting board?  I bought it just for pictures.  Hope you love it because you are going to be seeing it quite often.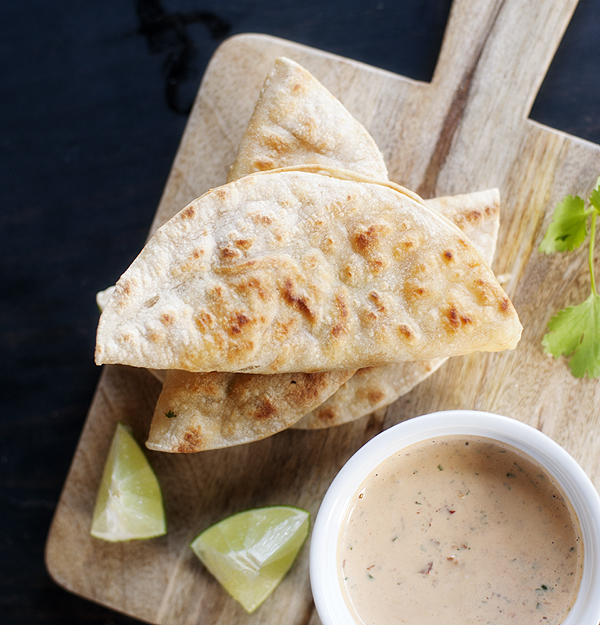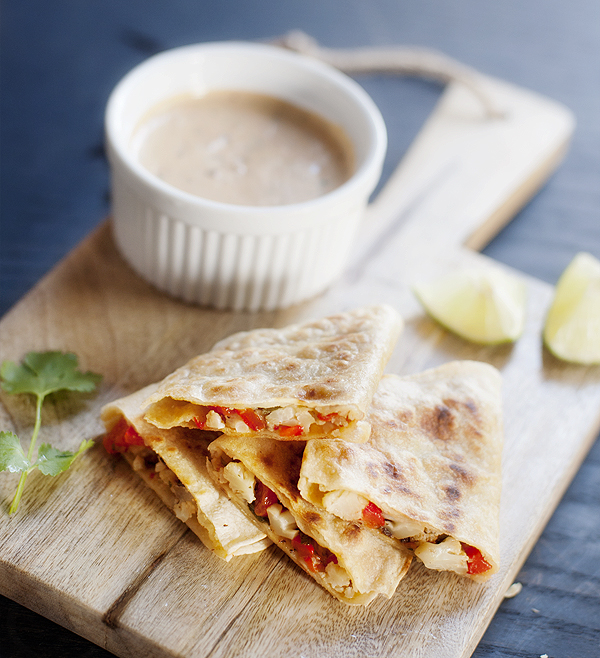 Unlike the tacos I made a dip for this version.  Are they good without the dip?  Yes.  Are they the cat's arse with the dip?  Yes.  You can't go wrong either way, but if I were you I wouldn't want to miss out on the spicy love the dip gives this dish.
Enjoy!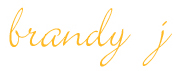 crunchy cauliflower tacos with chipotle dipping sauce
Ingredients
Tacos:
1 large head of Cauliflower, separated and lightly chopped
1 whole red pepper or poblano pepper
olive oil
salt and pepper
1tsp red pepper flake
juice of ½ lime
2tbsp chopped fresh cilantro
1cup shredded pepper jack cheese
12 small soft corn tortilla shells
Sauce:
¼ cup mayo or plain yogurt
juice of ½ lime
1 canned chipotle pepper (in its own sauce - not the entire can just one pepper, very important)
2tbsp fresh cilantro
½tsp cumin
salt and pepper
Instructions
Turn broiler on high and place pepper about 6 inches underneath (more if you are a notorious forgetter). Char (blacken) all sides. Pull out of oven, place in bowl and cover with plastic wrap.
While pepper is cooling heat a skillet on medium high heat and toss cauliflower with olive oil and salt and pepper. Put cauliflower in pan and cook until black spots form but before cauliflower completely softens. Take cauliflower out of pan and set on chopping board.
Once pepper is cool take out of bowl and peel the skin off. Discard skin, core and seeds. Cut into ¼ strips then chop into small bite size pieces with the cauliflower.
Put cauliflower and pepper in bowl and toss with red pepper flake, lime juice, cilantro and cheese. Season with salt and pepper to taste.
Heat a griddle on medium high heat. Brush one side of tortilla with olive oil. Place brushed side down on griddle and put ¼ cup cauliflower mixture on ½ of shell. Fold in half let brown. Once first side is nice and golden flip over and brown the other. Repeat until all filling is used. Keep tacos warm by placing on a cooling rack inside of a 200 degree oven.
To make the sauce simply place all sauce ingredients in food processor and pulse until combined and smooth. Season with salt and pepper to taste.
Serve warm tacos with sauce. Yum!