It's going to be in the 50s this week!  The FIFTIES!  It's funny how the first week of the 5os in the fall is fantastic because it is finally chilly.  Whereas in the spring it feels like a heatwave.  Nonetheless this household is ready for sunshine and outdoor shenanigans galore.
Another thing we can count on year after year are all the pretty ladylike dresses blossoming in stores.  Fall is undoubtedly my favorite season in the fashion world with the one exception being the category of dresses.  You really can't beat a pretty spring dress – especially at the end of a very very long winter.  Whether it's a shower, Easter, wedding or brunch with the girls there are plenty of options to make you feel oh so girlie this season: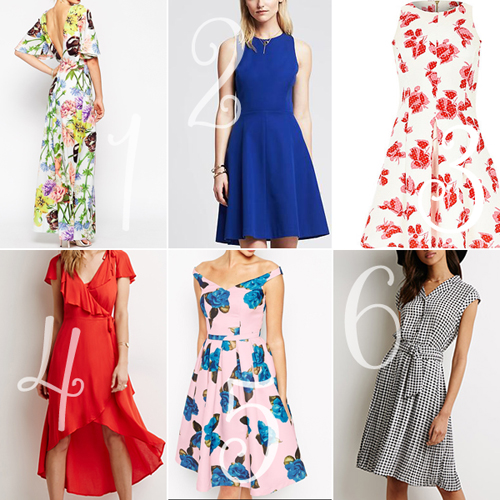 1ASOS floral maxi dress/2Banana Republic sloan fit & flare dress/3River Island white floral print dress/4Forever 21 ruffled wrap dress/5Chi Chi London off shoulder full skirt floral dress/6Forever 21 gingham crepe dress
There is something so Carrie Bradshaw about a flirty dress (with killer heels of course).  If I could only pick one that floral maxi would be it.  Love the back – sexy yet sophisticated.  Which is your favorite?
xo,