I thought I heard a lawnmower today – excitedly looked out the window for it and everything.  That's right, despite the 5 plus inches of snow we received yesterday I thought, for a split second, that someone was mowing their lawn.  Even Bingham thinks I've lost it.
It's March, the escape from this frozen tundra has got to be just around the corner.  And if it isn't at least there's a fun holiday in the middle of the month.  One filled with merriment, brew and a fantastic color.  Our friend Vicki recently sent me a pic of some pretty green New Balance's she was crushing on and it hit me how little green I have seen of late.  After doing a quick browse on the internet I am sad to report that it's slim pickings out there.  Good news is I round up some of the best of what I did find (including a little something for the guys!):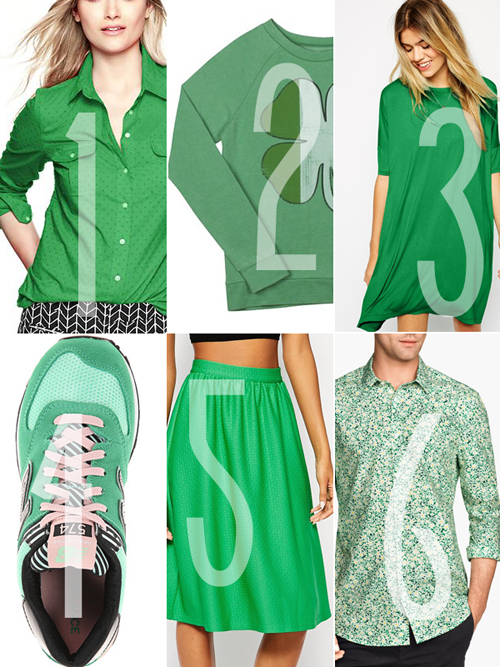 1Gap fitted boyfriend swiss dot shirt/2Target clover leaf shirt/3ASOS t-shirt dress/4New Balance classic wl574 palm springs/5True Decadence full midi skirt/6H&M patterned cotton shirt
Happy March!