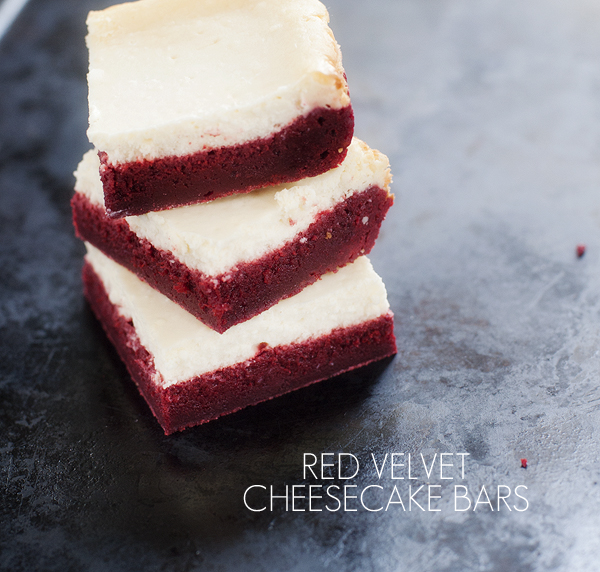 My husbands two favorite sweets, mashed into one bite.
Looking for something festive for Valentine's Day I stumbled across these and knew they were what I was looking for.  As Adelynn and I whipped them together yesterday I got lost in thoughts for a bit.  Do you ever think back to the relationship you shared with someone years ago, and compare it to how different it is today?
Before moving back to Ohio we lived in a little apartment in North Carolina, nestled right in between some great places to eat.  As much as we love to try new restaurants, we so often found ourselves in a cozy booth at The Cheesecake Factory, and it usually ended with a hunk of red velvet cheesecake between us. Our life was so different then, before marriage, before babies.  We had all the time in the world in that booth, the two of us, with our cheesecake.  Life was so simple, before we had any of the wonderful that we have now.. but oh let me tell you, simple isn't always better.  We haven't been to The Cheesecake Factory in ages, or gotten lost in a piece of cheesecake.. but that's okay.  The homemade version is pretty darn good, too.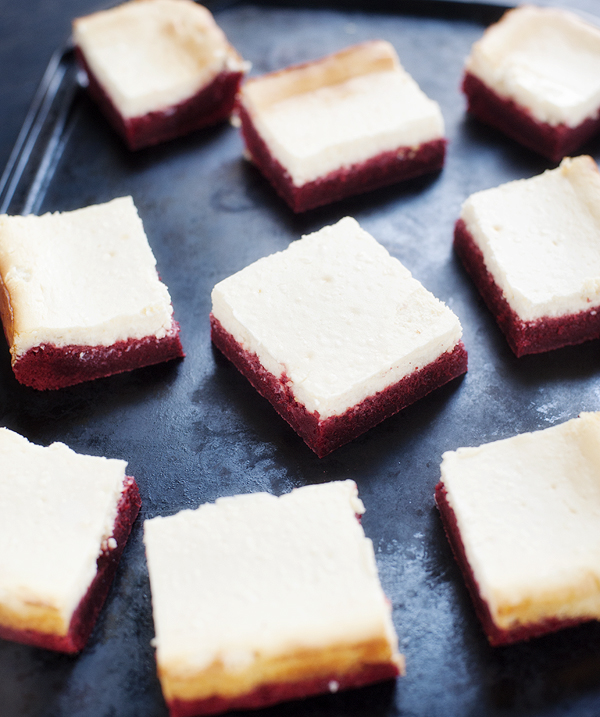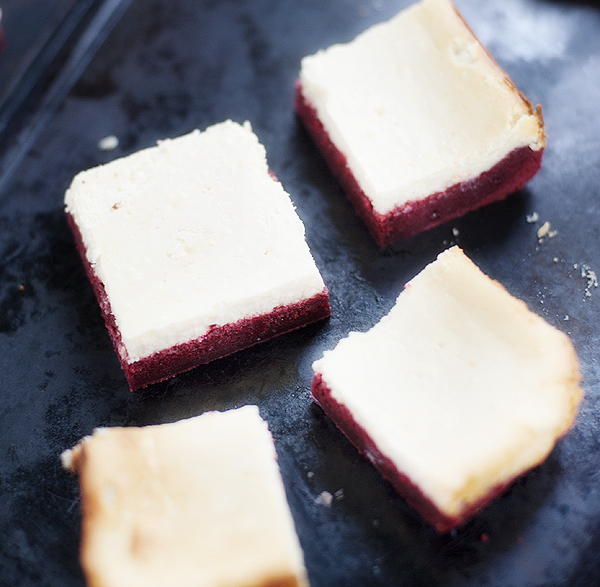 red velvet cheesecake brownies
Ingredients
1 stick unsalted butter, at room temp
2 oz. bittersweet chocolate, chopped
1 cup sugar
2 eggs
1 tsp vanilla
2 tsp red food coloring
⅔ cup all purpose flour
¼ tsp salt
8 oz cream cheese, softened
⅓ cup sugar
1 egg
½ tsp vanilla
Instructions
Preheat oven to 350F, and line an 8 or 9 inch square pan with greased foil.
In a small heatproof bowl, melt butter and chocolate until smooth. Set aside.
In a large bowl, whisk together sugar, eggs, vanilla and food coloring. Pour in the butter/chocolate, and whisk to combine. Add flour and salt and stir until just combined and no flour streaks or lumps remain.
Pour batter into prepared pan and use spatula to evenly smooth the surface. Set aside.
In a medium bowl, beat cream cheese, sugar, egg and vanilla in your stand mixer. Beat on high for several minutes until the cream cheese is completely smooth and no lumps remain.
Pour cream cheese layer on top of the red velvet batter, again using a spatula to even out.
If desired, use a butter knife to swirl together the batters, or you can leave them separated as I did.
Bake for 35-40 minutes until just set. Cool in the pan completely before slicing and serving. Store in refrigerator in an airtight container.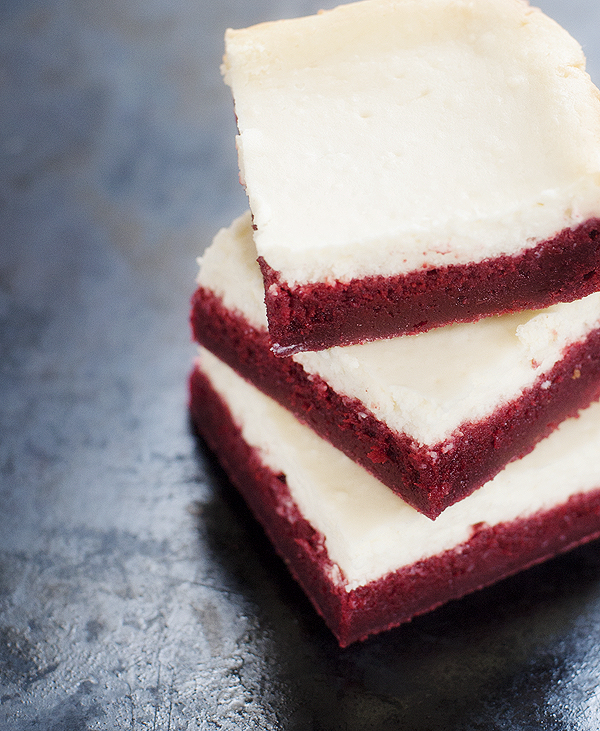 XO,

P.S. Pretty Plain Janes is TWO today! Horray!