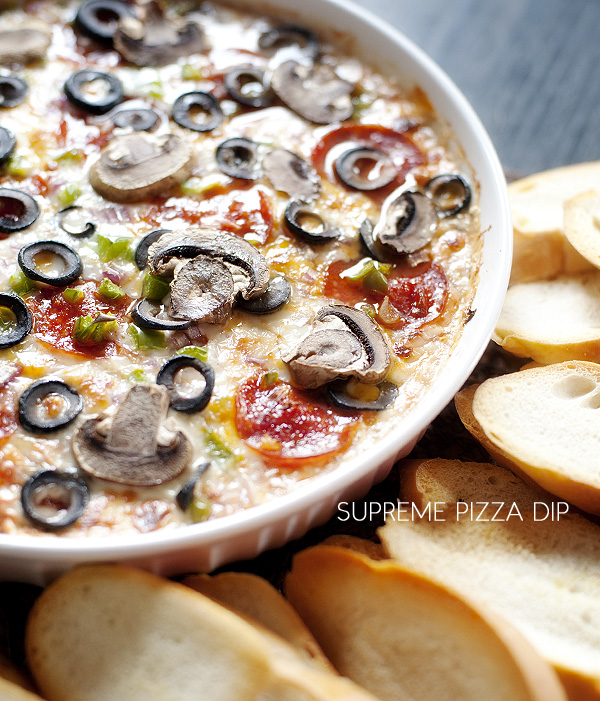 This dip, honest to goodness, is one of the most delicious things I have ever had the pleasure of consuming.  It's cheese, layered with cheese, topped with marinara, add more cheese and then finish with your favorite pizza toppings.  There is absolutely no way this could go wrong.  (Okay, maybe someone could mess it up but they'd have to try really hard doing so.)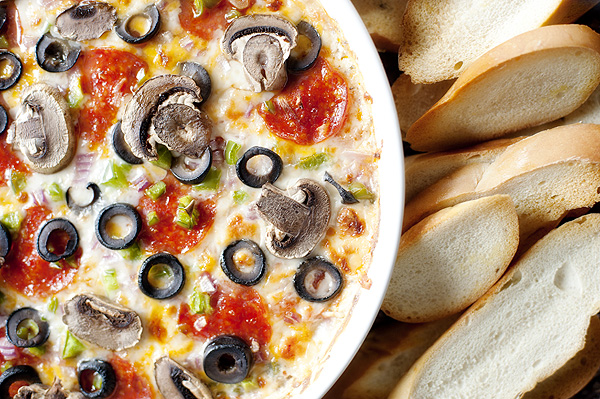 My toppings were modeled after Pizza Hut's super supreme (minus the Italian sausage).  Sticky said it was like eating pizza and lasagna at the same time.  That's the dream right?  When you make your own version (because you are making this, you must) be creative as you want with your toppings.  If you need to please a large crowd you could whip up two.  One for the carnivores and another for the veg-heads.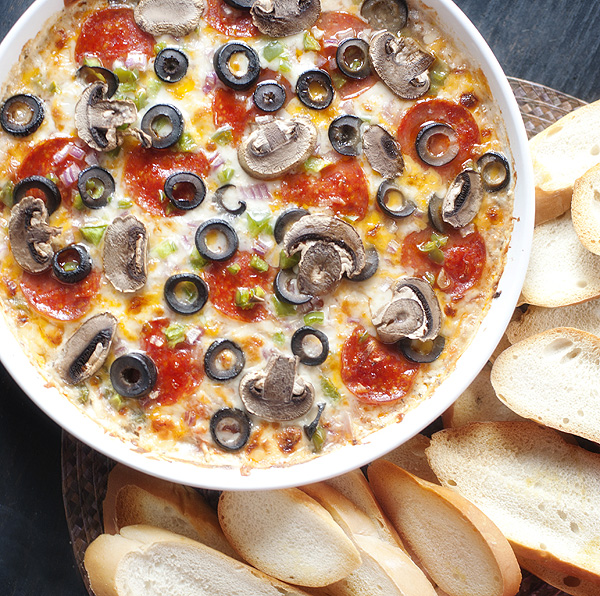 Come armed with this bad boy on Super Bowl Sunday and you won't have to worry about toting leftovers home!
Enjoy!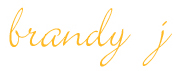 supreme pizza dip
Ingredients
8oz cream cheese (room temperature)
¼ plain yogurt
¼tsp dried oregano
¼tsp dried basil
¼tsp garlic powder
¼tsp red pepper flakes
1 cup shredded mozzarella
1 cup marinara sauce
½ cup shredded cheddar
½ cup shredded parmesan
¼ cup chopped onion
¼ cup chopped green pepper
¼ cup sliced mushrooms
¼ cup sliced black olives
10-12 pepperoni slices
Instructions
Preheat oven 350degress
Place cream cheese in bowl and mix with yogurt, oregano, basil, garlic powder and pepper flakes.
Spread cheese mixture on the bottom of a shallow dish (like a pie pan).
Top with ½ cup of mozzarella. Layer next with the marinara and then place the rest of the shredded cheese on top (mozz, cheddar and parm).
Layer the remainder of the ingredients on top. (Feel free to get creative with the toppings!)
Put in the oven for 25 to 30 minutes until it's bubbly and the cheese is golden.
Serve with toasted bread, tortilla chips, pita or veggies!